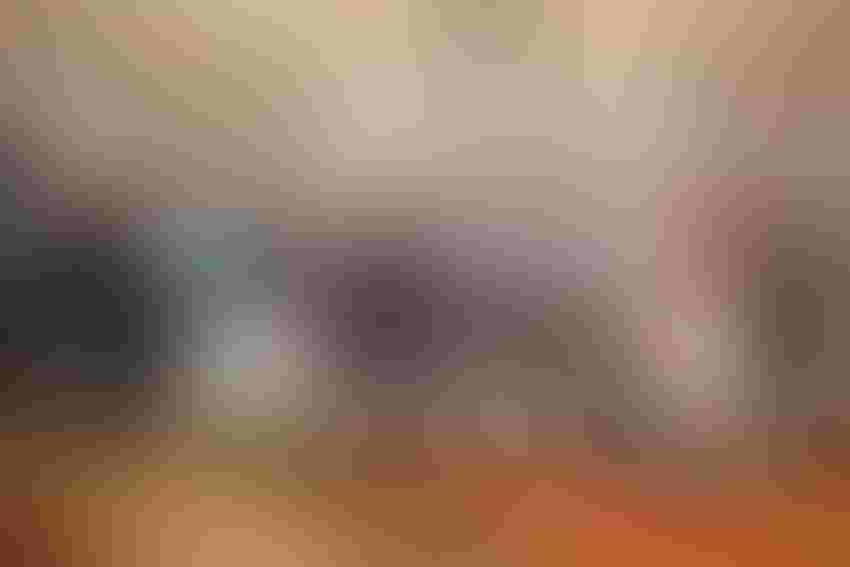 The Georgia Peanut Achievement Club recognized the state's top peanut producers at its club's annual meeting, which was held Aug. 18-20 on Amelia Island, Fla. The University of Georgia Peanut Team also shared its latest research findings at the meeting.
"The University of Georgia is a great resource. They're out in front of a lot of the situations we have to deal with. If something arises, they get involved really quickly. They research it and come up with answers," said Brooks County, Georgia, farmer Robert Davison, who won the District IV honor for 300 to 699.9 acres. He grew 5,258 pounds of peanuts per acre in 2016.
With 700-plus acres in peanuts, Eddie Miller of 4 Miller Farms in Seminole County, Georgia, produced the highest yield — 6,880 pounds of peanuts per acre. Miller attributes part of his success to UGA's plant breeding program, which is led by UGA College of Agricultural and Environmental Sciences peanut breeder Bill Branch.
"The breeding program has really helped a lot. Georgia 06-G is a great peanut, which is obvious," Miller said. His 4 Miller Farms produces between 800 and 1,000 acres of 06-G every year.
Branch released Georgia 06-G, the variety grown in most Georgia fields, in 2006.
Over the last 25 years, Branch has developed more than 20 new peanut varieties that have helped Georgia to become the No. 1 peanut-producing state in the U.S. Today, approximately half of all the peanuts produced in the nation are grown in Georgia. Peanut varieties developed under Branch's leadership account for more than 90 percent of the market share of Georgia peanut production.
Fourteen Georgia growers and farms were recognized at the meeting, which salutes Georgia's best peanut producers each year for achieving the top yields in the state.
Of these Georgia growers, 12 planted peanuts on a three-year rotation, 12 planted twin-row peanuts, 10 used conventional tillage and 12 applied a yellow herbicide — Prowl or Sonalan — at preplant or preemergence, UGA Cooperative Extension peanut agronomist Scott Monfort said.
"These are the growers we call 'sustainable.' They do an excellent job," Monfort said. "When you have growers who consistently produce more than 5,000, and sometimes 6,000, pounds per acre, that's remarkable. That's why they are regarded as the best."
Monfort said these growers also see the value of UGA Extension programming and the importance of working with their local UGA Extension agents.
"They know that if they've got problems, all they've got to do is pick up the phone and call the agents and get ahold of us, and we're ready to come out to see them," Monfort said.
Along with the UGA Peanut Team, this year's supporters of the club include Bayer Crop Science, BASF, AMVAC, the American Peanut Shellers Association, Georgia Peanut Commission and the National Peanut Buying Points Association.
The 2016-2017 Georgia Peanut Achievement Club winners are:
Highest overall yield in the state, on 100-299.9 acres
Faith Farms of Baker County, Georgia, with 7,105 pounds per acre
Highest overall yield in the state, on 300-699.9 acres
Al Sudderth of Calhoun County, Georgia, with 6,515 pounds per acre
Highest overall yield in the state, on 700-plus acres
4 Miller Farms of Seminole County, Georgia, with 6,880 pounds per acre
District I, 100-299.9 acres
Hillside Farms of Early County, Georgia, with 6,919 pounds per acre
District I, 300-699.9 acres
Chase Farms of Macon County, Georgia, with 6,046 pounds per acre
District I, 700-plus acres
Bob McLendon of Calhoun County, Georgia, with 6,260 pounds per acre
District II, 100-299.9 acres
John Gaines Jr. of Baker County, Georgia, with 6,538 pounds per acre
District II, 300-699.9 acres
Rick LaGardia of Miller County, Georgia, with 5,669 pounds per acre
District II, 700-plus acres
Jerry and Jeff Heard of Baker County, Georgia, with 6,464 pounds per acre
District III, 100-299.9 acres
Chris Rogers of Jefferson County, Georgia, with 6,057 pounds per acre
District III, 300-699.9 acres
Scott Moore of Dooly County, Georgia, with 6,379 pounds per acre
District III, 700-plus acres
Ken Hall Farms of Worth County, Georgia, with 5,617 pounds per acre
District IV, 100-299.9 acres
Gary Waters of Emanuel County, Georgia, with 6,011 pounds per acre
District IV, 300-699.9 acres
Robert Davison of Brooks County, Georgia, with 5,258 pounds per acre
Subscribe to receive top agriculture news
Be informed daily with these free e-newsletters
You May Also Like
---