Georgia farmers get education, honors at annual Georgia Peanut Farm Show
Georgia farmers get education, honors at annual Georgia Peanut Farm Show
The Georgia Peanut Farm Show offered farmers a chance to view the products and services of more than 100 exhibitors and learn from peanut production seminars.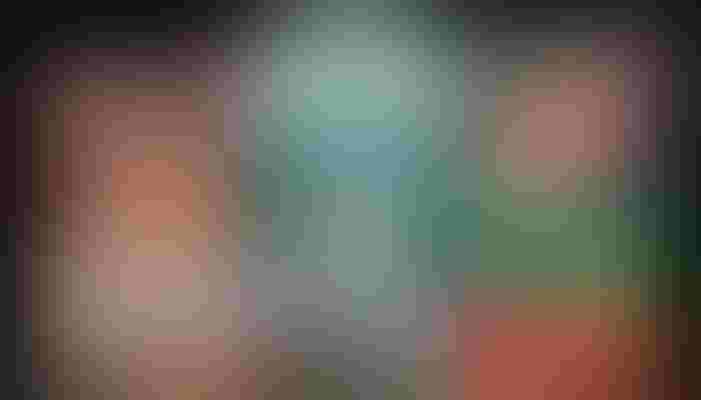 More than 2,000 producers were able to fine-tune their farming operations with information gained at the 38th Annual Georgia Peanut Farm Show on Jan. 16, 2014, at the University of Georgia Tifton Campus Conference Center in Tifton, Ga.
The show is sponsored by the Georgia Peanut Commission in cooperation with the University of Georgia Tifton Campus, Southeastern Peanut Farmer, Tifton-Tift County Chamber of Commerce and the Tifton-Tift County Tourism Association.
The one-day show offered farmers a chance to view the products and services of more than 100 exhibitors. The University of Georgia Peanut Team presented an educational peanut production seminar focusing on insect management, disease management, unmanned aerial vehicles for detection of field problems, economics of peanut production and more. An industry seed seminar was held which highlighted peanut varieties available for 2014 and calcium application for peanuts.
The Georgia Peanut Commission installed the fifth recipient into the Georgia Peanut Hall of Fame by inducting U.S. Sen. Saxby Chambliss. A portrait of Sen. Chambliss will be displayed at the GPC headquarters in Tifton, Ga. Sen. Chambliss was first elected to Congress to represent Georgia's 8th District in 1994. He has been recognized numerous times by the public and private sectors for his work on agriculture, defense, budget and national security issues.
The GPC also presented awards to individuals and businesses for their service to the peanut industry and promotion of peanuts across the U.S. The award recipients are:
Distinguished Service Award - Sen. John Bulloch, retired chairman of the Georgia State Senate Agriculture Committee

Research and Education Award - John Beasley, retired University of Georgia peanut agronomist

Media Award - WALB News Team in Albany, Ga.

Special Award - Rick Treptow, retired broadcaster for Georgia Farm Bureau.
Emory Murphy, GPC assistant executive director, was honored with the Georgia Peanut Distinguished Service Award and the Georgia Peanut Research and Education Award, for his dedication to the Georgia Peanut Commission for nearly 40 years.
The Outstanding Georgia Young Peanut Farmer Award was presented to Randy Branch of Baxley, Ga. Branch developed his passion for farming while growing up on a diversified row crop operation including corn, soybeans and wheat. Today, the farming operation consists of 4,000 acres of crops including peanuts, cotton, corn, soybeans and wheat.
Branch receives a sign to display at his farm and a trip to the Southern Peanut Growers Conference in July. This award is sponsored by the Georgia Peanut Commission and Bayer CropScience.
GPC and Agri Supply presented the first-ever Outstanding Georgia Peanut Farmers of the Year Award to individuals representing each of the commission's five districts. The GPC board members started this award to honor farmers each year who have the passion, diligence, leadership and desire to see the peanut industry in the state of Georgia continue to be the highest quality.
Winners include: District 1, Charlie Burch, Newton, Ga.; District 2, Jerald Carter, Anderson City, Ga.; District 3, Jimmy Blitch, Statesboro, Ga.; District 4, W.H. "Finn" Cross, Unadilla, Ga.; and District 5, Harold Israel, Smithville, Ga.
These farmers received a sign to display at their farm and a $100 gift card from Agri Supply.
The Grand Door Prize donated by Kelley Manufacturing Company was presented to Ron McMickle, Donalsonville, Ga. McMickle received one season's use of a new 4-row or 6-row KMC peanut combine. Amadas Industries also provided a Grower Door Prize of $10,000 off the purchase of a peanut combine to Ken Moore, Blakely, Ga.
Subscribe to receive top agriculture news
Be informed daily with these free e-newsletters
You May Also Like
---