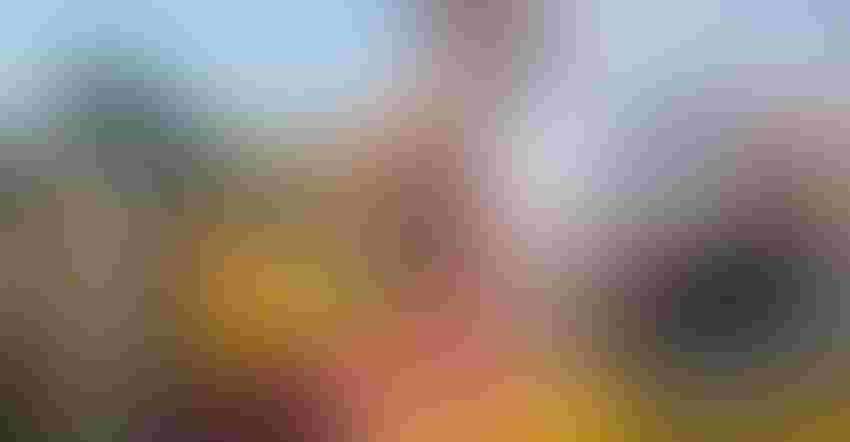 2022 Farm Press Peanut Efficiency Award winner Karl Stutzman, Weatherford, Okla., loads peanuts. Drought concerns continue to plague Southwest producers.
Shelley E. Huguley
As Southwest peanut farmers prepare to plant the 2023 crop, the big concern, as usual, is drought.
"Our forecast is for hot and dry weather in 2023," says Emi Kimura, Texas A&M AgriLife Extension state peanut specialist, Vernon. "We have not received much winter precipitation, no decent rain for many weeks. Soil is very dry, so we are in about the same situation as this time last year."
Oklahoma
"I believe everyone's concern is that 2023 is stacking up to be another 2022," says Oklahoma State University Extension Agronomist, Todd Baughman, Ardmore.
"While most, if not all peanut acres in Oklahoma are irrigated, most of that irrigation is supplemental, so we still need help from mother nature to achieve top yields," Baughman says. "Most producers are always worried if they can keep up through the season when we start the year on the dry side.
"Dry weather and wind are the current issues.  Most of our peanut acres are in areas that have had less than 1 inch of moisture over the last 60 days."
New Mexico
New Mexico State University Peanut Breeder Naveen Puppala, Clovis, says water is the biggest challenge for New Mexico growers. "Wells are pumping 80 to 120 gallons in our area. Good rains can only help the growers."
Planting intentions, specialists say, is always a hard call.
"It's the hardest question every year," Kimura says. "Things change so much. Conversations I've had with farmers and seed companies indicate Texas will plant about the same acreage as last year, 155,000 to 160,000 acres." Harvested acreage for the drought-stressed 2022 peanut crops was 120,000.
"We are projecting around the same 5,000 acres this year maybe slightly more than 5,500 acres," Puppula says. "Most of this will be Valencia due to the shorter growing season. We will have a few Virginia and Spanish market types."
Oklahoma peanut farmers will plant from 15,000 to 17,000 acres, Baughman says. "Currently, most contracts have been for Spanish peanuts."
Kimura says Texas market types two years ago favored more runners. "A 2019 survey shows about 41% Runner, 22% Spanish and Virginia, and 14% Valencia.
"Those ratios change depending on seed condition and demand," Kimura says. She adds that limited-quality Spanish seed could be a factor this year.
In addition to weather, Southwest peanut farmers face other challenges as they prepare to plant.
"High production cost is always an issue," Kimura says. "Fertilizer prices are down some compared to last year but are still higher than pre-pandemic." She says nutrient costs may favor peanuts over cotton since cotton requires more nitrogen.
"The cost of production has increased and growers have to decide which crop is more profitable," Puppula says. "Or I would say break even in the situation that we are in."
"We're losing irrigation water, too," Kimura says. "The cost of irrigation and water availability are big concerns." Increased labor and other input costs also play roles in pre-plant decisions making. She says most decisions have been made. "We will begin planting in a week or two."
Baughman says spring rains and weather patterns last year left some producers disappointed in weed control. "We are hoping conditions will be more conducive to controlling weeds this year especially early in the season."   
Kimura says reduced tillage and cover crop adoption is gradually increasing in Texas but "not as fast as in other areas because of our water limitations.
"Organic peanut production is also gradually increasing because of high demand. Prices for organic peanuts are 2.5 to 3 times better."
Subscribe to receive top agriculture news
Be informed daily with these free e-newsletters
You May Also Like
---