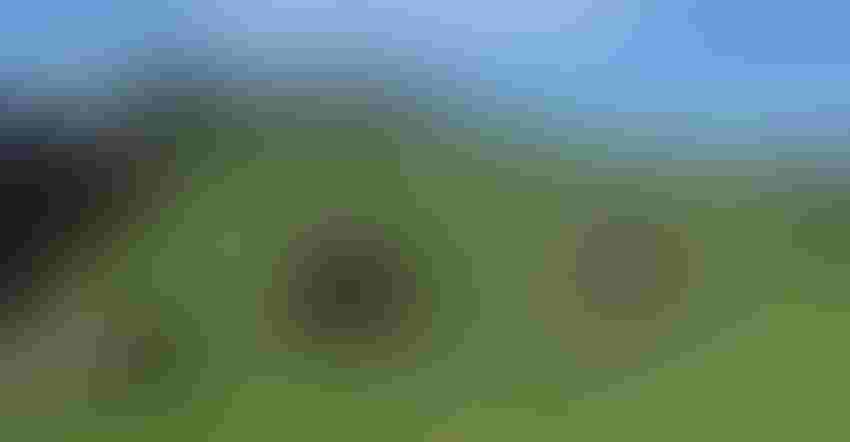 FRESH AND INTENSE: Joe and Kathleen Hescock, owners of Elysian Fields in Shoreham, Vt., use management-intensive rotational grazing, moving their two milking herds to fresh pasture after every milking.
Kathleen Hescock
Soil conservation and pasture management is not only good for the environment in the McKenzie Brook Watershed, it's also good for the Hescock family's bottom line.
Joe and Kathleen Hescock and their daughter, Tirzah, own and operate Elysian Fields, an organic dairy farm in Shoreham, Vt.
The McKenzie Brook Watershed is a 21,000-acre watershed, located in southwestern Addison County, that drains into an area of Lake Champlain that has some of the highest total phosphorus concentrations of any part of the vast lake.
Over the past five years, the Natural Resources Conservation Service has prioritized technical and financial assistance in this watershed, which has been identified as a priority watershed along with East Creek, just to the south, and three Franklin County watersheds to the north. This assistance helps to ensure phosphorus levels do not exceed the total maximum daily load for the entire lake.
More grazing, the better
The Hescocks, who manage 600 head on 1,350 acres, ship milk from their 320 cows to Horizon Organic, their milk buyer since 1997.
They have committed to grazing and have utilized NRCS programs to help establish the infrastructure needed for management-intensive rotational grazing, one strategy that helps minimize nutrient runoff.
"Our goal for the milking herd is to obtain 50% of their dry matter intake from pasture during the grazing season," Joe says, noting that the minimum required by the USDA's organic regulations is 30%. Joe and Kathleen see value in both feed savings and animal health by surpassing that benchmark.  
They move their two milking herds to fresh pasture after every milking. Joe says that he needs a little more than 1 acre per cow as his overall stocking rate, or approximately 350 acres of pasture, to support the milking herds.
Heifers go out on pasture at 6 months old, getting all their feed from grazing in a rotational system. They are kept in groups of 30 to 40 depending on age class. Some are part of a leader-follower rotation with the milking herds. 
The farm produces mostly haylage, plus some dry hay and wrapped bales. In addition to the forages, they also grow hard red winter wheat, high-moisture ear corn, barley and peas. The wheat is typically sold for milling, the ear corn is fed to the milking herd, and the barley and peas are blended for the calves.
MANAGING FOR THE FUTURE: The Hescocks — Tirzah, Kathleen and Joe — see more grazing and better management as keys to not only grow their dairy farm, but to protect natural resources in and around Lake Champlain.
The Hescocks rely on long-term rotations, typically seven to eight years in hay before planting wheat, corn or another annual crop. The longer rotations are part of their fertility management plan, giving them better soil aggregation.
"I know our strength. We do a good job keeping soil aggregated and keeping it on our farm," Joe says.
In 2019, they were able to add 70 acres to their grazing system with the help of NRCS cost-share funding, taking the acreage out of rotation and keeping it in perennial pasture forage.  
"On this heavy clay parcel it was impossible to keep the soil loss under 'T' [maximum soil loss tolerance due to erosion] in a rotation, so it was an easy decision to leave it in perennial cover," he says.
Other practices in their NRCS grazing contract include seeding (forage and biomass planting), installing high-tensile fence, putting in a water line and water tubs, and installing a laneway for easier accessibility.
The 70 acres are adjacent to 120 acres already used by the second milking herd, so it will support more cows. While it is typical to look at output per cow, the Hescocks only do this in winter.
"During the grazing season, we look at output on the whole pasture or milk per acre," Joe says. "We can run cows at 120 percent of capacity during the grazing season, which has significant economic benefits."
Managing water
The past two years have brought significant weather challenges. Joe says that he often thinks about how he can adapt to a wetter climate while also getting through the dry times.
"Managing water is going to be more and more important," he says. "The answer lies in more grazing and systems that allow us to do that."
In 2016, the Hescocks made a big investment in a pasture irrigation system. They've added onto it over the past two years and now cover 200 acres of pasture. The system assures dairy-quality pasture for the cows, even in dry years.
The Hescocks also installed tile drainage in critical areas to manage the water table for optimal crop growth. Having adequate land per cow is crucial. They strive for at least 4 acres per mature animal.
"We are not in a position of having too many nutrients per acre, but we are trying to utilize our nutrients more efficiently," Joe says.
DENSE PASTURE: Dense 8- to 10-inch swards maximize pasture dry matter intake on the Hescock farm.
The Hescocks are also thinking about compost-bedded pack barns for their pre-fresh cows, dry cows and bred heifers to reduce the amount of liquid manure they produce and handle. This would lower the risk of runoff if they must spread when snow is on the ground.
Joe sees the nutrients as a valuable resource to keep on the farm, but he also acknowledges the importance of maintaining good public relations with non-farming neighbors through good stewardship of the land.
Cesario is grazing outreach specialist for University of Vermont Extension.
Source: University of Vermont Extension, which is solely responsible for the information provided and is wholly owned by the source. Informa Business Media and all its subsidiaries are not responsible for any of the content contained in this information asset.
Subscribe to receive top agriculture news
Be informed daily with these free e-newsletters
You May Also Like
---