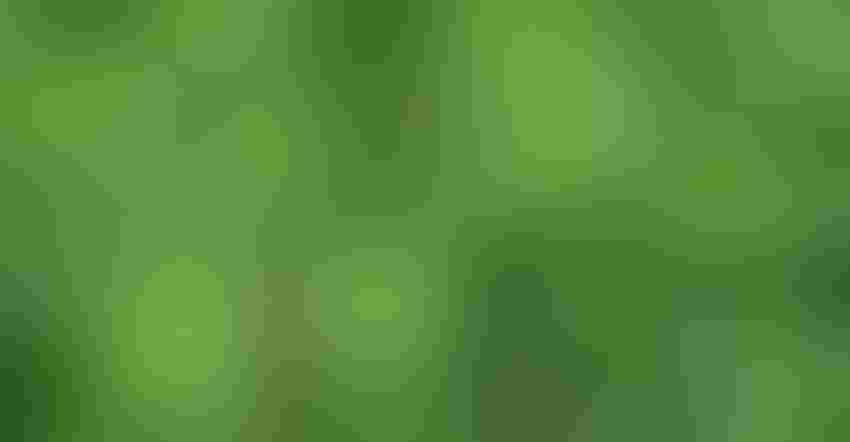 NOT PRETTY: Palmer amaranth is a weed with a long germination time frame, which causes problems for soybeans during the growing season.
Mindy Ward
Farmers will have more choices when it comes to combating weeds during the growing season. "It is all about providing that season-long residual control for hard to manage weeds," says Joe Short, marketing manager for Valent USA.
His company, along with others, launched new products during this year's Commodity Classic in San Antonio, Texas, to help farmers create weed-free fields from planting to harvest. Here is a look at two new herbicides available this growing season:
Tough weeds in soybeans. Perpetuo is a postemergence residual herbicide from Valent, good for both burndown and residual control of annual broadleaves and grasses. It is labeled for corn and soybeans. Short says it works well on weeds such as waterhemp and Palmer amaranth that have long germination windows.
"These weeds seem to hold on through the late summer, making them hard to control with a single preemergence application," Short explains. "When growers use a post-applied residual like Perpetuo in their weed management program, they are stopping these kinds of long-germinating weeds."
Perpetuo has two modes of action. Its flumiclorac pentyl is a Group 14 herbicide, and pyroxasulfone is a Group 15 herbicide. Short says the product has tankmix compatibility with Roundup, XtendiMax, Enlist, Scout Herbicide and others.
There is a limited amount for 2020, Short says, with availability starting at the end of April and into May. Release is targeted for customers in the Midwest.
Three-way fight. Antares Complete from Helena Agri-Enterprises is a preemergence herbicide that provides residual control of both grasses and broadleaf weeds in soybeans, says Mark Wayland, herbicide brands manager for the company.
"We know that soybeans are very vulnerable when they first come up," he says. "It's very important for us to protect them from weeds early because without protection, we can lose 15% of our yield potential in beans in the first weeks. Antares Complete provides that early-season control."
Its three active ingredients are not new to the market, but Wayland says the way the company combines them makes the herbicide unique. For four years, the company researched the right combination of sulfentrazone, s-metolachlor and metribuzin to provide long residual control.
"For the first time, we've put the combination together at an optimum ratio," he says. Antares works on pigweed, morningglory, kochia and cocklebur, to name a few. When it comes to giant foxtail and waterhemp, Wayland says, research plots saw control of weeds out past 40 days.
Antares Complete will be registered in 35 states. The product still is waiting for final approval, but Wayland expects to have it in fields this year.
A year out
Helena also announced a new pre- and early postemergence corn herbicide, Empyros. However, this product will not be available until 2021. "It provides a quick knockdown and residual control of both grasses and broadleaf weeds," Wayland explains.
He is keen on the chemistry behind this herbicide. It is the first use of tolpyralate, the newest HPPD herbicide-active ingredient in the U.S.
Tolpyralate is a pigment inhibitor, or what the industry calls "bleachers." While it is not a new discovery, it is a new active ingredient that belongs to the HPPD inhibitors family.
"When you spray tolpyralate on a stand of grass, in seven to 14 days it'll completely turn that grass white," Wayland says, "and it will start to get chlorosis, turn yellow, then brown and then die."
It is tougher on some weeds than others, but it has the most effect on grasses, which are particularly hard to control in a crop that is a grass, such as corn.
The company has the rights inside the U.S. to develop premixed products around the active ingredient. So, Helena paired tolpyralate with s-metolachlor, which has been in the marketplace for a long time and is used for preemergence residual control for grasses and broadleaf weeds.
This is a shift in direction for the company. "We've had postemerge products in corn, and we've had those for a long time," Wayland says. "But this is really our first product for broad corn acres from preemerge to an early post standpoint, and that's a big market." The product should be available in the spring and summer of 2021.
Check with your state regarding product registration.
Subscribe to receive top agriculture news
Be informed daily with these free e-newsletters
You May Also Like
---