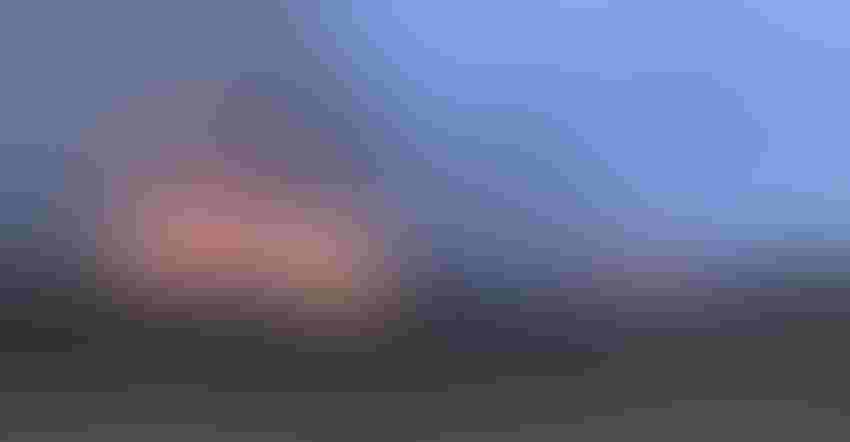 BURN, BABY, BURN: Planning for a prescribed burn can ensure success in abating the spread of eastern red cedar trees, as well as other invasive vegetation that threaten the health of pasture and rangeland.
Sara Grim
Editor's note: This is the second in a two-part series on how to control red cedars in pasture and rangeland.
Eastern red cedar trees are continuing their invasive spread northward, and prescribed burns appear to be a good control method. According to experts, spring is the best time for a prescribed burn, but it is never too early to start developing a plan to stop this invasive species.
Related: Control red cedars with prescribed burn
Sean Kelly, a range management field specialist for South Dakota State University Extension in Winner, says the prescribed burn period begins March 1 and ends June 1, to avoid issues with nesting species and USDA Natural Resources Conservation Service programs. This period also helps to facilitate new pasture growth.
Kelly stresses the importance of ranchers having a detailed burn plan, made months in advance of the desired burn time.
"It's about a 15-page burn plan, so it's very in-depth, but we don't really get started on that part of the paperwork until probably six, seven months out," he says. About a year prior to the desired burn, Kelly will take a trip out to the ranch to meet with the producer "to see exactly what the burn unit looks like and see what area we're going to burn."
That first visit, which Kelly says will be one of multiple stops to the pasture or rangeland, involves taking inventory of the proposed burn unit to assess the fuel load. "If we don't have an adequate fuel load, then they [ranchers] may have to look at deferring pasture for the grazing season to build an adequate fuel load to carry a fire, especially if we're doing a cedar tree burn."
Even though eastern cedar trees are a main concern of encroaching invasive plants, Kelly says a controlled burn can also aid in abating the spread of other invasives such as smooth brome and Kentucky bluegrass.
According to a press release from NRCS, ranchers are losing 30% to 75% of their rangeland in areas along the Missouri River, but the red cedar encroachment is slow, thus it is often overlooked. Once established, red cedars can reduce forage for livestock and wildlife by 75% or more. Profits decline, upland game animals and grassland birds are displaced, and the highly flammable red cedars increase wildfire risk.
Fight fire with fire
Prescribed burns can prevent or halt the spread of red cedar trees, as well as lower the risk of wildfires. Kelly's inventory of the proposed burn site assesses the cedar stand thickness to determine if  "maybe we need to do some clipping and stuffing to build some ladder fuel if they have some really tall, thick, dense stands."
Working on the plan a year in advance can also aid ranchers in applying for assistance from conservation programs if available for tree cutting or deferring pastures. Ranchers also need to be conscious of neighboring landowners, especially if those neighbors are federal or state agencies in the event that a cultural resources assessment would be necessary.
Ranchers locked into a rotational grazing system, or other ranchers who adequately manage their pasture and rangeland, may have 3,000 to 4,000 pounds of forage per acre "after they're done grazing for the year, obviously they probably won't need to defer anything if they're already grazing in habits like that," Kelly says.
Conversely, if a rancher employs grazing habits that do not leave as much in the pastures, they may need to consider deferring the use of that pasture to build an adequate fuel load to carry fire, and "not only to carry the fire, but also to get that fire hot enough so it will get the smaller cedars that are 2-, 3-, 4-foot tall."
Deferring pasture goes against the mindset of most ranchers any year, but especially during a drought year where feedstuffs may be at a premium. While the plan needs to be detailed, Kelly says it is not etched in stone.
Kelly is the liaison officer for the Mid-Missouri River Prescribed Burn Association, a South Dakota rancher-led organization covering the counties of Gregory, Charles Mix, Lyman and Brule — what have become the "epicenter" of red cedar invasion from Nebraska. He says members of the burn association stay in close contact with landowners with burn plans on the books to ensure the plan is carried out or called off to properly meet the needs of the individual rancher.
A rancher north of Bonesteel in Gregory County was on the fence to burn or not to burn, due to this year's drought, but the burn team was able to execute the plan in the middle of April. "He felt pretty good about getting it done because we got it done somewhat early," Kelly says.
But another rancher farther north called off the scheduled burn because of not only weather conditions not cooperating, but also the need to keep the pasture for summer grazing due to worsening drought.
Watch the weather
In addition to maintaining adequate fuel load on a burn unit, Kelly says close attention is paid to meteorological conditions as the burn date nears, with minimum and maximum parameters set for temperatures, humidity and wind speed, as well as the wind direction on burn day. During a burn, if "we get out of prescription, and if it's unsafe, then we shut it down," he says.
Environmental conditions are also a concern for a couple days following a burn. "We also try not to do a prescribed burn if we're going to have a major weather front come through within at least 48 hours after a burn," he says. "We monitor that pretty darn closely as well.
"On one burn unit, we cancelled it three different times in March because the weather conditions were right the day of the burn, but they were forecasting 40- and 50-mile-an-hour winds for two or three days after the burn each time."
A burn plan will also detail access to water facilities, gates, escape routes and hazards, as well as preparation of fire breaks and ignition plans.
Kelly says the Mid-Missouri River Prescribed Burn Association and NRCS are good sources of information and to assist landowners wishing to have a controlled burn on their land.
Subscribe to receive top agriculture news
Be informed daily with these free e-newsletters
You May Also Like
---