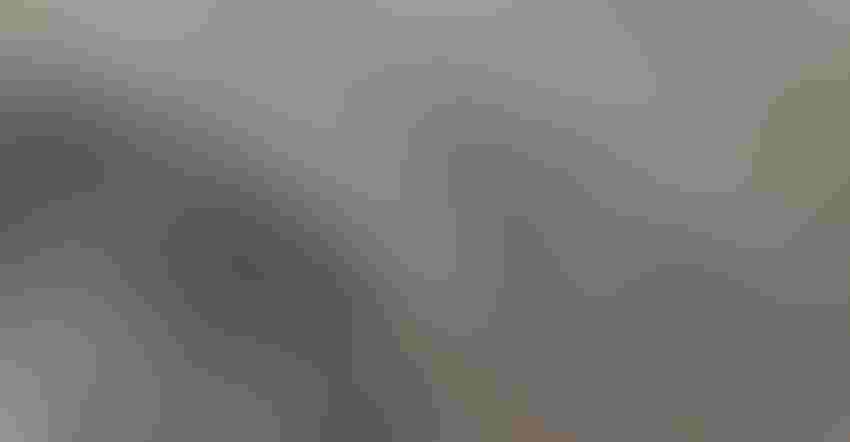 Farmers typically don't need a lot of supplemental hay in late spring, but it's something University of Kentucky Cooperative Extension agent Nick Roy has been seeing in his part of the state. Add to that, higher than normal fertilizer prices and hay and livestock producers are facing a challenging situation.  
"The general feeling from farmers around here is that grass hay growth has been stunted from the recent cooler temperatures," said Roy, the agricultural and natural resources Extension agent in Adair County. "Those comments are even coming from folks who applied fertilizer according to soil test recommendations and others using poultry litter."  
Roy said in addition to a cooler-than-normal spring, south-central Kentucky has also been on the dry side, which could also be a factor. UK agricultural meteorologist Matt Dixon noted that temperatures have been slightly below normal. 
"But (the temperatures) don't tell the whole story," he said. "Rainfall has been slightly below normal in some areas as well." 
Dixon said April 2021 was also cooler, but he doesn't remember farmers talking about a big hay reduction then. The price of fertilizer is likely a bigger culprit to potential lower hay yields this spring and throughout the rest of the year. As fertilizer prices continue to soar to record highs, farmers are not only experiencing the sticker shock that comes with those prices but may even face product shortages.  
Recent DTN reports indicate that retail fertilizer prices were trending higher as of April 27. Monoammonium phosphate showed an average price of $1,079 per ton, which ties the all-time high set in 2008. Nitrogen is also at an all-time high at $730 per ton. Diammonium phosphate, potash, urea anhydrous ammonia and urea ammonium nitrate were also on the rise in April.  
"A large majority of farmers are struggling with those prices and yields are going to reflect that," said Jimmy Henning, Extension professor in the UK College of Agriculture, Food and Environment's Department of Plant and Soil Sciences. "Yield factors are complex and interrelated. Weather, input costs and pests all can affect yield quality and quantity. We need to focus on where we go from here. A lot of farmers probably have some hay carryover since most are conservative and forward thinking about anticipating their hay needs, but will it be enough?" 
Roy said the current scenario will have a longer-lasting effect.  
"Regardless of the cause, I wager that the demand for hay this fall will be huge," he said. "While many had a lot of hay to hold over, many did not. We've already seen some herds culled hard and even sold out. I expect to see more of that." 
John Grove, professor of agronomy, located at the UK Research and Education Center in Princeton, said dealing with high prices means farmers should focus on efficient nutrient management.  
"This means doing better at getting the right rate, right timing, right fertilizer source and the right placement for each pasture or hayfield," he said. "I refer to this as the 4R concept and it has been applied to row crops, but our purpose is to apply it to the forage production system, where the whole soil-plant-animal continuum is under consideration." 
He said there is no silver bullet for high fertilizer prices, but key management strategies will help farmers achieve maximum fertilizer nutrient use efficiency with the commercial fertilizer inputs they purchase.  
"Start with a soil test first, as soil pH values between six and seven are important to good soil nutrient availability and legume growth. Lime fields with acid soils," he said. "Don't apply fertilizer phosphate and potash if soil test phosphorus and potassium values, respectively, are medium-high or greater.
UK's nitrogen rate recommendations are given as a range, so applied N rates should be at the lower end of that range. Avoid products that are 'too good to be true,' promising that small amounts will substitute for large amounts of conventional fertilizer. Whether biological or chemical, almost none of these products (legume inoculants are the exception) have ever delivered on those promises." 
Additionally, Grove suggested that farmers use rotational grazing, bale grazing, manure recovery/spreading and other animal management techniques to conserve and amplify the value of the farm's existing nutrient resources. 
Source: University of Kentucky, which is solely responsible for the information provided and is wholly owned by the source. Informa Business Media and all its subsidiaries are not responsible for any of the content contained in this information asset.
Subscribe to receive top agriculture news
Be informed daily with these free e-newsletters
You May Also Like
---