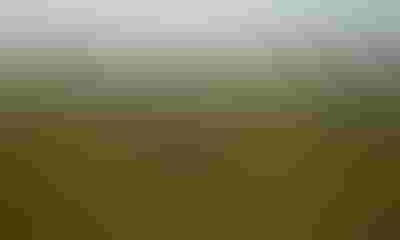 The latest survey of agricultural land values in South Dakota indicate a decline for cropland and increase in rangeland values.
"There is a lot of concern that cropland values and cash rental rates will decline further," says Larry Janssen, South Dakota State University agricultural economist and the project leader.
Land values in South Dakota are "a tale of two different agriculture economies," says Jack Davis, SDSU crops management field specialist. "Agricultural land value changes this past year reflect the sharp decline in crop prices and returns compared to record prices and returns for beef cattle."

Cropland values down; range and pasture values up
The survey showed cropland values declined 4.8% during 2014 to 2015 year compared to an increase of 5.4% during the 2013 to 2014 timeline. Over the prior three years, land values increased an average of 17.7 to 37.8%.
Rangeland and pasture values increased at double-digit rates in 2015, increasing at a greater rate than 2013 at 7.9% and 2014 at 4.0%. "The 2015 increases are similar to the double-digit rates occurring in the years 2010, 2011, and 2012," Davis says.
Cash rental rates for cropland and hay land declined statewide and in several regions, while cash rental rates for pasture / rangeland increased. Statewide, from 2014 to 2015, average cash rental rates per-acre decreased $5.00 for cropland and $2.25 for hay land, and increased $3.00 for rangeland. Cash rental rates for all land uses increased in western South Dakota and decreased or held steady in the southeast region.
Cropland cash rental rates declined in all regions east of the Missouri River, while pasture / rangeland cash rental rates increased in almost all regions of South Dakota.
The highest non-irrigated cropland values and cash rental rates continue to occur in the Minnehaha-Moody county cluster where the average value of cropland in 2015 is $7,837 per acre and average cash rental rate for cropland is $244 per-acre. Cropland values average $7,138 per-acre and cropland cash rental rates average $240 per-acre in the Clay-Lincoln-Turner-Union county cluster.
More than half of survey respondents forecast decreases in cropland values for next year. One-half of respondents forecast increases in rangeland values. Among respondents forecasting changes, the ratio of positive to negative forecasts was 1:3 for cropland compared to 3:1 for rangeland values.
The 2015 estimates are based on reports from 185 responses to the survey. Responses are from agricultural lenders, Farm Service Agency officials, rural appraisers, assessors, realtors, professional farm managers and SDSU Extension field specialists familiar with the land market. The number of responses was the lowest total during the past 25 years.
SDSU Extension provided information for this article.
Subscribe to receive top agriculture news
Be informed daily with these free e-newsletters
You May Also Like
---