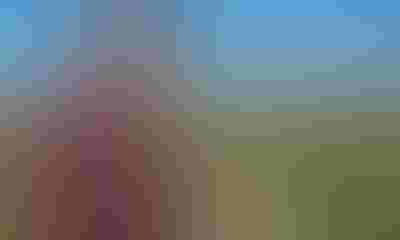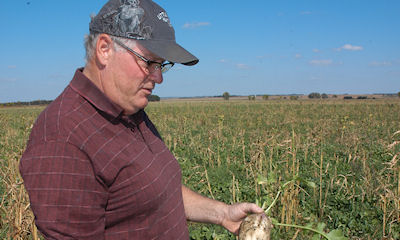 Barry and Eli Little, Castlewood, S.D., are using cover crops to extend the grazing season for their cow herd and convert cropland back to grass.
In early May of 2014 they planted a cover crop mix of forage sorghum, corn, soybeans, radishes, turnips, millet, flax, sunflowers and three types of clovers on a 50 acre irrigated field.  They divided the 50 acres into six paddocks and grazed it for 24 days in August with 135 cow/calf pairs.  A series of frosts beginning on Sept 9 killed the sorghum sudan, which was the dominate species in the mix.

Barry Little checks the size of a radish in a cover crop cocktail he is using in his back-to-grass project.
"We were able to get 12 additional days of grazing in October, mostly from clover and turnips, but fell well short of our goals," Barry says. "Our plan for that 50-acre field is to reseed it to a similar mix this May and leave it until October, if possible, for grazing after the pasture season in conjunction with an adjoining corn field following harvest. In 2016, that 50 acres will go back to corn production, with varying amounts of added fertilizer in test strips to try to determine the fertilizer value of two seasons of grazed cover crop."
On another 80 acres of cropland, they plan to plant barley and oats in the field and harvest forage as haylage in June or July. Then, they will reseed it to a cover crop to produce forage for fall or winter grazing. In the spring 2016, they plan to plant a mix of cool season grasses and legumes in the field to establish the pasture.
Read more in the May issue of Dakota Farmer. You can find it online.
Subscribe to receive top agriculture news
Be informed daily with these free e-newsletters
You May Also Like
---