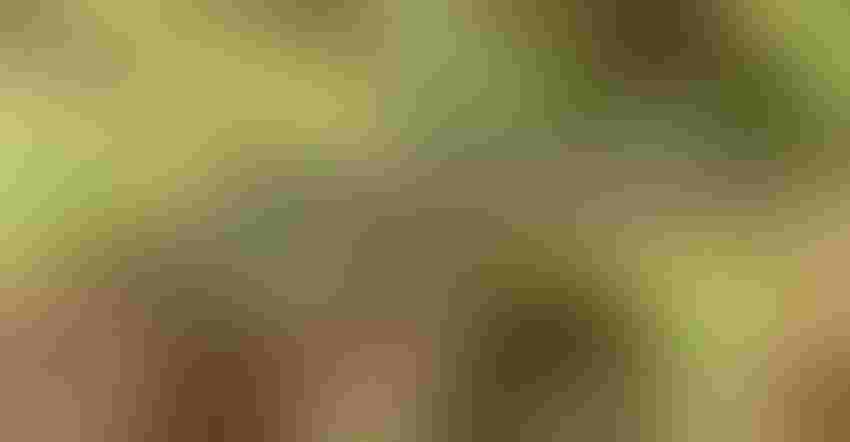 FALL ARMYWORM: It's still too soon to tell what fall and true armyworm pressure will look like for 2022. Nick Seiter, U of I crop scientist, says Illinois farmers should keep their eyes open in April and May for true armyworm and from late July into August for fall armyworm (pictured).
John Obermeyer
It's no secret farmers saw more crop damage from armyworms last fall than previous years due to intense pressure from the pest. So, what's the forecast for armyworm damage during the 2022 growing season? It's too soon to tell exactly, but you can study up on what to look for and how to manage it.
First, know your armyworms. Six different types of armyworm species exist, says Nick Seiter, University of Illinois entomologist. But only two of the six are usually pests for Illinois farmers: true armyworm and fall armyworm. The two hit at different points of the year.
True armyworm
True armyworm is the first species farmers will see during the growing season. Those moths start flying in from as close as the southern tip of Illinois once overnight temperatures get up to about 50 degrees F, or in early to mid-April, Seiter says. Damage from these insects will start to be visible in May and primarily will target corn plants.
Look for moths in fields with some weeds or cover crop residue. They like to lay eggs in dense, grassy vegetation. From there, the armyworms will move into the corn plants and cause stand issues.
What's the projection for true armyworm pressure heading into the spring and summer?
"We try to project insect pressure every year, and every time, it seems like it's a miss," Seiter says with a laugh. The past winter wasn't uncharacteristically cold. There weren't a lot of ice storms or harsh conditions that may knock insect populations down, but that doesn't guarantee high insect pressure either.
"True armyworm is an insect where we don't get much of a heads-up because there's not a lot of foreshadowing from the south about its arrival," Seiter says. That's why Kelly Estes, U of I agricultural pest survey coordinator, spearheads the Moth Trapping Network to coordinate with farmers who volunteer to monitor moth traps in their fields from April 1 to May 31. This effort works to measure the number of moths in Illinois and predict intensity.
Once the moths lay eggs, farmers may face difficulty scouting for larvae because of the insect's nature, Seiter says. Caterpillar pests tend to be nocturnal, feeding at dusk and dawn to protect themselves from birds. But farmers can still scout for true armyworm.
"If you search for the insect in your field, you need to dig through vegetation and residue. Oftentimes you can find them on the underside of a corn leaf," he says. "But you're also going to see their damage — little bits of chewing on the leaf tissue."
Once damage is identified, make sure to apply insecticides accordingly.
"If you get to a point where you have 2% to 3% of corn stands threatened, then it might be worthwhile to spray the population with a pyrethroid insecticide containing a water volume of 10 to 15 gallons to make sure it gets down into the soils where the larvae might be hiding," Seiter says. This is an effective control method if farmers spray fields in time. This is when trap data can help farmers determine critical timing of application, which typically happens around mid- to late May.
Fall armyworm
Illinois farmers won't soon forget the fall armyworm infestation of 2021, when the pest devastated alfalfa stands and more.
Seiter says Illinois farmers don't always face fall armyworm damage — sometimes it's five to 10 years between incidents like 2021. Regardless, fall armyworm is a similar species to true armyworm, damaging corn plants and pastures.
So how do farmers anticipate whether fall armyworm will hit Illinois or not? Luckily, Illinois farmers get more of a heads-up on this species because the insects overwinter in southern areas such as Texas, Florida, Mexico and Central America, he says, adding typical fall armyworm spotting will start to occur in mid- to late August.
"Fall armyworm works its way north with each successive generation throughout the year," Seiter says. "Generally, if it's going to be a problem in Illinois, it's been a problem in states such as Arkansas and Tennessee already."
That's fortunate for Illinois producers, because fall armyworm is difficult to scout for like true armyworm, he adds. It's not impossible, but you need to be prepared.
"Fall armyworm is a sporadic insect, doing the vast majority of its feeding in a relatively short amount of time — usually the last two to four days of its life cycle," Seiter says. If you're not out there checking fields frequently, you may see no damage, and then suddenly you check the field again, and it's gone because fall armyworms have taken over.
Long story short, staying up-to-date with Extension reports from Southern states could be your best tool for knowing when to watch for fall armyworms, he adds. In June and July, crop scientists will have a better projection for Illinois fall armyworm pressure.
When it comes to fall armyworm management, Seiter says strategy all depends on your economic and pressure situations.
"If you're close to a cutting on hay, often going ahead and cutting early is an effective management strategy, because you get the hay out of the field before the larvae eats it up," he explains. "If you're earlier in the hay season, you can use pyrethroid insecticides."
You need to react quickly when you see larvae. Applications will be more effective when you find the small larvae early on, whether in a cornfield or pasture, Seiter says.
Aside from pyrethroid insecticides, consider nonpyrethroid insecticide alternatives such as insect growth regulators and diamide insecticides. These alternatives tend to be more expensive, but the efficacy of the products is higher.
Help monitor spring moths
Want to help predict armyworms? Consider joining the University of Illinois Moth Trapping Network.
The program helps monitor black cutworm and true armyworm to help project arrival of the insects and predict when damage may occur in Illinois, Seiter says.
Here's how the program works:
Monitor traps regularly from April 1 to May 31. Checks should occur every other day, or at least Monday, Wednesday and Friday of each week.

Use a provided identification guide to detect moths caught in traps.

Report moths caught in traps via the website or email.
For more details or to sign up for the program, email Kelly Estes at [email protected].
About the Author(s)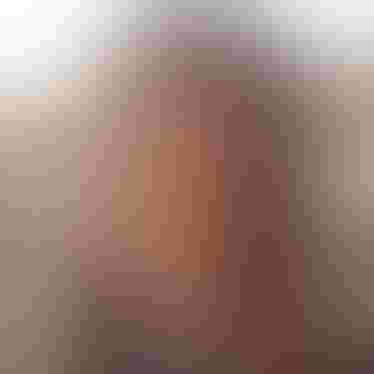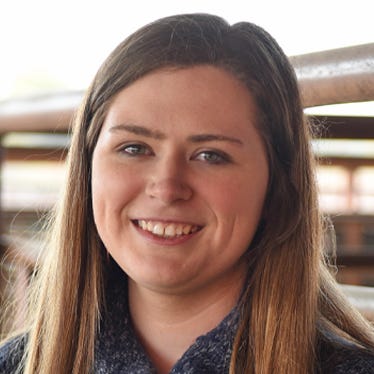 Field editor, Farm Progress
A 10th-generation agriculturist, Sierra Day grew up alongside the Angus cattle, corn and soybeans on her family's operation in Cerro Gordo, Ill. Although she spent an equal amount in farm machinery as she did in the cattle barn as a child, Day developed a bigger passion for the cattle side of the things.
An active member of organizations such as 4-H, FFA and the National Junior Angus Association, she was able to show Angus cattle on the local, state and national levels while participating in contests and leadership opportunities that were presented through these programs.
As Day got older, she began to understand the importance of transitioning from a member to a mentor for other youth in the industry. Thus, her professional and career focus is centered around educating agriculture producers and youth to aid in prospering the agriculture industry.
In 2018, she received her associate degree from Lake Land College, where her time was spent as an active member in clubs such as Ag Transfer club and PAS. A December 2020 graduate of Kansas State University in Animal Sciences & Industry and Agricultural Communications & Journalism, Day was active in Block & Bridle and Agriculture Communicators of Tomorrow, while also serving as a communications student worker in the animal science department.
Day currently resides back home where she owns and operates Day Cattle Farm with her younger brother, Chayton. The duo strives to raise functional cattle that are show ring quality and a solid foundation for building anyone's herd.
Subscribe to receive top agriculture news
Be informed daily with these free e-newsletters
You May Also Like
---