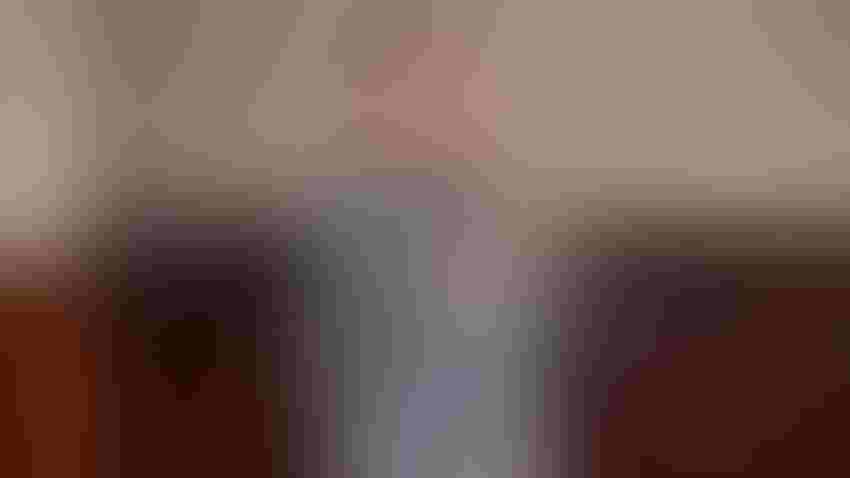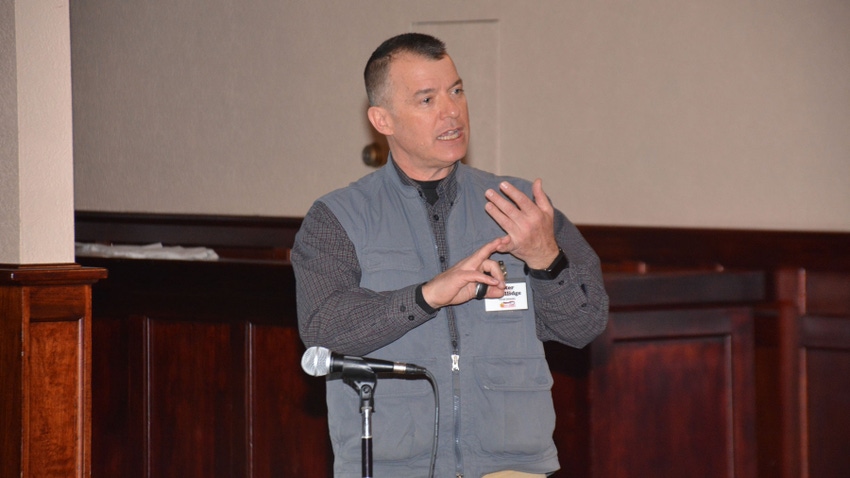 TALKING FORESTS: Peter Smallidge, New York state Extension forester, Cornell University, will present talks on timber and maple syrup production at this year's New York Farm Show.
Photo by Chris Torres
Organized and hosted by the New York Forest Owners Association, this year's forestry seminars at New York Farm Show will feature talks on managing invasive species, enhancing maple production, changes in forestry products and more.
The seminars will be held each day of the show in the Martha Eddy Room of the Arts and Home Building. Here's the complete seminar schedule:
Thursday, Feb. 23
A series of informal talks are planned on the following subjects: History of New York's Forests, What You Need to Know About Your Land and Getting Advice, Just the Facts about New York's Forests and Forest-Based Economy, and Development of New York's Wood-Based Economy.
Friday, Feb. 24
10 a.m. to 11 a.m.: "Protecting forests from invasive species," featuring Megan Pistolese of The Nature Conservancy. Whether you spend time outside in your woods, or just enjoy the beauty of your trees and wildlife from your window, you likely love your woods and want to keep them healthy. Invasive species can devastate your forests.
11 a.m. to noon: "Managing your woodlot for timber production," Peter Smallidge, New York state Extension forester, Cornell University. Sustainable timber management of your woodlot depends on careful attention to species, tree size and how dense the forest is. Achieving good regeneration depends on deer control and other factors.
Noon to 1 p.m.: "Managing your forest for maple syrup production," Peter Smallidge, New York state Extension forester, Cornell University. By removing some trees and giving room for others to grow, you improve the overall health and resiliency of your woods, and get more sap for maple syrup.
1 to 2 p.m.: "Legal rights and responsibilities of forest owners," David Colligan, attorney with Colligan Law Firm, Buffalo. Owning land brings certain legal responsibilities and possible liabilities. Learn what you need to know about maintaining boundaries, trespassing, easements, zoning and other issues.
2 to 3 p.m.: "Managing your woods for wildlife," Kaylee Resha, National Wild Turkey Federation. Wildlife is an important part of land management in New York. Many different species, from deer to turkey to songbirds and others, abound. With certain management practices, you can improve their habitat.
3 to 4 p.m.: "Getting financial cost-sharing for woodlot improvements," Michael Fournier, USDA-NRCS. There are several programs available to landowners for financial assistance to improve your property for timber, wildlife, watershed and other uses.
Saturday, Feb. 25
10 to 11 a.m.: "History of New York's forests," Craig Vollmer, executive director of New York Forest Owners Association. From the large forest holdings of the Adirondacks to the mixed farm-forest landscape of central New York to the small patches of suburban forest in the Hudson and on Long Island, our forests tell a rich history.
11 a.m. to noon: "Changes in forest products and what it means for landowners," John Bartow, executive director of Empire State Forest Products Association. There are many different wood products from our forests, and the markets are constantly changing. Landowners need to be aware of the different products and how changes in the economy affect their ability to manage their land.
1 to 2 p.m.: "Insects and diseases in your woods," Kim Adams, SUNY College of Environmental Science and Forestry. An update on how to recognize the various insects that are invading the woods of New York and what can be done to save our trees.
2 to 3 p.m.: "Experiences of a woodlot owner," Harmon Hoff, landowner. See the successes and difficulties one landowner has experienced over the years in having timber sales and other endeavors. Learn what you might be able to do or avoid.
3 to 4 p.m.: "Trees of New York: Identification and Growth Habits," SUNY ESF speaker. Learn how to identify the common trees found in New York state and how they grow, and what different species need to develop in a forest setting.
The New York Forest Owners Association is a nonprofit, member-driven and volunteer-led organization representing the woodlot and forest owners, and enthusiasts in New York for more than 60 years.
Its members have been at the forefront of conserving the wooded landscape of New York by keeping its woodlots and forests working, wild and productive for timber, wildlife, recreation and more.
Its mission is to promote sustainable forest management and enhanced stewardship through providing education and peer-to-peer learning to private woodlot owners and the public, as well as serving as one of the leading voices of private landowners on forest-related policy issues.
To learn more, become a member or donate, visit nyfoa.org, or contact the association at 1-800-836-3566 or [email protected].
Source: NYFS
Subscribe to receive top agriculture news
Be informed daily with these free e-newsletters
You May Also Like
---