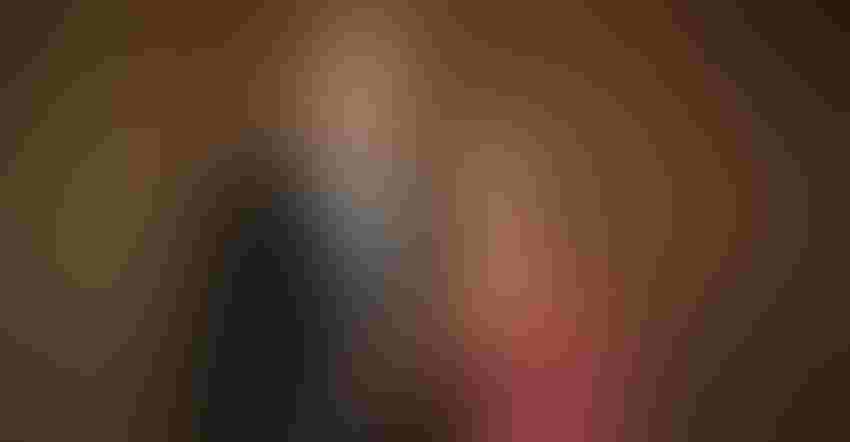 OUTSTANDING FARMERS: Kyle and Rachel Zwieg of Ixonia, Wis., were selected as the 2022 Wisconsin Outstanding Young Farmers. The couple milks 70 registered Holsteins and farms 1,400 acres.
Harlen Persinger
Kyle and Rachel Zwieg of Ixonia, Wis., were selected as the 2022 Wisconsin Outstanding Young Farmers during the 68th Annual Awards Weekend Jan. 21-22 at the Best Western Premier Resort and Hotel in Neenah, Wis.
"We are humbled to win this award," says Kyle, 34 years old. "It is an honor to receive the award."
The Zwiegs are sixth-generation dairy and crop farmers. They milk 70 registered Holstein cows and farm 1,400 owned and rented acres. Their farm has been in the family since 1856. Kyle credits his family and the many mentors along the way who helped shape his farming career, encourage his thirst for knowledge, and hone his farming and business skills, for much of his success.
"I didn't do this alone, and I am grateful to my family and many mentors along the way who continue to help me," Kyle says.
With an eye to the future, the farm has significantly moved forward on new ideas over the past decade. They adopted robotic milking technology in 2020 and are committed to cow comfort and increased dairy efficiencies. Conservation-minded, the Zwiegs embraced a 100% no-till cropping system in 2010 and strive to try new techniques such as aerial seeding of cover crops into standing corn and soybeans. They are active in their local farmer-led watershed group, in their community, and in telling ag's story.
 The Zwiegs have three sons — 6-year-old Theodore and 5-year-old twins, Landon and Logan.
"Today's farmer is an entrepreneur in a complex agribusiness," says Cindy Matton of the Wisconsin Outstanding Young Farmer organization. "Farmers must understand all aspects of farming and business, as well as be involved in their community. It's not only fitting for farmers to be honored for their achievements — it's essential. Congratulations to all our finalists. You are making a difference."
More award winners
Mike and Gina Redetzke were named OYF runner-up. The Redetzkes farm near Colby, Wis., custom-raising heifers for area dairy farms and running a small grass-fed beef herd.
Dylan and Bryanna Handel of Barneveld, Wis., were awarded the Speak Up for Ag Award. The couple operates a 75-cow Jersey dairy farm.
Other finalists were Keith and Stephanie Abts, New Franken, Wis.; Matt and Sara Hintz, Amherst, Wis.; and Ryan and Megan Prellwitz, Ripon, Wis.
Judges for the event included Donald Adams, BMO Harris Bank; Scott Reuss, Extension crops, soils and horticulture agent for Marinette and Oconto counties; and Angie Ulness, Manitowoc County Extension ag educator and past Wisconsin and national OYF winner.
In addition to the important networking events and the awards portion of the program, OYF finalists participated in ag forums about improving mental health with Jeff Ditzenberger, founder of TUGS (Talking, Understanding, Growing, Supporting), and crisis management preparedness with Shannon Linderoth, Filament. They also toured LaClare Family Farm and LaClare Creamery in Malone, Wis.
Wisconsin will have two finalists at the 2022 National OYF Awards in Hilton Head Island, S.C., Feb. 2-6. Wisconsin OYF 2020 winners Phil and Laura Finger of Oconto are finalists for the 2021 National OYF Award, and Joe and Ashley Dudkiewicz of Crivitz, OYF 2021 runners-up, are finalists for the 2022 National OYF Award. Due to COVID-19 canceling last year's event, the 2021 and 2022 awards programs are being held at the same time this year.
The Outstanding Young Farmer program began in 1954 as a national program for the U.S. Jaycees. Wisconsin's first winner was named in 1952, and 68 state programs have been held since. Wisconsin has had 18 national winners during the program's history. Visit wi-oyf.org to learn more or submit a nomination or an application form.
Subscribe to receive top agriculture news
Be informed daily with these free e-newsletters
You May Also Like
---