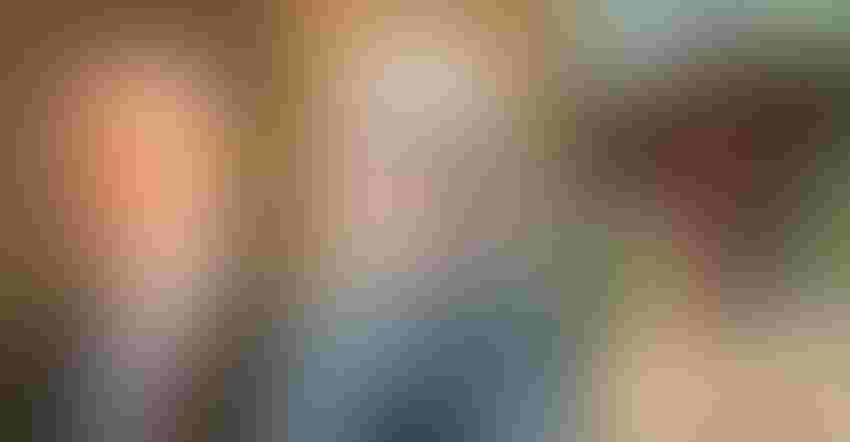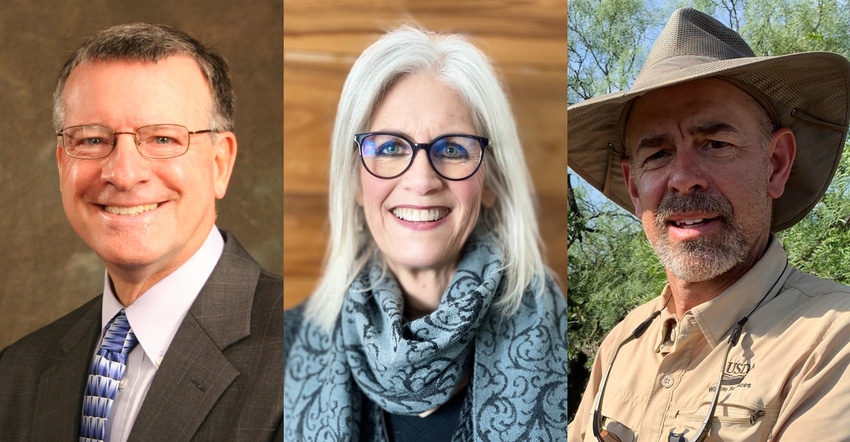 HONOREES: Robert Boehm (from left) of Grand Ledge, Mich., Robin Rosenbaum of Lansing, Mich., and Kurt VerCauteren of Laporte, Colo., were honored March 11 during ANR week at Michigan State University.
Three people with long histories and careers serving Michigan's agriculture and natural resources industries were recently honored with Michigan State University's College of Agriculture and Natural Resources Distinguished Service Award, which recognizes high standards of integrity and character that positively reflect and enhance the prestige of the college.
Robert Boehm of Grand Ledge, Mich., Robin Rosenbaum of Lansing, Mich., and Kurt VerCauteren of Laporte, Colo., were honored March 11 during ANR week at MSU.
Robert Boehm
During Boehm's 30-year career with Michigan Farm Bureau, he partnered with MSU and was involved in many projects with members — including international study tours to Australia and Ukraine, the first and only U.S. Cuba Food and Agribusiness Expo in Havana, as well as Project GREEEN, and later, the Alliance for Animal Agriculture. He also worked to support the establishment of the farmer-controlled Farm Produce Insurance Authority and assisted in the formation of the Michigan Wheat Program.
At MFB, he first served as the agricultural/commodity specialist in the Commodity Division, and then as manager of the Center for Commodity, Farm and Industry Relations within the Public Policy and Commodity Division. He retired in 2020.
As an MSU alumnus, Boehm bleeds green and white, according to MFB's livestock and dairy specialist Ernie Birchmeier, who nominated him for the award.
"He's always been proud of his Michigan State University heritage and proud of the leaders that he had the opportunity to work with at Michigan State University," Birchmeier says. "I never met anyone who Bob could not collaborate with and come together to solve challenging issues with a positive outcome that works best for everyone. And if that isn't service to agriculture, I don't know what it is."
Robin Rosenbaum
An MSU fisheries and wildlife alumna, Rosenbaum has worked for the Michigan Department of Agriculture and Rural Development (MDARD) for 30 years and serves as plant health section manager, Plant Pest Management Division. She also serves as the state plant regulatory officer for Michigan, coordinating the initial federal response to a new pest detection.
She has worked with state and federal agencies to obtain emergency-use pesticide approvals needed to control insects and diseases threatening important specialty crops in Michigan. She was instrumental in the response to, and subsequent eradication of, plum pox virus on stone fruit trees from 2006 to 2009 and Ralstonia on geraniums in 2020.
Earlier in her career as an Extension assistant/associate in the MSU Extension Pesticide Education Office, Rosenbaum helped develop the Crop Advisory Teams and CAT Alert Newsletters. She developed pesticide training programs, including a comprehensive slide set for pesticide applicators. She also initiated and supervised the development of the Michigan Pesticide Information Retrieval System (MPIRS).
James Kells, Rosenbaum's nominator and Project GREEEN coordinator, says, "She's not a person that seeks the limelight or notoriety. She tends to be a more behind-the-scenes person, but she's had a huge impact on Michigan agriculture during her career."
Kells noted Rosenbaum's commitment to serving on a panel to review Project GREEEN proposals and make recommendations for funding. "It's a lot of work, and Robin has participated in those panels nearly every year for the last 16 years," Kells says.
Collaborating with the MSU Plant and Pest Diagnostic Lab, Rosenbaum was recognized as a key partner in tackling serious pest outbreaks and preparing for emergency responses.
Kurt VerCauteren
VerCauteren was recognized for his management of Michigan's natural resources and service to the MSU Department of Fisheries and Wildlife.
Since 2004, VerCauteren has been the project leader and supervisory research wildlife biologist for the National Wildlife Research Center in Fort Collins, Colo., where he controls or mitigates negative wildlife impacts on people. This passion led him to Michigan, where he has engaged in disease research since the early 2000s, including bovine tuberculosis in deer, invasive feral swine control and rabies control.
He has published more than 200 peer-reviewed papers, been cited over 6,000 times, and has won multiple awards for his publications.
His work with MDARD, the Michigan Department of Natural Resources, and USDA Michigan Wildlife Services resulted in the development of the Bovine Tuberculosis Risk Assist Program and the Bovine Tuberculosis Eradication Project.
Rick Campo, MSU professor in the Department of Fisheries and Wildlife, nominated VerCauteren, saying the university is fortunate to collaborate with him to have lasting impacts on the state.
"He brings a breadth of expertise based on his work in wildlife damage management and disease management," Campo says. "Not only from here in Michigan throughout the state, but also from other countries. He's worked with people in Spain. Switzerland and a whole host of other places where he's been able to work with unique wildlife species, both native and exotic, and unique ecosystems to conserve wildlife resources."
Subscribe to receive top agriculture news
Be informed daily with these free e-newsletters
You May Also Like
---