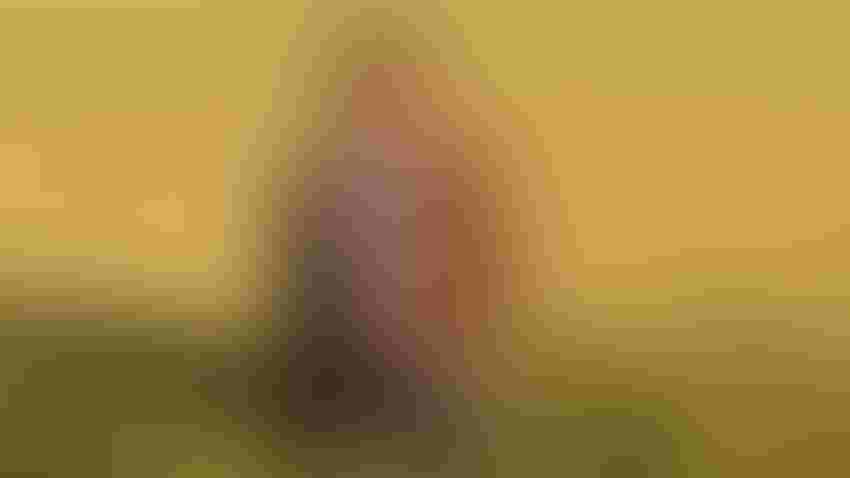 As the 2023 Agricultural Economics Fellow for the Farm Foundation, Trey Malone will explore the role of farm programs in support of sustainable food system development in the U.S. from an economic and profitability standpoint.
Caroline Craft Malone
For the third consecutive year, the Farm Foundation offers its Agricultural Economics Fellowship program to provide unique opportunities for a rising agricultural economist. The fellow named for 2023 is Dr. Trey Malone, and his special focus on sustainable food systems is expected to be a major talking point in deliberations for the upcoming farm bill.
Malone serves as assistant professor of agricultural economics and agribusiness at the University of Arkansas System Division of Agriculture. His ag-adjacent background drives his research interests in agribusiness entrepreneurship and the development of sustainable food supply chains. This fellowship opportunity allows him to expand his expertise and collaborate with policy makers while advocating for stakeholders in the industry. 
He applied for the fellowship in the fall of 2022 after colleagues in the field encouraged his pursuit. Malone described the highly involved process including letters of recommendation, interviews with the Farm Foundation, and meetings with the office of the chief economist of the USDA to ensure his candidacy was a good fit.  
By mid-December, Malone was named fellow, and he hit the ground running in January. 
Fellowship Focus 
Malone's first order of business was participating in the Farm Foundation's gathering of Round Table Fellows in Savannah, Ga. This event kicked off the 90th year of the foundation and provided attendees with direct insight to the nature of upcoming farm bill conversations.  
U.S. Secretary of Agriculture Tom Vilsack attended to deliver the opening keynote address and entertain questions. Additionally, a panel of former U.S. secretaries of agriculture joined the meeting to participate in bi-partisan discussion on topics surrounding advancements in the ag industry. 
"As we gear up for this coming farm bill, one of the big points of conversation is exploring the role of farm programs in support of sustainable food system development in the U.S. My role will be unpacking and exploring this from an economic and profitability standpoint," Malone said. 
His follow-through tasks include hosting advocacy conversations through roundtables and seminars. He will also author white papers to unpack the meanings of present-day ag terminology such as "regenerative" and "sustainable." 
Malone said it goes beyond simply defining these practices. His goal is to ensure that people are on the same page – not just in Washington D.C., but across the country. This is important as farmers adjust production systems to better align with these objectives and understand where ag policy may be moving in the future. 
"It is finding what words – like sustainable, regenerative or climate friendly – really mean and how they are being funded. We can see more of what they mean by understanding exactly how policy makers are trying to incentivize these practices and how climate-smart ag fits into this conversation," he said. 
Recognizing the role of the consumer is also crucial. 
"Every dollar that a farmer makes came from some consumer's pocket. Most consumers are also voters. So, when it comes time to make these regulatory or public policy decisions, it is important to remember that these people matter in terms of how farmers get their crop in the ground and harvest it," he said. 
Another aspect of the fellowship is working closely with the chief economist for the USDA and engaging in USDA outlook meetings throughout the year.  
Moreover, Malone will provide mentorship to a Farm Foundation Agricultural Scholar. His mentee is Jack Myers, a Ph.D. student in public policy, who also happens to be one of Malone's students at the University of Arkansas. 
Ag-Adjacent Upbringing 
Malone describes his background as ag-adjacent. While he did not grow up on a farm, he gained plenty of experience on his grandparents' ranch in Laverne, Okla. 
"We would go out to the ranch and help whenever we could. The experiences we had at the ranch were the reason I ended up pursuing a Ph.D. in ag economics. Even in my lifetime, you could see people leave the rural area. So, my passion and focus are trying to come up with ways to keep small towns floating and keep small farms alive," he said. 
Malone earned his master's and doctorate degrees from Oklahoma State University. His career portfolio comprises over 50 published articles in peer-reviewed journals along with multiple research awards. Furthermore, he serves as managing editor of two academic journals, and his economic insights are published across press outlets such as CNBC, Fast Company, Popular Science, the New York Times, and USA Today. 
He has even presented on TEDx Talks, to share the resiliency of the U.S. food system and emphasize what we learned from supply shortages experienced during the COVID pandemic. 
Before coming to the University of Arkansas, Malone focused on ag marketing as assistant professor and Extension economist at Michigan State University. He noted that Michigan is the second most diverse ag state in the country, extending his skillset far beyond row crops. 
When asked what brought him to the Delta, Malone said Arkansas recruited him pretty hard, but he fell easily for the Natural State.  
"I was Arkansas curious. I came down and just fell in love with it. Arkansas is one of those best kept secrets. I can live on a mountain, enjoy my peace and quiet, yet still see the rapid growth in ag and food. This type of growth is not happening everywhere, so it is incredibly fun to be a part of," he said. 
Malone teaches classes in agribusiness entrepreneurship and food and ag marketing for the Department of Agricultural Economics and Agribusiness for the Arkansas Agricultural Experiment Station (AAES). His wife, Caroline, also joins the University of Arkansas as a psychology professor and works closely with the Division communications team to create promotional content for AAES. 
"You can just feel the optimism here," he said, referencing his ag economics team and the leadership of the Division. "Our department has made a lot of good strategic hires and I am excited to be part of the future in the state of Arkansas. It is really bright, especially in the ag and food space." 
Subscribe to receive top agriculture news
Be informed daily with these free e-newsletters
You May Also Like
---