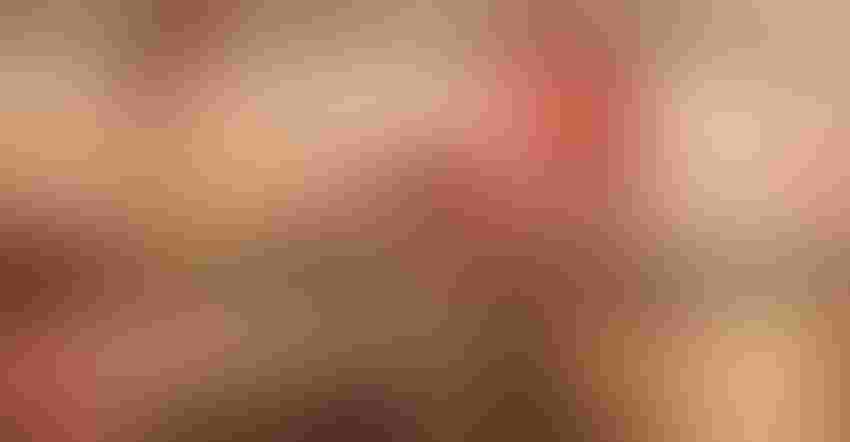 TEACHING: In her new position at ISU, Laura Greiner will build upon her industry experience in strengthening research, teaching and Extension programs to benefit the pork industry.
The newest swine faculty member at Iowa State University is ready to combine her education and private industry research experiences to create a great experience for students and pork producers. Since starting in early November, Laura Greiner has been refamiliarizing herself with ISU's animal science department, faculty, staff and students, and is enthusiastic about this step in her career.
"I'm an ISU alum, received my undergraduate degree in animal science, and both my master's and Ph.D. in animal nutrition under Dr. Tim Stahly," she says. "After some post-doc work in microbiology at the University of Iowa College of Medicine, I worked at Carthage Veterinary Clinic in Carthage, Ill. I was director of research for 11 years, then nutrition director for two years."
Industry experience helps
In her previous job, Greiner's responsibilities were focused on research, with occasional swine farmer contacts and periodic teaching opportunities with U.S. and international interns and visitors. In her new position at ISU, she'll build upon those experiences in developing and strengthening research, teaching, and accessing Extension programs to benefit the pork industry.
"Having connections in the industry at all levels helps establish a research program by cultivating new ideas or addressing an issue together. Also, the network allows me to connect students with others who may be able to talk to them or assist with an internship," she says. "Being connected to others brings the ability to share information and to learn what works and what needs work, and to move the industry forward as one."
Greiner describes the four main components of her ISU position.
"First, a major part of my responsibility will be focused on teaching undergraduates and aligning them with the swine industry. Second, I'll also be working with swine producers in Iowa to assist them with nutrition or other production questions they may have," she says. "I'll also have the ability to interact with youth in the state to cultivate their passion for animals. And finally, I'll be looking to conduct research that focuses on application of ideas into production programs with the focus being associated with sows and lactation."
From growing up on a row crop and livestock family farm in central Illinois, where she raised show pigs and was a 4-H member, through her educational professional experiences, Greiner understands the ag industry and is ready to share her enthusiasm with colleagues, students and others.
"I'm excited to be back at ISU and am looking forward to helping others in the swine industry. To me, a good day accomplished is one in which a producer will call or email me and let me know that their issue has been resolved," she says. "Agriculture is an important part of who I am, and I look forward to working with others who either share that passion or are curious to learn more about animals."
Expertise in swine nutrition, immunology
Animal science department chair Don Beermann says Greiner's career success and firsthand experiences make her well qualified to be an outstanding educator, researcher and Extension leader at ISU.
"Laura Greiner parlayed her undergrad and graduate education at Iowa State into an outstanding career focused on practical swine production research and service to the industry," Beermann says. "Her expertise in nutrition, immunology and best management practices will provide students the best informed, real-world understanding of current swine production systems."
Iowa Pork Industry Center director and animal science associate professor Jason Ross echoed those comments. "Laura comes with a significant amount of industry relationships and a credibility for conducting research that is relevant and applicable to U.S. pork producers," Ross says. "That will strengthen both our research and Extension efforts, and we're excited she's part of our team."
Source: Iowa State University
Subscribe to receive top agriculture news
Be informed daily with these free e-newsletters
You May Also Like
---