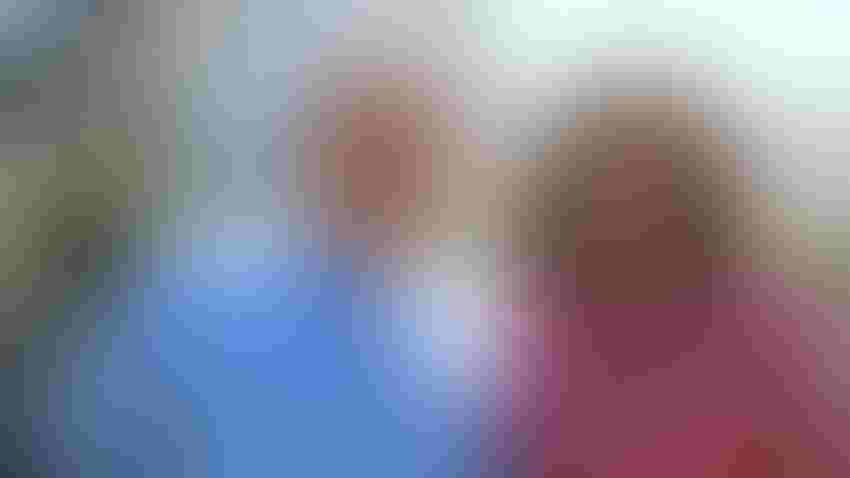 WE, NOT ME: The secret to making it work, say 2022 Kansas Master Farmer and Master Farm Homemaker Todd and Charlene Sheppard, Olsburg, Kan., is to approach everything together as a team — from Todd's years in law school, to raising their two sons, to building their ranch from scratch. It's not a matter of "me" but of "we," they say.
Photos by Jennifer M. Latzke
What makes a Kansas Master Farmer and Master Farm Homemaker?
For the six families represented in the 2022 Class of Kansas Master Farmers, one key ingredient is a sense of community and service. In this three-part series, we talk with the couples and ask them their advice and lessons for others.
Richard and Anita Poland of Isabel, Kan., and Todd and Charlene Sheppard of Olsburg, Kan., are two of the six families in the 2002 class. The two couples have much in common, such as their love of the beef industry, their community service and their strong support of Kansas State University Research and Extension work.
What lessons do you take from those early days of starting out?
Polands: Richard and Anita both held off-farm jobs. Anita was a registered nurse with the Barber County Health Department and Richard was the agriculture teacher and FFA advisor at Medicine Lodge High School.
"When you're trying to work and raise a family, you just kind of keep everything on your calendar and get everybody to where they need to be," Anita says. And it helped that their family was close, and everyone filled in places where they were needed, from fixing meals to childcare. Teamwork and approaching things with humor and grace helped them navigate the struggles.
Sheppards: Todd and Charlene say teamwork was the key for them starting out, too. They were newlyweds, and their oldest son was just an infant when Todd was in law school. They juggled three years of law school with off-farm jobs, raising their two sons and starting their own farming enterprises. They managed it all with a village of helpers. "We say 'We went to law school,' because it's like a lot of things, when you look back on what you do — whether it's farming or whatever, we are a team," Todd says.
"I think it helped we just had this tremendous work ethic," Charlene adds.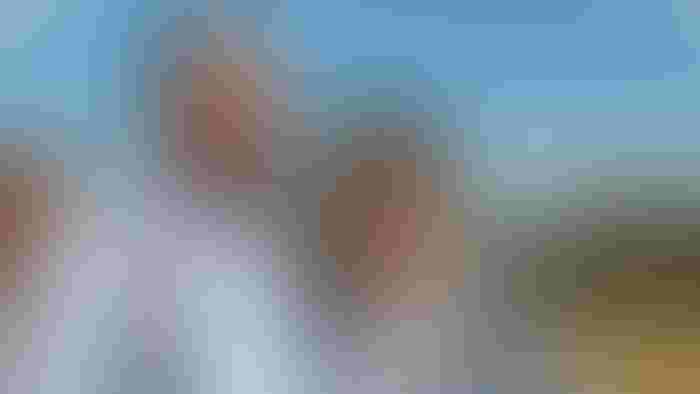 MUTUAL BENEFITS: When you give back to others, and help your community, you wind up getting a return you can't measure in dollars and cents, say 2022 Kansas Master Farmer and Master Farm Homemaker Richard and Anita Poland, Isabel, Kan. Starting a youth livestock judging contest at their ranch to help 4-H and FFA members hone their skills took a lot of work from the family and volunteers over the years, but seeing those young people go on to successful careers in agriculture is rewarding, they say.
You both started your cattle herds from small beginnings. What advice would you give to others doing the same?
Polands: The Polands started with 10 bred Angus heifers, bought in a partnership with Richard's brother. Richard used his artificial insemination training from K-State to help expand the herd efficiently and have access to improved genetics. "There weren't a lot of commercial breeders using AI at the time," Richard says. "We concentrated on carcass genetics for 10 or 15 years." He says using AI and collecting as much data as they can helped them make efficient improvements to the herd.
Sheppards: The Sheppards started their farm with a flock of sheep, a few bucket calves for their sons to show in 4-H, and four cows they leased from Charlene's parents.
"We started small," Todd says.
"And it was something I could do myself," Charlene adds. The sheep didn't require a lot of upfront capital or large equipment, and it helped them hone their stockmanship skills. Eventually, they added a registered Charolais seedstock herd to their ranch and began building a reputation for their genetics. They used embryo transfer technology and worked with other ranchers to build their herd into one that has a reputation for quality carcass merits.
How important was it for you to volunteer in your community and teach your children to do the same?
Polands: Whether it's playing the piano and singing in their church, volunteering with the semiannual Medicine Lodge Peace Treaty Pageant, serving on boards or starting their own annual Poland Angus Ranch Livestock Judging Contest at the ranch, the Polands say serving others is important.
"Our goal has always been to breed cattle that will have a positive, lasting effect on the industry," Richard says. "That goes for us, too — to live lives that have positive, lasting effects on our community, our church or our organizations."
Sheppards: "It's important, because when I was young and didn't realize it, people were volunteering to help me," Todd says. Whether it's giving time to Habitat for Humanity, Extension, or youth associations, doing the work matters to them.
"That's how we keep our communities thriving," Charlene adds. "It's good for your soul to be involved. It's a good lesson for your kids."
"And it keeps you grounded," Todd says. "We have to teach our children that our small communities need them to volunteer if they're going to stay vibrant."
How has K-State Research and Extension helped your family and ranch grow?
Polands: "I worked with Extension agents quite a lot during my teaching years," Richard says. "I relied on them for information on all things agriculture." From his lesson planning as a teacher, to 4-H activities, to help with nutrition programing at the county health department, Extension was a helpful partner for Richard and Anita over the years. And it's a resource they try to promote still today.
"Extension is one of the few places you can go to get information that's not biased," Richard says.
Sheppards: "In one word — 4-H," Todd says. Todd and Charlene were both 4-H members, and they raised their sons to be 4-H members as well.
"That was our family thing," Charlene says. "It teaches compassion and lessons you don't learn anywhere else." The Sheppards saw how showing livestock expanded their sons' worlds, and credit 4-H — and FFA as well — with teaching leadership and work ethics.
"To me, from a state and federal level, we need to pour every bit of resources we can into 4-H and our 4-H agents," Todd says. "At a time when we see we have a crisis in our youth, here we have a vehicle, through 4-H and our Extension network, where we can reach out."
What do you hope is your legacy?
Polands: "At any point along the road, there were two branches, and if we had taken one over the other, would we have the life we have today?" Richard ponders. "But you know what? We're surrounded by people who love us and are proud of us, and we've done amazing things in their lives."
He notes that the judging contest is just one example. It's been a blessing to see alumni of the judging contest go on to careers in the industry, and even welcoming the second generation to the ranch for the contest. But it was something pretty neat to see how the community rallied around in support of that contest all those years. And it started with one decision.
Sheppards: It's a piece of advice Todd's given their sons and other young people he's mentored over the years.
"When you're starting to think about doing something, don't start with 'I can't do that,'" Todd says. "Start with 'I think I can do that. I want to do that.' If you start with 'I can't,' you never will make it. And surround yourself with good people who will help you along the way to your goal."
Subscribe to receive top agriculture news
Be informed daily with these free e-newsletters
You May Also Like
---