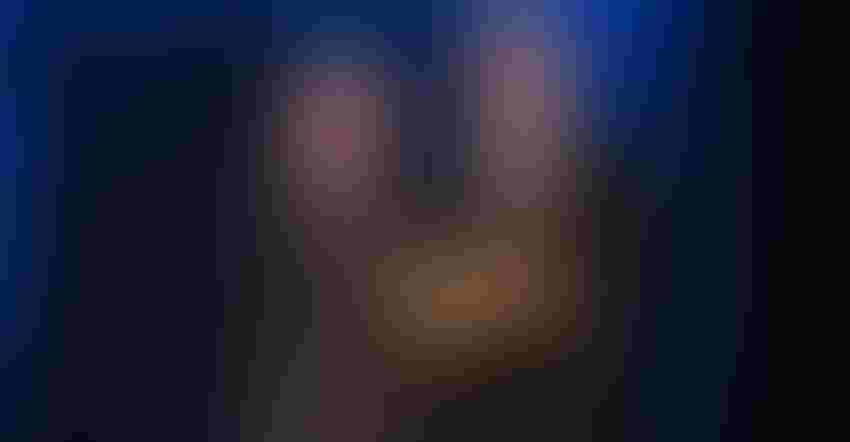 WINNER: Illinois Farm Bureau President Rich Guebert presents the Charles B. Shuman Distinguished Service Award to Ed McMillan.
Betty Haynes
Illinois Farm Bureau holds annual meeting
At its annual meeting earlier this week in Chicago, the Illinois Farm Bureau elected two new district directors to a two-year term on its governing board.
Brent Pollard, Winnebago County, will represent District 2, which includes Jo Daviess, Stephenson, Winnebago, Boone, Carroll and Ogle counties. He was elected president of his county Farm Bureau this year and was chair of IFB's Young Leader Committee in 2012-13. Pollard raises corn, soybeans and wheat while milking 80 cows near Rockford.
Jeff Weber, Massac County, will represent District 18, which includes Jackson, Williamson, Saline, Gallatin, Union, Johnson, Pope, Hardin, Alexander, Pulaski and Massac counties. He's served as his county Farm Bureau president since 2019 and grows corn and soybeans near Metropolis.
IFB leaders presented their most prestigious award, the Charles B. Shuman Distinguished Service Award, to Ed McMillan. Raised on a farm in McDonough County, Ill., McMillan was president and CEO of Purina Mills. Dedicated to service on the state and national levels, McMillan has served on the National FFA Foundation and was president of the University of Illinois board of trustees.
The IFB Young Leader Committee elected its 2023 officers, including:
Chair Sadie Asher, Henry County

Vice Chair Rachel Fulton, McLean County

Secretary Carolyn Brummel, Kane County

Education and Recruitment Subcommittee Chair Jenna Severs, Vermillion County

Achievement Subcommittee Chair Kody Bowman, McDonough County

Governmental Affairs and Commodities Subcommittee Chair Josh Reinhardt, Randolph County
Young Leaders also announced winners of their three contests. Evan Hultine, Bureau County, won the Achievement Award, which recognizes young farmers for their achievements on their farm and in leadership positions. Kaylee Heap, Kendall County, won the Excellence in Agriculture Award, which recognizes Young Leaders who are actively contributing to their communities and growing their involvement in Farm Bureau and the agriculture industry. Ryan Reeverts, Ogle County, won the state Discussion Meet, which weighs a Young Leader's ability to manage a small group discussion. All three winners will compete at the American Farm Bureau Federation's annual meeting in Puerto Rico in January.
Nominate conservation farmer for Leopold award
The Leopold Center is looking for a conservation-minded Illinois farmer to recognize with its 2023 Leopold Conservation Award. The award celebrates "agricultural landowners who inspire others with their dedication to ethical land, water and wildlife habitat management," and comes with a $10,000 prize.
Sand County Foundation and national sponsor American Farmland Trust annually present the Leopold Conservation Award to farmers in 25 states. In Illinois, the award is presented in partnership with IL Corn and the Illinois Soybean Association.
Owners of farm and forest land in Illinois may apply for the award themselves or be nominated by another party. The application can be found at sandcountyfoundation.org and applications are due April 1. Winner will be announced in the summer.
Rural electric co-op association gets new president
Craig Sondgeroth will be the new president and CEO of the Association of Illinois Electric Cooperatives, beginning in January.
Sondgeroth joined the AIEC in October 2018 as the general counsel, providing leadership and legal expertise for the 30 electric cooperatives in Illinois. He will be the fifth president and CEO in the organization's 80-year history.
"Electric cooperatives have an admirable purpose — they provide electricity on a not-for-profit basis, and the members have democratic control," Sondgeroth says. "This business model has worked well since the 1930s. I believe strongly in the value the AIEC provides to Illinois electric cooperatives, which in turn, benefits rural Illinois families like mine."
Sondgeroth grew up on a farm near La Moille, Ill., and has worked in both private law practice and as general counsel and chief of staff in the Illinois Department of Agriculture.
He will succeed Duane Noland, who will retire in early January and has served as head of the association since 2005. Noland served two terms in the Illinois Senate and four terms in the Illinois House of Representatives.
"Craig has a diverse background in law, energy issues, agriculture and association management," says Noland of his successor. "He will be an outstanding leader for the electric cooperative program in Illinois."
NREC elects new chairman
Don Guinnip, Marshall, Ill., was recently elected chairman of the Illinois Nutrient Research and Education Council. Guinnip represents IL Corn on the NREC board and has served as treasurer since 2021. He farms 900 acres in Clark County, where he grows corn, soybeans, wheat and milo. He also raises cattle in a cow-calf beef operation.
Matt Duncan will continue to serve as vice chairman. Duncan represents fertilizer dealers. Jeff Kirwan was elected secretary and represents the Illinois Farm Bureau; he previously served as chairman. David Wessel was elected treasurer and represents the Illinois Soybean Association. He farms near Chandlerville, Ill., raising corn, soybeans, wheat, cattle and hay on his no-till farm.
Subscribe to receive top agriculture news
Be informed daily with these free e-newsletters
You May Also Like
---