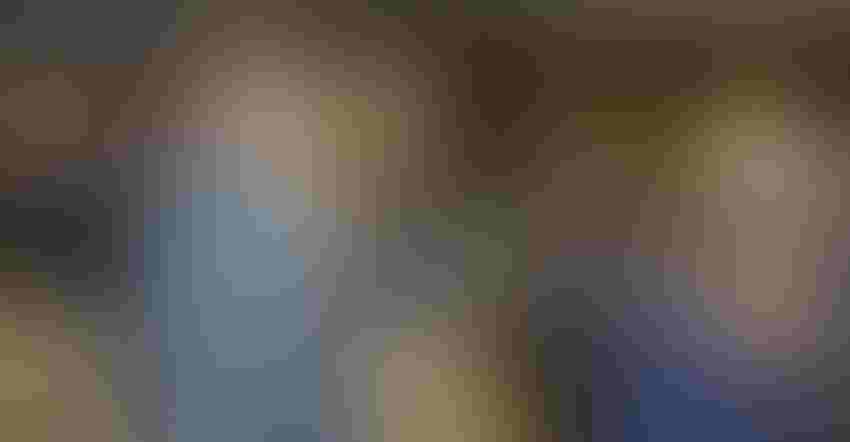 2 HONORED: At a reception for the Honorary Agriculturalists, Donna Moenning speaks with students from South Dakota State University. She was to receive the award at last year's 97th Little International, which was canceled due to COVID-19. Kevin Vander Wal was the recipient for this year's 98th Little I.
Kevin Schulz
Editor's note: This is the last of a three-part series overviewing the activities and events of the 98th Little International at South Dakota State University.
Kevin Vander Wal says he is honored to be named the Honorary Agriculturalist for the 98th Little International at South Dakota State University.
"There are names on that list that I certainly don't belong in the conversation with, so it's extremely humbling to be a part of that," he says, looking at the list of past honor recipients. Among the distinguished list are his parents, Edward and Gina Vander Wal, who received the award in 2008.
Related: SDSU Little 'I' a success despite COVID-19
When his parents received the award, "they kind of included all of us at that time," Kevin says. "I figured that ruled me out for some other day," so winning the award was "quite a surprise."
Kevin graduated from SDSU in 1988 and went on to continue his cattle background at his home farm. He showed cattle three years at Little "I" in addition to showing a ewe one year.
Little I is in the Vander Wal blood, as Kevin's son Collin was manager of last year's show, which was canceled due to COVID-19. Kevin and wife Kari also have sons Dallis and Lane. Dallis won the overall showmanship at 2017's Little I.
After Kevin graduated from SDSU, he started working for the university as assistant manager at the beef unit. A year later, he moved to his current management position.
Working at the Cow-Calf Education and Research Facility, which the beef unit is officially called, works well for Kevin, as he can stay hands-on with the family operation down the road near Volga, S.D. His family runs a registered herd of Shorthorn and Shorthorn Plus cattle, as well as 1,400 acres of cropland.
His involvement at the research facility goes beyond simply managing the unit and working with students. He also had a hand in designing the facility that opened in the fall of 2016.
"It was a really good exercise" with a class on campus involved in an architectural engineering, Kevin says. "We had a lot of meetings with those kids and their instructor. They just needed something to start with, so my yellow notebook paper that I was scribbling on was the start of that whole thing. It changed to where you can't even recognize what I had on there. The location also changed so the lay of the land was different, but some of the principles have continued to be the same."
Kevin says the old beef unit was functional but didn't come close to the research capacity of the new center. While he doesn't conduct the research, he ensures all equipment operates smoothly, as well readying the facility for events and groups, such as judging team practice, contests and Extension activities.
Well worth the wait
Donna (Schmidt) Moenning was supposed to be in the spotlight in 2020 as the Honorary Agriculturalist, but COVID-19 got in the way. The 2020 Little I was canceled, delaying her recognition until the 2021 event.
"I don't think of it as me being recognized a year later," she says. "It's the year the students missed out."
As for the honor itself, Moenning is humbled. "I look at names on that list. There are so many incredible individuals."
She refers to people she worked with during her time with the National Livestock and Meat Board and the Beef Industry Council: Martin Jorgensen from Ideal, S.D.; John and Florine Glaus from Chamberlain, S.D.; and Leonard and Violet Wulf from Morris, Minn. "They're legends, just so many incredible individuals."
Moenning believes being passionate about what she does earned her this honor alongside those legends. "For those who made that decision, it's the career path I've had, reflecting my passion for communicating for agriculture. This is their way to recognize that," she says. "I think of so many individuals in ag communications that got their start at South Dakota State. The university has really created some incredible individuals in this field, and ag communication is needed now more than ever before."
Moenning and her husband, Mark, have three children, Mary, Samuel and Martha. Their family farms near Hayfield, Minn., where she has worked professionally from a home office for more than 25 years.
Communicating for agriculture is a way of life for Moenning. Starting when she was an SDSU student giving a weekly "Ray's Western Wear Rodeo Report" and announcing Little I, to farm broadcaster for multiple radio stations over the years, to work for the NLMB and the Midwest Dairy Association.
During a reception held to honor the award recipients, Moenning engaged with a group of SDSU students. "I love our young people that are passionate about agriculture. I love to hear what their goals and interests are, and what they aspire to do," she says. "In some small way, if I can encourage them, that's why I do it. Because we need young people to see the opportunities in this industry, and that whatever their ambitions are to go for it."
Though years have passed since she was an SDSU college student, Moenning admits, "I'm still that farm kid who came to college with aspirations to make a difference in this industry. I want every student to find their place in agriculture while never forgetting that their efforts to provide food for people, and care for livestock and our natural resources have an impact. That impact is personal to consumers, and it is why there is and will continue to be growing interest in ag production."
Moenning continues to have an impact through her work with Look East, a communications agency that helps clients grow consumer trust in food and agriculture. Clients include The Center for Food Integrity, National Pork Producers Council, United Soybean Board, North American Meat Institute, Corteva and Phibro Animal Health.
Subscribe to receive top agriculture news
Be informed daily with these free e-newsletters
You May Also Like
---