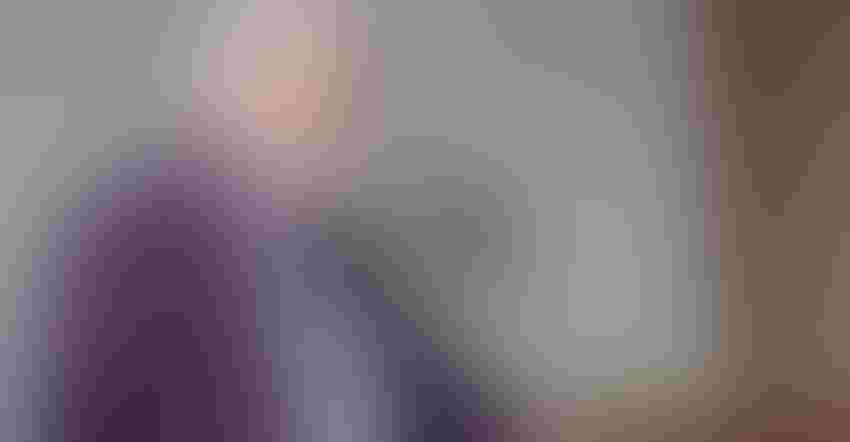 In 2018, Kansas Corn honored Dr. Flinchbaugh with its inaugural Kansas Corn Impact Award, one award amid a sea of recognition he received over his many years.
Kansas Corn
Grief is strong in Wildcat country as word spreads of the loss of a Kansas State University icon who influenced more than four decades of farm and economic policy and thousands of students, many of whom have, in turn, made their mark on the world. Professor Emeritus Dr. Barry Flinchbaugh died on Monday, Nov. 2.
Dr. Flinchbaugh will long be known and feted for the influence he wielded in the halls of power when it came to ag policy and economics. As an adviser to presidents, congressmen and senators, he had a role in writing every Farm Bill for almost five decades, most notably the 1996 Freedom to Farm bill.
Perhaps, though, his greatest influence was not with the prominent leaders he advised, but with the legions of students he taught.
Not all those students were in his classroom. Dr. Flinchbaugh was never out of teacher mode and he was just as willing to share his knowledge and his pithy sense of humor with a farm journalist as he was with his many generations of students.
But he's remembered for so much more than expertise. He had a wry wit and a sense of humor and he was a kind and caring friend as well as a thought and policy leader.
Jenni Latzke remembers cigar 'donation'
High Plains journalist Jenni Latzke is one of the writers who benefitted from both his mentorship and his expertise. She shared one of her favorite memories:
Related:Kansas State mourns loss of esteemed agricultural economics professor
"I think my favorite Barry story could be how he "donated" the last of his cigars to a KARL fundraiser auction about 6-7 years ago. Those cigars brought a lot of bids and a lot of laughs from the crowd. He was such a champion for Kansas agriculture, and for the people who worked in the industry. KARL was one way he could influence the future leaders of our state, and there are so many in our industry—in Kansas and on a national level—who trace their fire for leadership to his lessons."
Ehmkes share memories of 'The Rotund Hun'
Lane County wheat grower and seedsman, Vance Ehmke and his wife, Louise, are longtime friends of Dr, Flinchbaugh. Here are a couple of their favorite stories:
"Louise and I were privileged to know Barry Flinchbaugh for well over 40 years, "the Rotund Hun," as they called him way back when. One of our favorite stories is when he stopped by one late winter night for a visit at our Lane County farm.
Louise was gone on a KARL overseas trip to China and our 6, going on 7, year-old daughter, Marit, and I were left here alone to entertain Barry.
Marit's birthday (she is now a graduate student at Montana State University) was coming up sometime over the next several days. And, of course, there was a pile of birthday presents on the table. Marit had been begging for days to open some presents early, but the parents had so far successfully resisted her pleading. For some reason I had to leave the house for a while leaving Marit alone with Barry.
Related:The professors unplugged
Then as Barry tells the story, not long after I left, Marit slid across the couch to sit beside him. And then she looked up at him and asked him if it would be all right for her to open some gifts. Barry said that it wasn't up to him to give her permission to open the gifts.
And then she said, "Well, you're a professor at Kansas State University and you can do whatever you want."
Barry just roared with laughter when he told me the story. And for years afterwards at Wheat Grower meetings, he'd often re-tell the story about how the little blonde farm girl from western Kansas tried to snooker him."
Hunting pheasant Flinchbaugh style
Dr. Flinchbaugh liked to bring his family members to western Kansas for pheasant season and the Ehmke farm was favorite territory.
 "Barry Flinchbaugh liked to come to western Kansas to hunt pheasants, often with family members. They'd frequently stay in our scale house where we have several guest rooms. But I never really envisioned Barry to be a rough and tumble outdoorsman even though he did have a 12-gauge and the appropriate tan and orange hunting outfit. And, of course, the lace up hunting boots. He truly dressed the part. But could he walk the walk? Would he get out there with the rest of the hunters and climb over fences, bust the brush and plow through dead Russian thistles and kochia trying to kick up the ringnecks?
All my questions were answered the first day of the hunt, the first time he was out here. I drove the hunting party to some heavy brush ground of ours up on the Middle Fork of the Walnut Creek. And then watched with interest as the group decided how to attack the terrain. Turns out that Barry was a Gentleman Hunter and his role in the hunt was to drive a pickup to the end of the property and wait there patiently with windows rolled up and warm heater air blowing in his face while he chewed on a cigar. To him, that was hunting. At any rate, whenever anyone is taking the easy way out here on our farm, they are jokingly reminded that, 'You're doing that like Barry Flinchbaugh hunts pheasants'."
Remembering Dr. Flinchbaugh 'in his element'
Julia Debes, a fifth-generation farmer in central Kansas and communications coordinator for the U.S. Grains Council shared this memory:
"My very first trip out of the country was to visit Cuba with Dr. Flinchbaugh and a group of Kansas wheat farmers. I hadn't taken his class yet, but I was well aware of who he was and of his importance to agriculture. And Dr. Flinchbaugh was in his element. More than the discussions with government leaders, wandering around a collective farm or veering off the beaten path to see what Cuban life was really like, my mind can still picture him iconically sitting outside on the historic hotel patio on a humid night in the tropics - actually smoking a Cuban cigar - with stories and lessons about "where little babies come from" swirling around as thick as the smoke. The laugh, the cigars, the cane, the twinkle in the eye - all just Barry, surrounded by a captive audience, dissecting the world that is and the world that could be."
Remembering the 'huge heart'
Journalist Bill Spiegel shared a personal story.
"In 2002, my wife and I wanted to host a fundraiser walk for Lou Gehrigs Disease, from which my sister was fighting. We hoped to have it on the KSU campus. We had to have a campus sponsor so I asked Dr. Flinchbaugh, who I didn't really know very well.
"I went into his office and was quite nervous, as he was a pretty intimidating figure. I explained the situation and he grabbed the pen out of my hand, signed the release form and said 'if they give you any grief, you tell 'em Flinchbaugh said it's okay.'
"I get goosebumps thinking about his generosity and huge heart."
Classroom memories still strong decades later
Master Farmer Gary Barker of Pratt County has memories that date back decades to his time in Dr. Flinchbaugh's classroom in the mid-1970s.
"His was the last period of my last year at K-State," he recalls. "There were probably 125 students in that ag policy class, all guys except for one girl. Back in those days he actually smoked cigars, not just chewed on them.
"He walked in at the last minute like always and sits his stuff down on the desk. Then he surveys the class, and here's the one girl, sitting there holding a cigar like she's smoking it. The whole class roared and he didn't know what to say. I think it's the only time I ever saw him speechless."
He recalls another incident when the unthinkable happened, someone fell asleep in class.
"That class was at 2:45 in the afternoon and I remember one day when it was really warm and one of the students fell asleep during his lecture.
"Dr. Flinchbaugh was lecturing along and saw the kid asleep. He stopped and his eyes got big and headed down the asile. This kid was about 3 seats off the aisle. Flinchbaugh stopped right in front of him and yelled 'what the hell are you doing?' The kid jumped about a foot. That's the last time anybody fell asleep in that class."
About the Author(s)
Subscribe to receive top agriculture news
Be informed daily with these free e-newsletters
You May Also Like
---