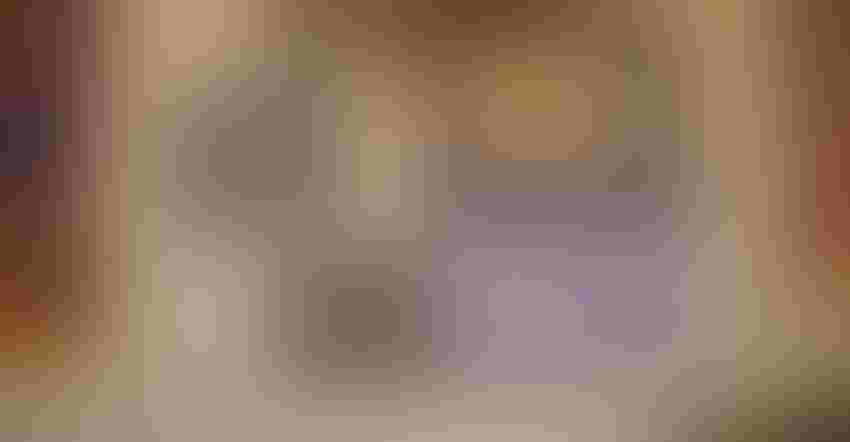 PLENTY OF AWARDS: The walls of the Rottinghaus Holstein Farm dairy office boast the photos, ribbons and banners of show cow success.
There has been a Rottinghaus farming the land 2 miles north of Seneca in Nemaha County since 1876 when Henry Rottinghaus moved from Iowa to Kansas. There has also been a Rottinghaus operating a dairy on that farm since 1933.
Today's stewards of that legacy are Jan and David Rottinghaus, who have raised four children and countless cows and calves on that land, all the while making steady improvements to both farm and dairy in more than three decades of ownership of Rottinghaus Holstein Farm, this year's Kansas Distinguished Dairy.
The current dairy operation involves milking about 520 cows in a double-16 herringbone parlor that David says was enlarged "one time too many" from a double-four to a double-eight and finally to a double-16.
"We really should have started over," he says. "The remodel didn't give us the best efficiency we could have gotten with a rebuild." It did, however, give them the added capacity they needed to continue to grow the size of the dairy at the time.
Growing, making changes, and trying new things are traditions of the Rottinghaus family going all the way back to Henry Rottinghaus' 1876 arrival in Kansas.
Henry was involved in breeding Percheron horses and Black Mammoth jacks.
It was one of his sons, Frank, who started the dairy and purchased the first registered Holsteins in 1933. In 1958, Frank's son, Walter, returned home from serving in Korea and took over the farm from his dad. After Frank died later that year, Walter and his mother decided to discontinue raising hogs and to milk more cows. In the next few years Walter's brothers, John and Jerry, joined the operation, and the first freestall barn was constructed in 1962. By the mid-1970s, the operation was milking about 100 Holsteins.
David began buying father Walter's share of the farm in 1982. Two years later John and his family started their own dairy operation nearby. Jerry continued to be part of the operation until 2002 when he decided to sell his shares to David. He is still active in the day-to-day operation of the dairy.
David continued to purchase replacement heifers and increase the size of the dairy herd. An addition to the milking parlor was made in 1987, increasing it from a double-four herringbone to a double-eight. Freestall barns were added in 1992 and 1996, and by 2000, the herd had grown to 300. In 1995, dad Walter was honored for his long career in the dairy business and presented the Kansas Distinguished Dairy of the Year award.
David was also utilizing embryo transfer to improve herd genetics, a topic that also interested his brother, Donald, who had left the farm for a career in the Subway Sandwich business but kept his interest in dairy cattle and in building a show herd. He began buying purebred show cattle, and David cared for them on the family farm.
It was a partnership that flourished. For four years in a row, in 2003, 2004, 2005 and 2006, they won Premier Exhibitor at the World Dairy Expo and were premier exhibitors at the Kansas State Fair the same years, along with winning a host of other awards.
After the milk market crash in 2009 and a big change in genomics with the arrival of in-vitro fertilization, David decided to concentrate on the dairy operation and cut back on the show circuit.
During the show years, Jerseys and Brown Swiss were added to the genetic lines to increase the number of show cattle, and some of their offspring are still part of the current herd.

THE JUG: David and Jan Rottinghaus show off the trophy that is theirs to display for the coming year — the traveling milk jug.
In addition to the dairy, the farm owns about 300 acres of cropland and rents another 600 acres. About 500 acres are available for row crops, 300 acres for alfalfa and hay, and the rest is pasture and trees. The farm raises all its own replacement heifers. Bull calves are raised and marketed for breeding.
David and Jan have also been innovators in the area of labor for the dairy.
Faced with a shortage of workers in 2006, they began to participate in a foreign trainee program that offered help for the farm and an excellent learning experience for people from other countries. Over the years, Rottinghaus Dairy has hosted 30 people from 10 countries, some of whom have come back as visa workers at the dairy.
The dairy provides housing for those who work there and pays competitive wages. As a result, it has been two years since they had to replace an employee.
With the exception of family members, their herdsman and one farm-side employee, all the workers at the dairy are Hispanic.
David was the first Kansas dairyman to utilize wind power, installing a wind generator on the farm in 2012. He and Jan have also been innovative in the calf rearing portion of the operation. They built a calf barn and added an automated milk feeding system that utilizes computer feeders to deliver pasteurized whole milk to the baby calves.
"I have tried to keep building upon the foundation created by past generations," he says. "I've tried a lot of new things, and there have been some that worked better than others. I'm proud that we have kept making progress on the farm."
David and Jan say they hope that one of their four children will want to return and become the fifth generation of Rottinghaus Holstein Farm. All of them have been involved in 4-H and Junior Holstein activities.

SECOND TRIP: It is the second time around for the traveling trophy milk jug at Rottinghaus Holstein Farm. David's dad, Walter, has his engraved tag from his 1995 award.
"And we have a long way to go before they are all grown," Jan says.
Their youngest, son Keaton, is only 10 years old.
Subscribe to receive top agriculture news
Be informed daily with these free e-newsletters
You May Also Like
---