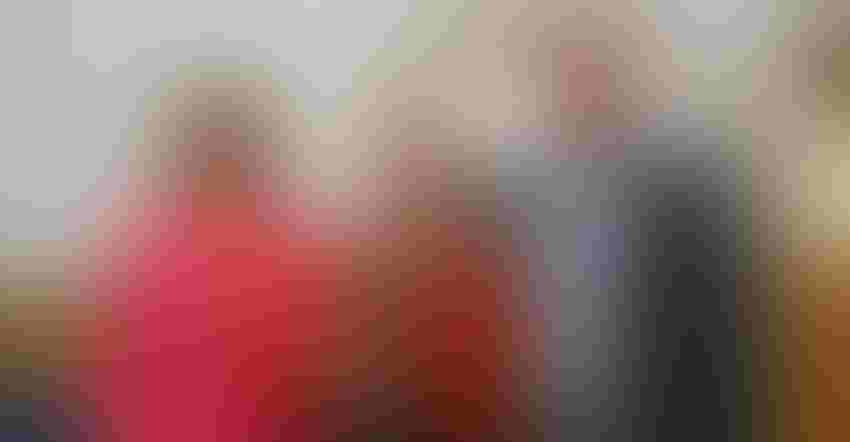 DAIRY PROMOTION: Sharon Toth (left), United Dairy Industry of Michigan CEO, and Corby Werth (right), UDIM president, honored Cheri Chapin of Remus, Mich., with the Excellence in Dairy Promotion award at the Great Lakes Regional Dairy Conference.
Courtesy UDIM
The United Dairy Industry of Michigan honored Cheri Chapin of Remus, Mich., with the 2020-21 Excellence in Dairy Promotion award at the Great Lakes Regional Dairy Conference. This award recognizes one outstanding Michigan dairy farm family member for their dedication to promoting dairy foods and their local dairy community.
A few of Chapin's notable volunteer service activities include:
Tours. Her favorite dairy promotion is conducting farm tours for schoolchildren. She also makes sure the adults on her farm tours learn as much as the children.
National work. In 2013, Chapin was appointed by the U.S. secretary of agriculture to serve on the National Dairy Promotion and Research Board and served for six years. In this role, she helped direct national promotion, research and nutrition education programs.
Local involvement. In addition to state and national involvement, Chapin volunteers at local county and school events to educate others about dairy. For instance, at the Agriculture and Natural Resources Stewardship Day in Mecosta County, Chapin shared dairy's story with more than 300 elementary students and teachers. 
Nominations for the Excellence in Dairy Promotion award will be accepted for the 2021-22 award winner from Nov. 1 to Dec. 31, 2022. Contact Jolene Griffin at [email protected] with questions about the application process.
State tax credits proposed for ethanol retailers
Legislation has been introduced to create state-level tax credits for Michigan retailers selling E15 and E85 ethanol-blended fuels to Michigan drivers.
Sponsored by Sen. Kevin Daley, R-Lum, the proposal would create a five-cents-per-gallon tax credit for the sale of E15 and a 0.085-cent-per-gallon credit for the sale of E85, with both expiring after five years unless renewed by the Legislature.
Theresa Sisung, Michigan Farm Bureau industry relations specialist, says an analysis, "Economic Impact of Statewide E15 Use in Michigan," shows expansion of E15 would be a win-win scenario for the state's environment, economy and corn farmers.
"Michigan drivers consumed 439 million gallons of ethanol through E10-blended fuels in 2019," Sisung says. "While impressive, that volume pales in comparison to the total 4.5 billion gallons of gasoline purchased by state motorists that year, according to the report."
According to the analysis, implementing statewide E15 use would require an additional 220 million gallons of ethanol. The value of this output — including ethanol, dried distillers grain and distiller's corn oil — would amount to more than $400 million.
The analysis estimated the economic activity generated by this industry output would add nearly $530 million to the Michigan GDP, generate $166 million of income for Michigan households and generate nearly $47 million of state and local tax revenue.
Cervid farms found to have new bovine TB cases
Two new cases of bovine tuberculosis at privately owned (farmed) cervid facilities in Sanilac and Alcona counties are being reported by the Michigan Department of Agriculture and Rural Development.
The cases were found through routine surveillance testing and are the fifth and sixth farmed cervid facilities to be identified with bovine TB. The last cervid facility affected with the disease was discovered in 2009.
While bovine TB is a bacterial disease that is present in the free-ranging white-tailed deer population of specific areas of northeastern lower Michigan, it can affect all mammals — including other livestock (such as cervids) and even humans. Cervids include all species of deer, elk, moose and other members of the Cervidae family.
"Since the disease can impact farmed cervids, our routine surveillance efforts help us to detect the disease early and limit its spread," state veterinarian Nora Wineland says. "A key part of the current investigation will be whole-genome sequencing, which involves a comprehensive analysis of DNA from the bovine TB bacteria and will help determine the source of the infection."
The whole-genome sequencing results may take up to three months to be completed.
More information about bovine TB can be found at michigan.gov/bovinetb.
Subscribe to receive top agriculture news
Be informed daily with these free e-newsletters
You May Also Like
---