NEWLY APPOINTED: Andy McDowell, vice president of field operations at Western Reserve Land Conservancy and newly appointed member of ODA's farmland preservation board, poses with his 1948 Farmall C.
Eric Newton, Newton New Media
Andy McDowell, vice president of western field operations at Western Reserve Land Conservancy — Ohio's largest land trust — was recently appointed to the state of Ohio's Farmland Preservation Advisory Board at the Ohio Department of Agriculture for a three-year term. 
McDowell, 53, has worked at the land conservancy since 2006, overseeing conservation easements, land restoration and farmland preservation primarily in the organization's western service area. He graduated from Slippery Rock University of Pennsylvania with a degree in environmental education and began his career as a Pennsylvania Bureau of State Parks naturalist.
He later transitioned to the Great Lakes Science Center in Cleveland, where he served as vice president of exhibits and building operations.
He grew up working on his family's farms in western Pennsylvania, which has helped him establish solid relationships with farmers across northern Ohio.
McDowell is an avid outdoorsman who enjoys hunting, fishing, archery, canoeing, camping and maintaining antique Farmall tractors, a hobby he picked up from his father who was a lifelong farm mechanic.
5 Legacy Farmers locations earn multiyear 4R stewardship
Continuing its commitment to improving water quality in the Western Lake Erie Basin, Legacy Farmers Cooperative has achieved multiyear certified status at five of its Ohio locations through the 4R Nutrient Stewardship Certification Program:
Custar Agronomy — year-eight certified

Arcadia Agronomy — year-seven certified

Arlington Agronomy — year-seven certified

McComb Agronomy — year-seven certified

Pandora Agronomy — year-seven certified
In its ninth year, the voluntary certification program is a concentrated effort by the agriculture industry to significantly reduce and prevent applied nutrients from running off fields, which has contributed to water quality issues in Lake Erie. Facilities are required to meet certain program goals each year to retain certified status.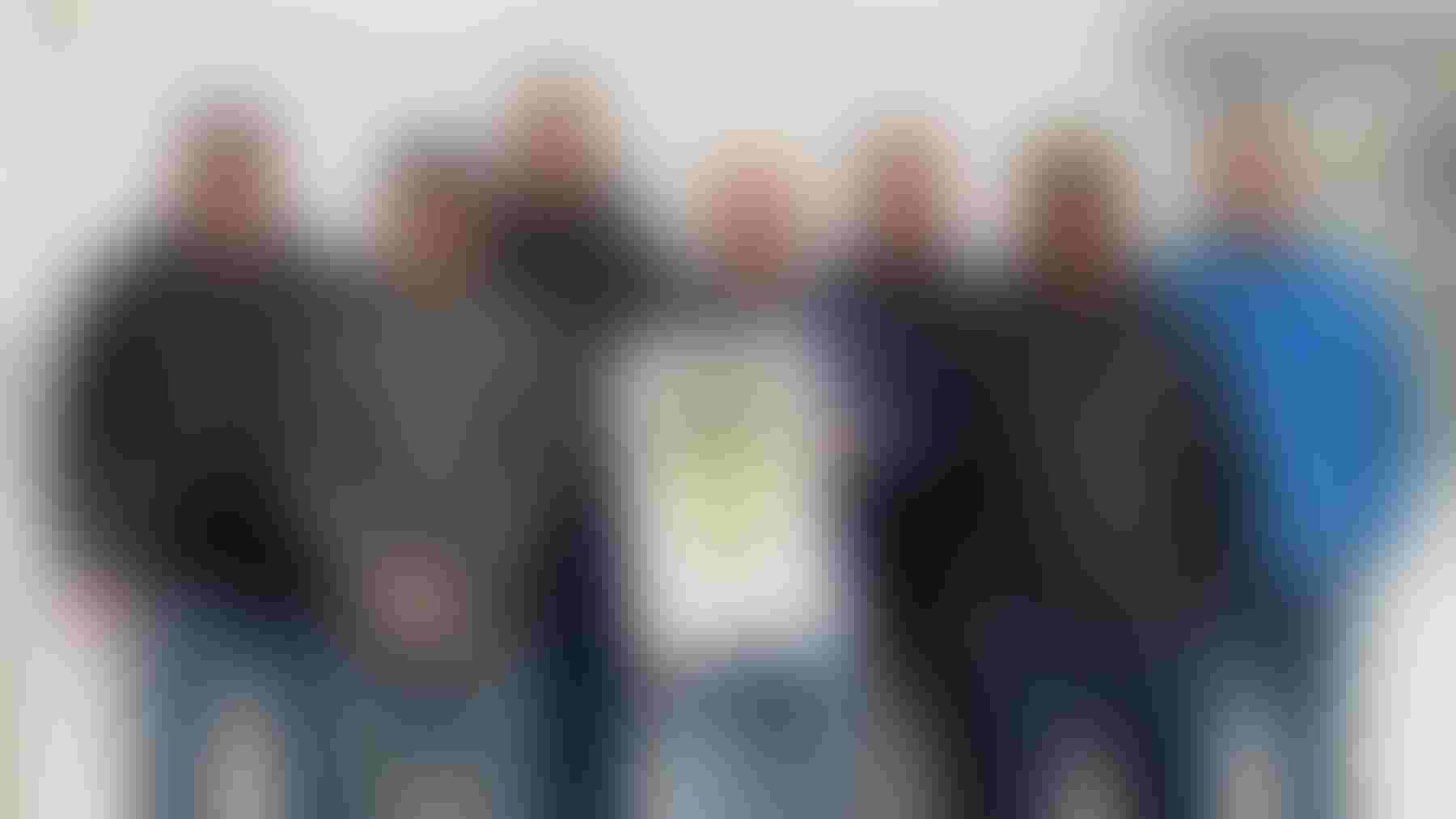 LEGACY FARMERS: McComb Agronomy is a Legacy Farmers Cooperative year-seven 4R Nutrient Stewardship Certified location. It's one of five Legacy Farmers with multiyear certification. Employees include (back row, from left) David Metzger, Ira Mansfield, Tony Brown, Neal Boes, (front row, from left) Kurt Thompson, Andy Heacock and Reed Hovest. Not pictured is Tracy Flick. (Photo courtesy of Legacy Farmers)
About 2.5 million acres and more than 5,000 grower customers are serviced by the 55 facilities in Ohio that have earned 4R Nutrient Stewardship Certification.
For more information, visit 4Rcertified.org, email [email protected] or call 614-326-7520
Grain grading courses offered
Are you looking to obtain your Commodity Tester Certificate? Or do you already have your Commodity Tester Certificate and need to renew it? OABA's Grain Grading School — approved by the Ohio Department of Agriculture — is structured to provide certification or recertification opportunities.
The Grain Grading course will provide training in the procedures for grading corn, soybeans and wheat, as well as sampling and equipment. Immediately after the course, individuals seeking certification will take an open-book exam consisting of 50 questions.
Those seeking recertification receive the same training and sign a verification of attendance form. Instruction is provided by Eurofins Grain Inspection. Once again, OABA will offer a test-only option for individuals seeking recertification.
The Ohio Commodity Handler Law requires all individuals who perform a quality test for the purpose of applying a premium or discount on commodities to be certified. New commodity testers must pass (80%) a written exam. Those currently certified must either fulfill continuing education requirements or pass the written exam once every three years to renew their Commodity Tester Certificate. 
Participants are encouraged to bring "trouble" grain samples to class to evaluate during the session. 
Need the test, but don't want to drive to ODA? For your convenience, OABA is offering test-only options for individuals needing to renew their Commodity Tester Certificate, without sitting through the full Grain Grading School. The test-only option is available for $10 with a separate registration link. Test-only individuals are advised to arrive no later than 12:15 p.m. for the 12:30 p.m. test.
Grain Grading School check-ins are at 8:30 a.m. with it beginning at 9 a.m. Cost is $50 for members, $65 for nonmembers and $10 for the test only.
Click here to register for the 2023 Grain Grading Schools.
The event dates are as follows:
June 7. McComb High School, 328 Todd St., McComb, Ohio
July 20. OSU Wooster, Ag Tech Institute Campus — Skou Hall 100, 1889 Garrison Circle W, Wooster, Ohio
Aug. 24. Grace Lutheran Church, 1801 Saint Paris Pike, Springfield, Ohio
Sept. 14. Ohio Department of Agriculture, 8995 E. Main St., Reynoldsburg, Ohio
Subscribe to receive top agriculture news
Be informed daily with these free e-newsletters
You May Also Like
---