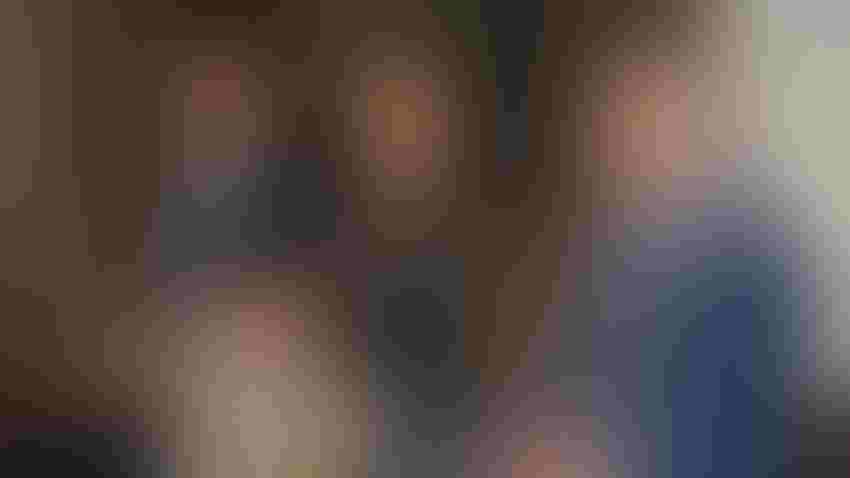 LOOKING AHEAD: 2023 Purdue Apex Award winner Christina Welch (center) talks about technology trends in the future. She is flanked by the other winners, Mesbah Motamed (left) and Gustavo Acosta-Garza (right).
Tom J. Bechman
One of the biggest benefits of a college education is learning how to think through a situation. That's according to recent Apex Award winners, who believe it's one of the top skills that college students can acquire. The Apex Award is presented by the Purdue Department of Agricultural Economics.
"One of the skills I came away from college with was how to think through things more clearly," says Christina Welch, Tippecanoe County, Ind. "It is an analytical skill, which is extremely important. Sometimes you wonder why you study some of the things covered in college courses, but what you're really learning is how to think through problems and challenges."
Three Purdue ag economics alumni were honored with the Apex Award recently. Welch manages RCJ Farms LLC, growing crops in Tippecanoe, Carroll, Clinton and White counties. She earned her bachelor's degree in botany and plant science at Purdue and completed her master's degree in ag economics in 2000.
Also honored was Gustavo Acosta-Garza, Columbus, Ohio. He earned a master's in ag economics in 2002. Since 2011, he has worked for Abbott Laboratories and today is director of global procurement.
The third honoree was Mesbah Motamed, who earned a doctorate in ag economics in 2009. He works with the Millennium Challenge Corp., designing high-return public investments primarily for Africa.
Award-winning perspectives
Jayson Lusk, head of the Purdue Department of Ag Economics, moderated a panel discussion with the three honorees.
Do you believe there is still value in a college education today?
Welch: Besides learning a very real skill — how to think — it's also important for students to get training on financial management today. College is one place to get that training.
Acosta-Garza: Many people I look to hire still need college training. In fact, I lean toward hiring people with engineering backgrounds. There is a real need for more individuals trained and equipped with engineering skills.
What trends do you see coming 10 years from now?
Acosta-Garza: There will be more demand for safer food. Consumers want to know that their food is safe, and that includes not containing things from technology they don't want. Europeans are particularly demanding when it comes to food safety issues.
Welch: I see more technology coming to farming. I look back and see how far we have come in the past 10 years. Technology can be good, but at some point, it may become too much. We can only spend so much on new technology. No one can buy it all. I expect we will continue evaluating what comes out and try some of it — the technologies that make the most sense for us.
What advice would you give someone starting out today, either as a student or in a career?
Motamed: Learn all you can about farming, especially if you are not from a farm background. That was very important to me as part of my college education here at Purdue.
Acosta-Garza: Working hard is not enough by itself today. You need specific skills to go with your hard-work attitude.
Welch: Make use of your time at Purdue to develop contacts and a network of people who you can turn to for support and guidance later. Knowing who to contact for specific information based on my network I developed through college is a key.
Subscribe to receive top agriculture news
Be informed daily with these free e-newsletters
You May Also Like
---