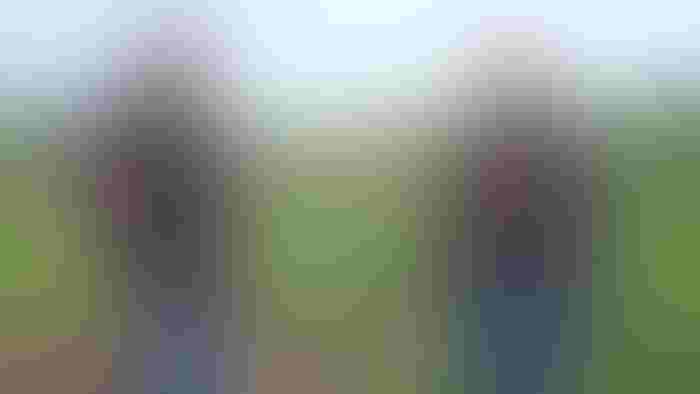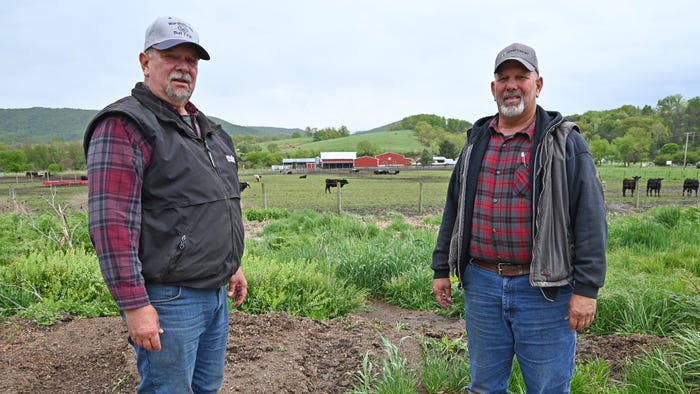 Photos by Chris Torres
When brothers Bill and Jim Martin started farming together in the 1980s, they made an agreement that they never deviated from.
"We decided a long time ago that if we were going to do this, everything was going to be together," Jim Martin says.
Nearly 40 years later, the partnership has proved fruitful. Their Lovers Lane Farm in Moorefield, W.Va., has grown into a diversified operation that includes thousands of acres, thousands of animals and the brothers' reputation of being good land stewards.
Building the business
Bill and Jim raised hogs together before officially creating Lovers Lane Farm in 1984. They named it Lovers Lane Farm because Cunningham Lane, where the farm is located, was a place where young people would come and bring dates.
The brothers are third-generation farmers, following in the footsteps of their father, Leonard, who was active on the farm until he died in 2019.
At first the brothers grew corn and hay and set up hog lots on the farm to raise feeder pigs. In 1985, the brothers built a hog-finishing building. But tragedy struck in November of that year when the building was destroyed in a large flood, killing all their animals.
The brothers then shifted to raising broiler pullets. In 1986, they built their first broiler pullet house, a 15,000-head structure. Over the next six years, three more pullet houses were installed, and in 1998, two more houses were built for a total of six pullet houses.
Beef cattle have always been present on the home farm. Bill explains that when he graduated high school, his father was raising 60 cows.
In 1986, after he and Jim started farming together, they had 100 beef cattle and started a backgrounding operation, growing the number of head to 4,000.
Expanding acres
At the same time they were growing the animal side of the business, the brothers expanded their crop acres, leasing farms "here and there" and growing a reputation as good land stewards.
"As time went on, people came to us to farm the land as they retired or quit," Jim says.
Corn — for grain and silage — soybeans and barley are the typical crop rotation. Corn yields average 185 bushels, soybeans 60 bushels and barley 80 bushels. Corn silage averages 24 tons per acre.
Corn grain and soybeans mostly get contracted, but on occasion, they have fed whole soybeans as a protein supplement to their beef.
"If bean meal is at a value that it doesn't benefit us to sell our soybeans, we turn around and buy bean meal back. We actually just crack those soybeans and feed them as is to the beef cattle," Bill says.
As much of their farmland is close to water — the south branch of the Potomac River runs close to much of their acreage — flooding is a constant concern.
Two floods in 1996 were devastating, with the second flood in September of that year destroying all their crops.
In 2018, 80 inches of rain — they normally get 36 inches of rain — fell, leading to flooded crops and animals that had to be sold prematurely.
As a result, soil conservation and best management practices are commonplace. Bill says they have been doing soil testing for 40 years and have done tissue-testing to better manage nutrient applications.
Cover crops are planted on many acres, and poultry litter and cattle manure are always incorporated into the soil. "I've always been pretty adamant about that," Bill says. "We don't like our manure lying on top of the ground."
The brothers typically no-till ground that was soybeans the previous year. Other ground gets vertically tilled or some light disking.
"We do not conventional or no-till all the fields because we believe in a good balance," Bill says.
"We dramatically see better yields in these soils with conventional tillage," he adds.
And while some growers aim for max yields, Jim says his goal is achieving max profits on his crop ground.
"Everybody wants to get the max you can get, but there's a threshold where the extra yield is not profitable. You can fertilize and try to get 500-bushel corn," he says. "We're trying to hit the sweet spot where we can maximize our yield for our interest."
Improving efficiency
The farm supports the brothers and their growing families, with any additional profits reinvested into the operation to pay down debt and make improvements.
"It's just how it has evolved," Bill says.
In 2008, 2012 and 2013, the brothers applied for and got Natural Resources Conservation Service funding to build concentrated cattle feeding barns to come into compliance with voluntary Chesapeake Bay watershed rules.
Each barn is managed for different cattle, which has improved feeding efficiency and ration balancing.
More recently, outside cattle lots were renovated and turned into smaller lots with extensive fencing and automatic waterers. Fence-line bunks were also installed, allowing for large trucks to come in and feed the cattle, which Bill says is more efficient in comparison to the old way of going into each lot with feeding equipment and filling individual troughs.
No regrets
Though Moorefield seems a long way from people, it is only a few hours' drive from Washington, D.C., and less than a day's drive from more heavily populated areas of the East Coast.
For this reason, Bill, 61, and Jim, 59, say they are excited about the farm's future. A farm transition plan has not been finalized. However, they are working with West Virginia University and Farm Credit on creating one.
About 270 acres of the farm have been preserved under permanent easement.
Nick Martin, 24, Jim's younger son, works on the farm and is likely one of the next generation to take over. Jim's older son, Ben, 26, lives in Wyoming and is a land surveyor.
Bill has two older daughters — Claire and Chloe — who work in health care. His younger sons — Will, 11, and Wyatt, 7 — have shown interest in the farm, but time will tell whether they will get involved.
Bill and Jim's mother, 87, is still active on the farm and oversees payroll.
And Bill's wife, Amy, who grew up on a nearby farm, manages the farm's computer records and is involved in the livestock operation.
"The roots here run deep," Amy says, adding that family members still make it a priority to eat together a few times a month, usually on weekends.
The brothers also employ 10 people whom Bill does not like referring to as "employees."
"I'm always touchy about that because we believe that everyone plays an integral part of the operation, and we rely on them to do things right," he says.
Labor is a long-term concern, he adds, since the farm cannot compete with local factories that can pay higher wages and provide benefits.
Still, Bill and Jim say they are not ready to quit.
"We're not going backward and not sitting still," Bill says.
"We have never been satisfied where we're at," Jim says. "We are constantly wanting to look at more opportunities."
Bill and Jim Martin at a glance
Operation: Lovers Lane Farm, Moorefield, W.Va.; 1,600 acres of corn, soybeans and barley; 4,065 acres of pasture; 4,800 head of beef cattle; 96,000 broiler pullets
Family: Bill Martin: wife, Amy; children, Will, Wyatt, Claire and Chloe; Jim Martin: children, Nick and Ben
Ag and community involvement: Member of West Virginia Farm Bureau, West Virginia Poultry Association, West Virginia Cattlemen's Association and Beef Industry Council. 1991, 1999, 2007 and 2022 Poultry Pullet Producer of the Year; 1992 and 2015 WVCA Cattlemen of the Year Award; 2007 Poultry Environment Award.
Bill Martin: president of West Virginia Cattlemen's Association, president of Beef Industry Council, president of Southern States board of directors, member of West Virginia Young Sire Evaluation Committee. 2010 Service to the West Virginia Cattlemen's Association award.
Jim Martin: Potomac Valley Soil Conservation District supervisor.
Subscribe to receive top agriculture news
Be informed daily with these free e-newsletters
You May Also Like
---