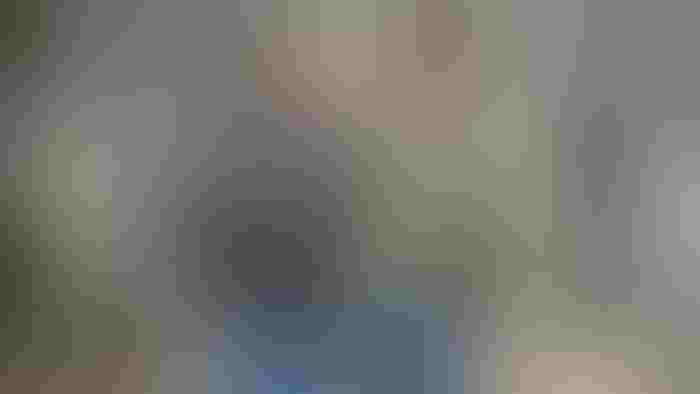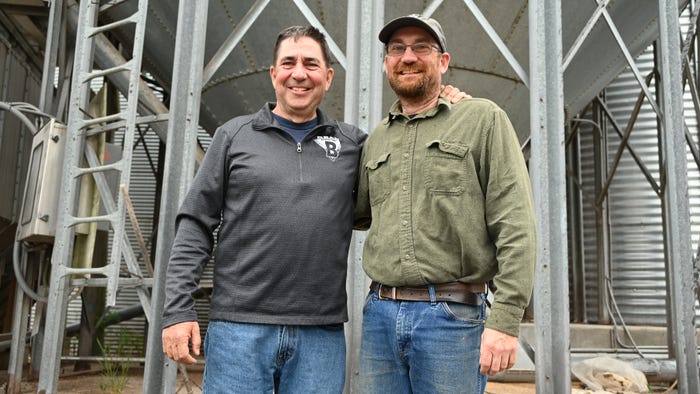 Photos by Chris Torres
Bill Beam's love of farming started with a 4-H project.
As a teenager, he raised three hogs and made just enough money to pay for feed and housing. But the project taught him something bigger, something that has stayed with him his whole life: Farming is a business.
"I've always tried to make decisions based on business," he says.
Bill and his son Matthew are majority owners of Beam Farms Inc. based in Elverson, Pa. Bill has transformed the operation from a small 100-acre farm to one that includes about 4,000 acres and a successful sawdust trucking business.
Matthew, the next generation, is intent on continuing his family's farming tradition that began with his great-grandparents in the early 1900s.
From hogs to crops
After graduating high school in 1978, Bill attended Hesston College in Kansas where he graduated in 1980 with a two-year degree in agriculture.
Like many farmers, though, much of what he has learned about farming has been through experience. "Most of it I learned the hard way," he says.
What eventually became Beam Farms LLC looked very different then. His father, Titus, ran the home farm and rented another 250 acres, along with some hog barns. The family fed 1,200 hogs at a time.
But the struggling farm economy of the mid-1980s, along with other factors, led to the collapse of the hog market. High interest rates and low commodity prices didn't help.
"I looked at my wife, Robin, and I said, 'We're guaranteed to lose money, why would we do this?'" Bill says.
The couple were content with just letting the hog barns stay empty rather than lose money. So, Bill turned his attention to crop farming and expanding that part of the business. He has grown his crop acreage to about 4,000, only a quarter of which he owns.
Corn, soybeans and wheat are the main crops in rotation, and the farm has 280,000 bushels worth of on-farm storage. Nearly 100% of his acres are no-till, although some acres are vertically tilled, he says, to incorporate lime and to warm up the soil.
Conservation plans are written for all his acres, and Bill says he uses the latest technology to get optimal response from fertilizers and other inputs.
"All the precision ag stuff is much more than autosteer. This is data collection, and it takes all the emotion out of agriculture," he says. "So, ground that I wasn't making money on, I could give it up because I knew the potential of it.
"You can't hide anymore with all this data," he adds. "If you're not going to keep up with technology, it will pass you by."
Venturing into wood chips
At the same time, he was growing the crop side of the business, Bill saw an opportunity delivering sawdust.
He graduated college in debt and had a car worth $2,500. So, he borrowed $3,000 to purchase a sawdust business from another farmer who was moving out of state at the time.
The farm picks up wood chips from sawmills and other businesses, brings them back to the farm for mixing, and turns it into sawdust.
Over the years, Bill has found many customers for his sawdust — including local farms who want sawdust for cow bedding, companies that use sawdust for pellet manufacturing, and even local municipalities or waste management companies that use sawdust to solidify liquid waste.
Bill says the farm did $2 million in sawdust sales last year. He has dozens of trailers that haul the wood chips and sawdust, and these trailers are also used to haul grain in fall.
"They [trucks] help us stay profitable because the land that I'm farming is further away," he says. "You couldn't haul with a tractor and wagon. The trucks have kept us nimble."
"We have expanded almost every year by either acres or with the sawdust side of businesses," Bill wrote in his Master Farmer application. "This is not always easy and was never our goal to just get larger, but I believe it happens for a reason and that is, our word is our bond, and from that we get opportunities."
Challenges and opportunities
Bill has never been afraid to take chances on a new venture, so long as it benefits the farm's bottom line.
For example, he started growing non-GMO grain for Whole Foods several years ago. "It took a few years to adapt to the challenges of cultivating a non-GMO crop, but we learned from our mistakes and improved each season," he wrote in his application.
But growing the business comes with its challenges, too. The biggest one is loss of farm ground in around Chester County where most of his owned and rented ground is. He estimates that he has lost more than 1,000 acres of tillable land over the years to development since he started farming.
Bill says he wants the farm to be viable for his grandchildren, but it is becoming more of a challenge every year. So, he has started looking outside Pennsylvania. Last year, he bought a 300-acre tract on the Delmarva Peninsula.
"We're very fortunate in some ways that we have landlords that are very interested in agriculture and preserving the land and open space, but we also have landlords that are in for maximum dollars," he says.
Next generation takes over
Matthew Beam mostly runs the day-to-day operations of the farm.
Bill is still involved in day-to-day operations, running a tractor or planter from time to time, and combining crops in fall.
But much of his time is now spent trying to make a difference off the farm.
Bill is heavily involved with the Washington, D.C., agricultural think tank Rural Investment to Protect Our Environment, or RIPE, which advocates for farmers to be at the table on issues surrounding conservation programs and climate change.
Under the Trump administration, Bill was deputy administrator of Farm Service Agency programs at USDA, overseeing COVID relief programs for agriculture.
It was a big job that largely took him off the farm more than one month a year. "For somebody like me to be literally taken off the farm to do it, it was unprecedented," he says, adding that he had very few political connections to get the job in the first place.
But the job, he says, was a blessing in disguise as it accelerated management of the farm to Matthew. In fact, the wheels of farm succession have been turning for many years.
The farm is set up as an S corporation that Bill and his late wife, Robin, who died in 2021, set up to give shares of the business to their three sons — Matthew, Shawn and Dylan – tax free.
An S corporation is an entity where all income, deductions and credits get passed on to individual shareholders rather than the company itself, which then must pay a corporate income tax.
Each shareholder pays income tax on their share of the company's income.
Matthew handles the farm's grain merchandising. Grain is marketed through Hostetter Grains and much of it ends up on the Delmarva Peninsula to feed broiler chickens.
Matthew's goal is running an operation that is low on debt and big on returns.
"I'm striving to, as crazy as it sounds with how big the numbers are, I like to have a farm where I look at the point of diminishing returns of investment and I'm driving toward a lower debt operation," he says. "I've seen too many businesses where they have to have the latest and greatest every single year, and they are over-leveraged. And maybe something comes up for sale that they want, and they don't have any equity, cash, to go after it.
"We run a very low-debt farm here. If you look at our scale, we are well-equipped for our size," he adds. "We are not over-equipped. We manage our assets so that we're actually building equity in our farm."
Bill and Matthew Beam at a glance
Operation: Beam Farms Inc.; 3,600 acres of corn, soybeans, wheat and grass hay, and 27 head of beef cattle
Family: Bill: wife, Robin (deceased); children, Matthew, Shawn and Dylan; Matthew: wife, Rebecca; children, Everett, Georgia and Dolly
Ag and community involvement: President of Pennsylvania Soybean Board; executive officer of United Soybean Board; president of West Nantmeal Township planning commission; member of West Nantmeal zoning hearing board; steward of Conestoga Church Council; ag advisor for Twin Valley High School; former deputy administrator of farm programs, Farm Service Agency; 1990 Chester County Farmer of the Year; 1997 Chester County Conservation Farm of the Year.
Subscribe to receive top agriculture news
Be informed daily with these free e-newsletters
You May Also Like
---