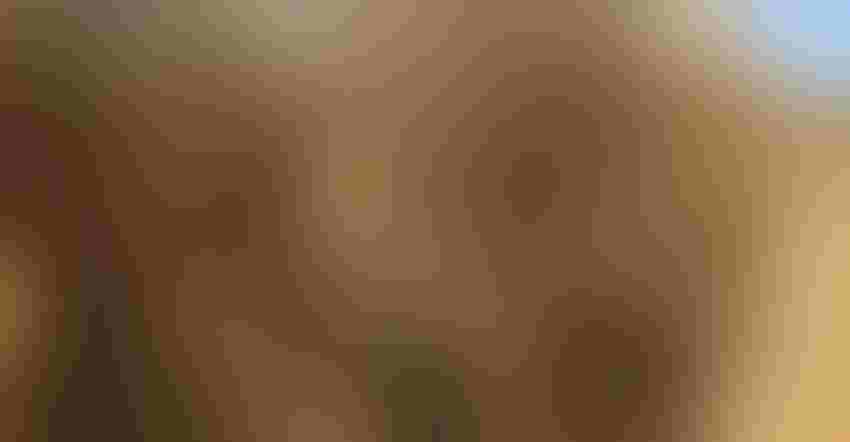 USDA cut its forecast of for U.S. corn inventories Oct. 9 less than many in the trade expected. Still, the reductions were enough to help nearby futures to their best level in a year, taking the December contract within a penny of $4.
To be sure, corn caught a draft from a surging soybean market, after the government slashed its forecast of the oilseed's projected 2020 crop carryout below 300 million bushels. But corn also benefited from another page of the report, USDA's projections for world supplies. While prices U.S. farmers receive reflect what happens here, corn is a global market too. Over the last decade prices tracked the world situation even more closely than domestic supply and demand.
Though U.S. farmers grow more corn than anyone in the world, their advantage is shrinking. In 1960 one of every two bushels of corn grown on the planet came from the U.S. Today our share of the global crop is down to around one in three. Other farmers around the world have jumped on the corn bandwagon as it became the feed grain of choice for livestock operations, biofuel plants and other end users.
Ceding complete dominance over world corn production might hurt corn growers' pride. But at the moment, it could be good for their pocketbooks.
USDA says the number of days' supply of corn in the U.S. will actually increase slightly in the year ahead, keeping average cash prices little changed from the $3.56 earned by the 2019 crop. World corn supplies, by contrast, are expected to fall for the fourth straight year. The world won't run out of the popular feed grain; USDA forecasts a 94-day supply will be available on Sept. 1, 2021. But that's down from the 118-day supply that swamped the market in 2016-17, which was the highest level in almost 20-years.
The difference is more than academic. The world stocks situation translates into an average cash price around $4.35, a full 75 cents more than USDA's Oct. 9 projection.
Cheaper dollar's impact
The prospects could be even brighter if the value of the U.S. dollar is factored in. Currency-adjusted corn prices show an even stronger correlation to supply and demand. The greenback is already down 10% from its March COVID-19 high, weakness that adds another 35 cents to the projected average cash price for U.S. farmers.
Tighter world supplies also improve potential for U.S. exports to reach USDA's lofty goal for 2.325 billion bushels in exports sales, which if achieved would be the sixth-highest ever.
Non-U.S. corn production is expected to grow in the coming year, but not fast enough to meet demand. Usage is forecast to increase 8.4%, 2.62 billion bushels more than production.
China is one reason for the tightening stocks situation. Production there is expected to fall 750 million bushels short of demand as the country's livestock sector recovers from swine fever and pandemic disruptions.  While the COVID-19 outbreak hit China first, its economy also begun to bounce back more quickly than elsewhere.
Disappointing crops in Europe and Ukraine factor into the math as well. And, while Chinese corn imports may or may not increase in the 2020-21 marketing year, other major importers from Egypt to Asia are expected to up their purchases by 8.1% as demand returns from the pandemic.
Of course, the 2020-21 marketing year is little more than a month old, so the optimistic world outlook has a long time to be proven right or wrong. Harvest is still underway in the northern hemisphere and won't get going in South America for many months. USDA increased its estimate of non-U.S. corn production a little bit in last week's report, though its forecast for demand also improved slightly.
Basing price expectations on world, rather than U.S. metrics, is also not without risk. Both methods can miss the mark considerably.
That's a caution not to get too bullish. The average daily U.S. cash corn price jumped above USDA's $3.60 forecast last week. For the marketing year so far it's averaging $3.43.
Knorr writes from Chicago, Ill. Email him at [email protected]
The opinions of the author are not necessarily those of Farm Futures or Farm Progress. 
Subscribe to receive top agriculture news
Be informed daily with these free e-newsletters
You May Also Like
---