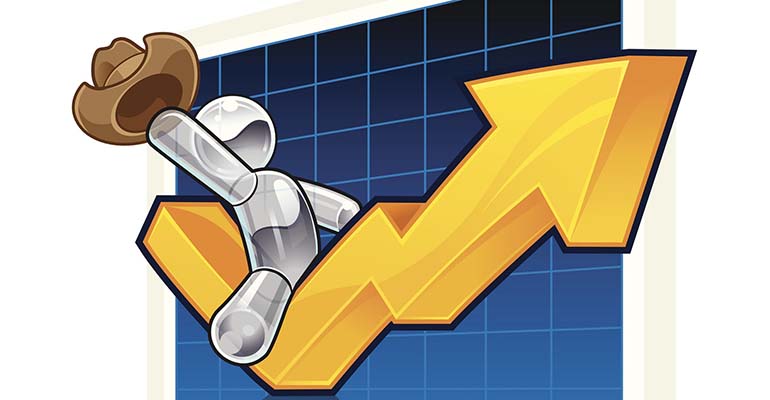 Watch each Friday for Doug Ferguson's Market Intel blog on Beef Producer and BEEF magazine.
vectorbomb-ThinkstockPhotos
This has been an interesting and unique year. Writing this blog every week I pay a little more attention to cattle prices and their relationships than I would if I weren't doing this. I keep all my sheets of paper where I figure value of gain (VOG) each week.
I remember one week in particular, the first week of April. I was getting blown out at every auction I went to. Grass fever had finally kicked in and people were making grass calves overvalued. I easily bid on over 1,500 head that week and only got around 60 head bought. The following week was one of those were the market dropped $15 to $20 and I completed my buy-back with ease, securing a handsome profit. I stayed disciplined and let the math guide me.
Now I normally don't do this but I calculated the VOG on the cattle the other guys bought (assuming they sold in this current week). They would capture a VOG right around $1.20. Because my buy was much cheaper, my VOG will be much better than that. I am not bringing this up to run those other guys down, or to brag myself up. I do it to make a point.
When the market dropped those other guys were not done buying up cattle. They just stopped because the market dropped. Maybe it was fear; a falling market tends to do that to people. Or maybe it was greed, thinking the market will go lower and they would just wait to finish buying. Some may roll their eyes and say it was just dumb luck on my part. The thing is, luck rewards those who are already on the dance floor.
After that buy-back I had to make a decision. I could either pay down my line of credit, or virgin-buy some more cattle. (Meaning they were not the back side of a sell-buy transaction, but a fresh purchase.) I decided to do the virgin buy. Only this time I dove into the bottom of the barrel. I bought some cattle that were high-risk. Let's just say every one of them had special needs, so I got them cheap. I would not have taken on a project like this if COVID-19 had not shut everything down. But since everything I had planned was cancelled I decided to try it.
 I sold those calves not long ago and captured a VOG over $1.50. These calves were not market toppers. In fact they sold $15 back from everybody else's cattle of that weight. I think the auctioneer felt bad for me, but I replaced those cattle with weaned black No. 1's and a little profit, so I felt pretty good.
During the market slump earlier this year, I followed what the math told me to do, and kept turning my cattle inventory. The price relationships were providing me with opportunities to take some profits. Remember how I stated luck rewards those who are on the dance floor? After all that was over, Coronavirus Food Assistance Program (CFAP) came out and paid me even more money for the cattle I sold. That program was not written with sell-buy marketing in mind. If I add the $140-per-head sold from CFAP to the profits I made, those were the most profitable trades I ever did. In fact, all my most highly profitable trades have been during market crashes. Everyone else freezes up during a crash, but I go all in because that is what the math tells me to do.
This ties back to when I wrote about market literacy a few weeks back. The math takes the emotion out of it and tells us what and when to sell, and what and when to buy. Notice I wrote "what to buy." The math doesn't always tell me to buy what I'd like to buy (think fancy black cattle). It tells me what I should buy. This is just a little bit of what is taught at the marketing schools, the skill to interpret, and utilize the market.
Every week I look for and point out profit-making opportunities, whether it be in stockers or females. When I look back to the opportunities that were possible to sell and buy back undervalued cattle between February and May, and compare that with the appreciation value and where the market is today, it tells me the balance sheet should have expanded.
Last week I talked to two guys that live in areas that are hit hard with drought, and they both told me they are expanding their operations right now. Both of them use the same marketing principles I write about on this blog. I know most people are going to look back on 2020 as a rotten year, but not all of us.
The marketing week
Every week for some time now I point out the southern markets are undervalued. This week that has changed up a bit. Cattle weighing under 600 pounds are equal in value to plains markets, after adjusting for freight and commission. Over 600 pounds, they remain undervalued. Sticking with the point of undervalued, the three-weight heifer has no friends, anywhere. It's pretty easy to see since four-weights are bringing more per hundred.
Once again this week the VOG throughout the feeder spectrum exceeds the COG, setting up some profitable feeder-to-feeder trades.
This week feeder bulls were $5-23 back, and unweaned cattle were $5-16 back. Once again the heavier they are the bigger the discount.
Let's look at these bawling calves for a minute. I can't predict the future any better than anyone else. I have no clue as to what the market will do 45 to 60 days from now. However, for the last couple weeks the market has been hammering bawlers that weigh a heavy five-weight and up. If you are one of those operations that's focused on heavy weaning weights you simply aren't going to get paid for it right now. If you have the ability to do so, you may want to seriously consider weaning those calves. I should probably define the word ability. If you are going to shut them up in a pen with a lick tub and a bale in a bale ring, then you should probably just strip and ship them. Here's the rub: When I compare the discount for the heavy bawlers to the VOG for the weight they will gain in 45 to 60 days, it's a much better deal to wean them.
If you decide to wean them, commit to it. Don't pull them off and sell them in two to three weeks and call them long-time weaned. If a buyer takes them home and has a train wreck, his first thought is that the cattle were short-weaned, and you just lost a repeat customer.
Subscribe to receive top agriculture news
Be informed daily with these free e-newsletters
You May Also Like
---