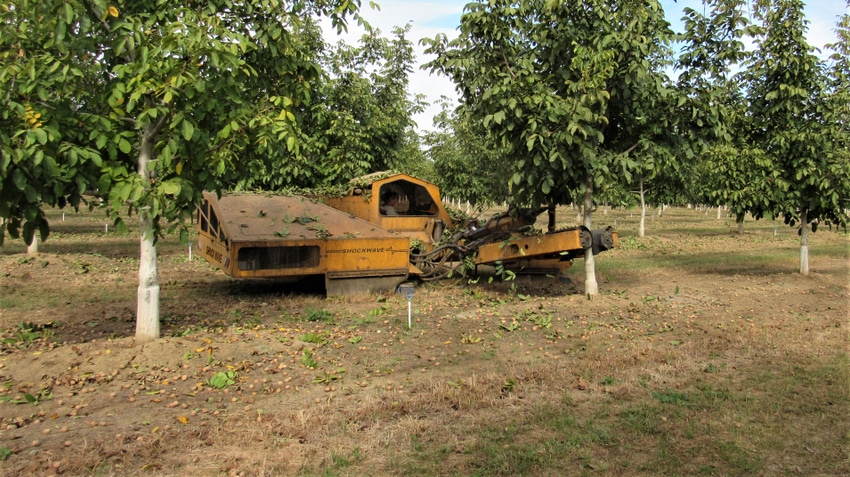 The record 784,000-ton walnut harvest in California in 2020 continued a 10-year trend of increasing crop sizes.
Tim Hearden
The walnut industry's unprecedented dual challenge of increasing acreage and production coupled with growing global competition underscores the importance of investing in research and promotion, industry leaders said as they opened the first-ever Walnut Conference on Tuesday, March 2.
"In order not to lose momentum, we have to continue to invest," said Michelle Connelly, the California Walnut Board's executive director. Under a marketing agreement, the 69-year-old board handles production research and domestic marketing, while the California Walnut Commission undertakes international marketing and health research.
The record 784,000 tons harvested in 2020 continued a 10-year trend of increasing crop sizes fueled by expanding acreage, including 15,000 new acres coming online in the past year, Connelly said. Over the next four years, an additional 435,000 acres of production could bring crops approaching 835,000 tons, she said.
"A crop of 784,000 tons was not a surprise," said Chuck Crain, founder of Crain Walnut Shelling in Los Molinos, Calif. "It has been planned for strategically and otherwise. What put us in the position we are today is trade barriers plus market disruption relative to (COVID-19)."
Related: Walnut production increases; prices, not so much
The U.S., China and Chile combine for 78% of worldwide production, but America's competitors are gaining market share even with U.S. expansion. Over the last five years, the combined market share of China and Chile has grown from 14% to 29%, Connelly said.
As the market pie has grown, prices in recent years have flattened. The average price per pound of in-shell Chandler walnuts of 72 percent in December was down from $1.20 in late 2019 and was considerably below a peak of $2.12 in 2014, according to the Menlo Farming Group. In many cases, income has fallen below growers' cost of production, Crain said.
Trade disputes and COVID-19
Until recently, markets were expanding faster than supplies, but trade disputes and then the coronavirus slowed the industry's ability to open trade lanes, Crain said. As the walnut panel seeks to establish new markets, tariffs in many cases still stand in the way. India, for instance, imposes a 100% duty on American walnuts, noted Jack Mariani, co-founder of the Winters, Calif.-based Mariani Nut Co.
"When you look at over 1 billion people with a population that's mostly vegetarian and plant-based plus the fact that they love walnuts, it's a great opportunity there," Mariani said. He urged growers to call or write lawmakers to push for a trade deal with India that eliminates the tariff.
"That's one area where we could see a very, very quick turn in our short-term oversupply," he said.
The remarks by Connelly, Crain and Mariani came during a "State of the Industry" presentation to kick off the two-day conference. The free event includes sessions on food safety, trade, marketing and other topics. The conference is being held virtually because of coronavirus-related restrictions on public gatherings.
The conference coincided with the commission's March 2 launch of an expanded global "Power of 3" campaign, which highlights walnuts' abundance of omega-3 fatty acids that are associated with health benefits. The campaign was started last year.
Subscribe to receive top agriculture news
Be informed daily with these free e-newsletters
You May Also Like
---