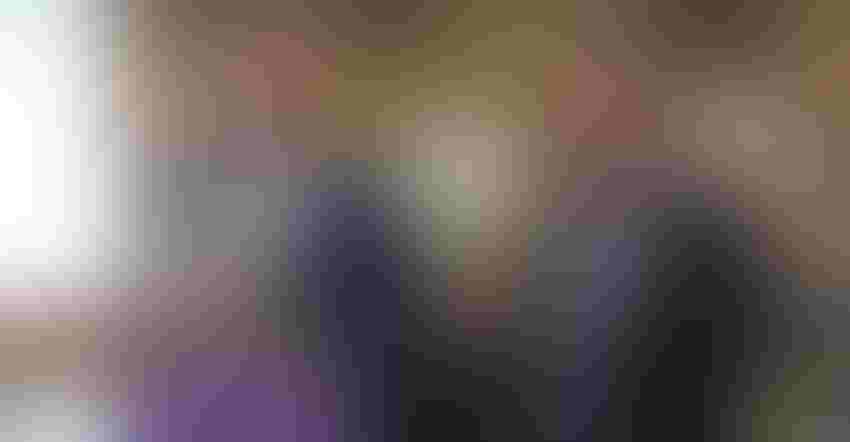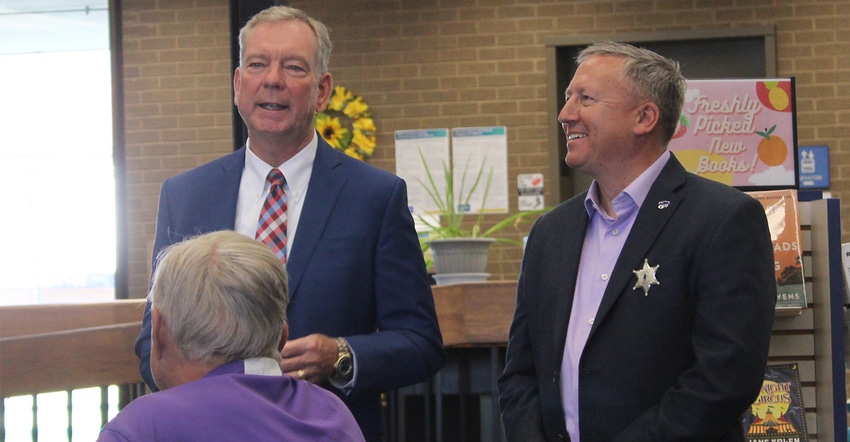 PARTNERSHIPS: Dodge City Community College President Harold Nolte (left) and Kansas State University President Richard Linton address a community listening session on labor in western Kansas at the DCCC Library, Sept. 27.
Jennifer M. Latzke
Kansas has 105 counties, and every one of those counties has Kansas State University Research and Extension personnel working to improve the lives of those who call them home.
As part of his new presidential initiative to focus on the people of Kansas and their communities, K-State President Richard Linton has committed to visiting communities throughout the state every academic year, to listen and learn from the Kansans who live there and find out how K-State, the nation's first land-grant university, can use its work to improve their lives.
These community visits are more than just photo opportunities — they're intended to engage Kansans beyond the Manhattan campus and help the university shape a new strategic plan to be a "next-generation land-grant university."
On Sept. 27, K-State came to Dodge City and the Ford County region, and the team learned about the unique needs of western Kansans. One stop, at the Dodge City Community College Library, discussed labor and education initiatives that are working and offered a chance for community members to provide their input on what is needed for the future.
Helping a workforce
Ford County is home to two meatpacking plants, which have workers from diverse nationalities and cultures. At the Cargill plant alone, 30 different nationalities are represented in its workforce, explained Jeremy Burr, manager.
Cargill shared how it has found success in retaining employees by working with them to meet their needs outside of the workplace. Maria Bustamante leads the team at Cargill that works with families to build community relationships, partners with vendors and government, or even adjusts policies at Cargill that can help team members balance family and work.
Pathways for success
Cargill identified in the mid-2000s the need to help children of their employees on a path to higher education, and navigate the unfamiliar territory of secondary education for many families. The Cargill Transfer Program is a suite of programs for multicultural, first-generation, Pell Grant-eligible students to make a path from their senior year at Dodge City High School, to two years at Dodge City Community College, to finishing their degrees at K-State. Then, hopefully, these students will return to Dodge City with skills that will help their families and the community at large.
The point is to introduce all of the different career opportunities in agriculture that some families may not be aware of. and provide a pathway to getting that degree that families want for their next generation.
As Bustamante said, many families want better for their children — they just need help identifying how to get there. The point of this program and others that Cargill supports is to help children from very family-oriented cultures feel comfortable leaving the community for a time to get their educations and then return to the community.
The session also brought up ways that K-State Research and Extension can help families find a path to educational opportunities, and the need to help nontraditional adult learners on their paths to getting trained before changing careers.
Importance of education
"From K-State's perspective, we know the importance of higher education in Kansas," Linton said. "We recognize [that] in the last decade, we've gone from 54% to 44% of students from high school going to any kind of college, whether it's a four-year, a two-year or a technical college. So I think the more we can do to partner and work together to be able to talk about the value of higher education and what it could mean to the quality of your life is vitally important."
Harold Nolte, president of Dodge City Community College said he sees its role as helping grow the community by helping students get educations that will help them with job opportunities in the community — whether that's at the new Hillmar Cheese plant or in other industries.
Linton said working with partners in community colleges is just one way that K-State can help communities grow.
About the Author(s)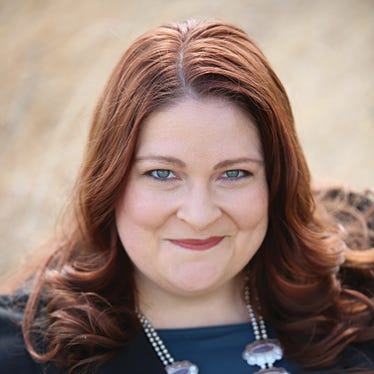 Through all her travels, Jennifer M. Latzke knows that there is no place like Kansas.
Jennifer grew up on her family's multigenerational registered Angus seedstock ranch and diversified farm just north of Woodbine, Kan., about 30 minutes south of Junction City on the edge of the Kansas Flint Hills. Rock Springs Ranch State 4-H Center was in her family's backyard.
While at Kansas State University, Jennifer was a member of the Sigma Kappa Sorority and a national officer for the Agricultural Communicators of Tomorrow. She graduated in May 2000 with a bachelor's degree in agricultural communications and a minor in animal science. In August 2000 Jennifer started her 20-year agricultural writing career in Dodge City, Kan., on the far southwest corner of the state.
She's traveled across the U.S. writing on wheat, sorghum, corn, cotton, dairy and beef stories as well as breaking news and policy at the local, state and national levels. Latzke has traveled across Mexico and South America with the U.S. Wheat Associates and toured Vietnam as a member of KARL Class X. She's traveled to Argentina as one of 10 IFAJ-Alltech Young Leaders in Agricultural Journalism. And she was part of a delegation of AAEA: The Ag Communicators Network members invited to Cuba.
Jennifer's an award-winning writer, columnist, and podcaster, recognized by the Kansas Professional Communicators, Kansas Press Association, the National Federation of Presswomen, Livestock Publications Council, and AAEA. In 2019, Jennifer reached the pinnacle of achievements, earning the title of "Writer of Merit" from AAEA.
Trips and accolades are lovely, but Jennifer says she is happiest on the road talking to farmers and ranchers and gathering stories and photos to share with readers.
"It's an honor and a great responsibility to be able to tell someone's story and bring them recognition for their work on the land," Jennifer says. "But my role is also evolving to help our more urban neighbors understand the issues our Kansas farmers face in bringing the food and fiber to their store shelves."
She spends her time gardening, crafting, watching K-State football, and cheering on her nephews and niece in their 4-H projects. She can be found on Twitter at @Latzke.
Subscribe to receive top agriculture news
Be informed daily with these free e-newsletters
You May Also Like
---