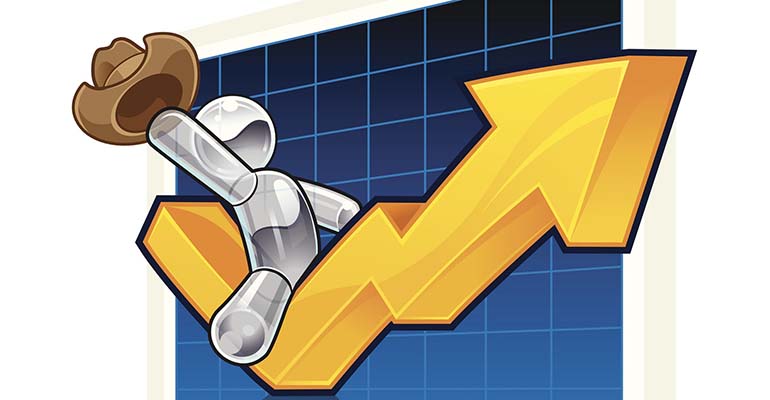 Watch each Friday for Doug Ferguson's Market Intel blog on Beef Producer and BEEF magazine.
vectorbomb-ThinkstockPhotos
The market changed this week. Sometimes change is a good thing and sometimes it's not. With marketing skill one thing does remain constant: Our ability to be profitable.
I haven't talked about females for a while, so I will begin there. Last night I got a call from a friend who told me about the price difference in bred cows at two sales that were only a couple hundred miles apart. Young bred cows had over $500 difference in price, and solid-mouth cows saw a $250 difference. If one was in the market to buy bred cows it would certainly be worth the drive if you only bought two head with a spread like that.
I did not see these two sales, so I can't say that I am making an honest comparison as far as weight, condition, type and stage of pregnancy. As we all know these can certainly affect price. Since both these sales had a good number of females in the offerings I think it's safe to assume that we are comparing some of the same type of animals.
If we are selling a bred cow and replacing with something else, it would clearly be to our benefit to have sold at the auction with the higher prices. The auction with the higher prices maintained the depreciation scale of $100 per year of age. The sale with the lower prices flattened that out to $50 per year of age.
The pairs that sold at several different auctions only added $150 of value over bred females. It would be worth spending the extra $150 for the pairs because we would have about that much in them in "cost to keep" in order to get the calf out of them. Also, given the size of the calves, they are worth more than $150 so we would be buying more value.
This week replacement quality heifers caught a $5-8 premium. This makes them both overvalued and undervalued, depending on which sale we compare them to. They are clearly undervalued if we compare them to bred heifers that sold at the higher-selling female auction, giving us a good opportunity to capture some appreciation value. They are over-valued if we compare them to the other auction, telling us we can buy bred heifers cheaper than we can get them bred for.
This week the market took more away from fats and the downward trend in feeders continued, except on heavy feeder heifers; they were a bit higher.
The drop in fats this week was just enough to make them undervalued to pretty much everything.
The relationships between weights of feeder heifers changed just enough this week that they are finally back into being a weight-gain business. On the steer side, however, it still is not a weight-gain business. The difference between the two sexes is the rollback. With only a $10 rollback on heavy feeders and up to a $35 dollar rollback on the flyweights, this is what's making profitable heifer trades possible.
Here's another relationship change this week. With heavy heifers going up a bit in price and flyweights dropping a bit, when I use the typical cost of gain (COG) for grass cattle in my area it is now possible to sell the heavy heifers and profitably buy back steers. This will be a very narrow margin.
Feeder bulls were $15-28 back this week. This discount is enough to sell feeder steers and replace at profit with bulls. They are also a cheap way for the guy that sold heifers to upgrade into some steers.
As you can see the relationships changed greatly this week, even though prices paid for varying weight classes didn't change all that much. This is why we need to understand marketing, relationships and pay attention to what the market is telling us. Opportunities can open that quickly, or in the case of fats, close that quickly.
The opinions of the author are not necessarily those of Beef Producer or Farm Progress.
Subscribe to receive top agriculture news
Be informed daily with these free e-newsletters
You May Also Like
---