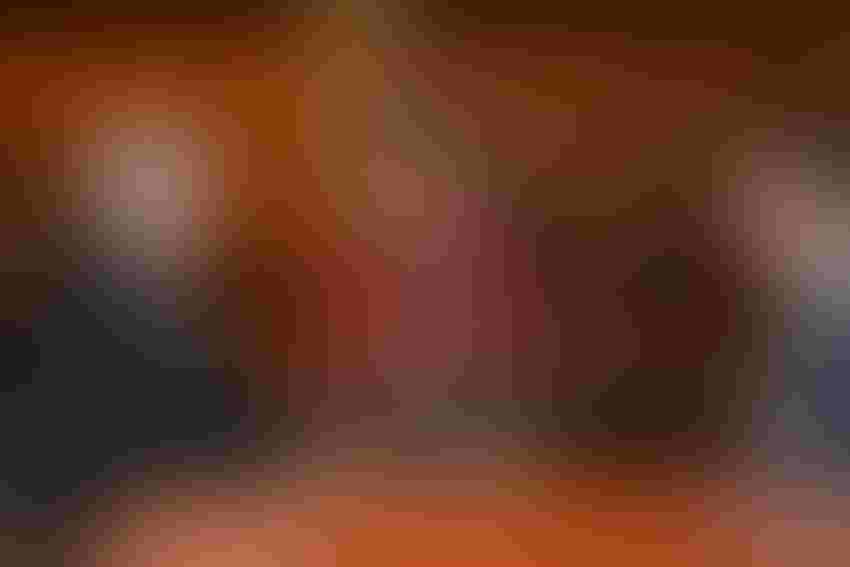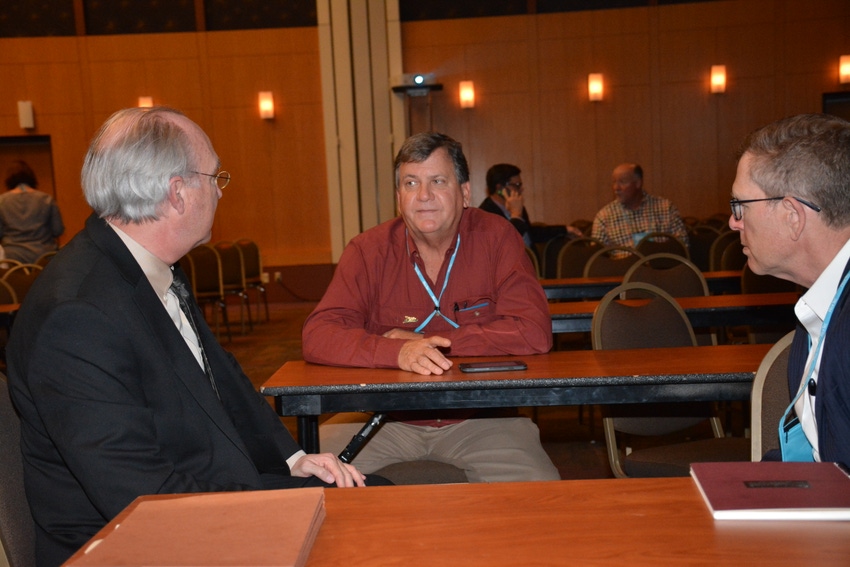 Bobby Coats, left, University of Arkansas, and Nathan Childs, right, USDA economist, visit with David Jessup, president and CEO of DeWitt Bank and Trust in DeWitt, Ark., at the USA Rice Outlook Conference.
A Week of Building Market Anxiety
The week-of April 3 was filled with an array of cautionary market concerns. Four key market considerations entering the week-of April 10, 2017 follow:
Chemical attack in Syria and the U.S. response

North Korean nuclear threat

French Populist Movement raises concerns about the future of the European Union
The Risk-Off trade of bullish bonds, U.S. dollar and gold seemed to be preferred by many global market participants as the week-of April 3 progressed.
Market activity going into the Week-of April 10 will likely find market participants in a defensive posture. Why?
S. and global equity and commodity markets in the aggregate were already consolidating or in need of some corrective activity. Now add the Syrian and Middle East events the week of April 3 and obviously markets should be treated with a great deal of respect. Reality is the Middle East is a much bigger powder keg than most realize. This is a time of patience. Let price action define your entry and exit positions.
Four Key market concerns follow:
First, chemical attack in Syria and the U.S. response
The "Chemical Attack" in Syria refocused global attention on Syria and its potential to serve as a catalyst to escalate building U.S./West and Russian military friction.
Syria is a potential conduit for massive pipeline movements of Middle Eastern oil moving into Europe from Iran, Qatar, and Saudi Arabia. Russia would prefer to maintain their dominant land-based pipeline position or at the very least have influence over who moves oil and gas through Syria. 
The United States responds: Market anxiety high
63 Hours: From Chemical Attack to Trump's Strike in Syria by Michael D. Shear and Michael R. Gordon, April 8, 2017, The New York Times.
"PALM BEACH, Fla. — The decision came Thursday afternoon on Air Force One on the way to Florida. President Trump assembled his National Security Council on his plane, some by secure video link, as the generals made the case that President Bashar al-Assad of Syria had to learn there was a price to pay.
Mr. Trump was already shaken by photos his staff had shown him of children dying after the Syrian government's chemical weapons attack — far more graphic than those the public had seen — so the president did not need a lot of convincing.
"What happened in Syria is truly one of the egregious crimes, and it shouldn't have happened," he told reporters when he poked his head into the press cabin. "And it shouldn't be allowed to happen."
Two hours later at his Mar-a-Lago resort in Palm Beach, Fla., Mr. Trump gave the order to unleash 59 Tomahawk cruise missiles at Al Shayrat airfield in western Syria, where the chemical weapons attack originated. His generals had given him the option of delaying a day, but Mr. Trump chose not to wait.
It had been only 63 hours from the chemical attack to the American strike."
Click on this link to continue reading
Russia Sends Warships toward U.S. Navy after Syria Bombing by Tom O'Connor, April 7, 2017, Newsweek.
"Russia deployed its most advanced Black Sea frigate Friday into the eastern Mediterranean, where U.S. Navy destroyers had launched an airstrike earlier that day against the Moscow-backed Syrian military.
As Russian leadership condemned the U.S.' first intentional attack on the military of Syrian President Bashar al-Assad since the country's six-year conflict began, Russia's Admiral Grigorovich frigate reportedly left its port of Sevastopol, Crimea, and headed toward the U.S. destroyers USS Porter and USS Ross. The vessels had launched a barrage of 59 Tomahawk missiles early Friday morning against Syria's Shayrat Airfield, which Washington alleged was the origin of a suspected chemical attack on the Syrian rebel-held city of Idlib. Moscow argued the toxic discharge was the result of a Syrian airstrike on a chemical weapons facility used by rebels and has said it would take "a complex of measures" to protect Syrian troops from further U.S. action."
Click on this link to continue reading
Who's with the US on Syria strike and who isn't by Madison Park, CNN, April 8, 2017
Nothing is simple about the crisis in Syria.
With conflicting interests and competing global powers, the international community remains at an impasse over Syria's six-year conflict.
On Friday morning local time, the U.S. military struck a Syrian air base in response to a chemical weapons attack, bringing mixed reaction from global players. Some lauded the action as long overdue, while others condemned it as "an aggression."
Here's a look at the key countries involved in Syria, their reactions to the strike and their stakes in the conflict.
Click on this link to continue reading
Will Syria Yield to the Chemical Weapons Ban?
Interviewee: Lori Esposito Murray, Adjunct Senior Fellow
Interviewer: Zachary Laub, Senior Copy Editor/Writer
April 7, 2017
Publisher: Council on Foreign Relations Press
Syria and the Middle East region are highly unstable economically, socially, and politically.
The events of the past week just publically reopened an unhealed wound for a global audience to witness and consider the region's potential to serve as a catalyst for larger regional or global military conflict.   
Middle East Defined by Its Countries
As previously stated this is more than a Syrian issue. This is a regional and global problem and the damage control associated with neutralizing the immediate tensions has major economic, market, political and military impacts.
Each of the following Middle East countries find themselves in harm's way as countries and governments struggle to survive in their current format:
An array of contiguous countries are also impacted by ongoing Middle East events, which is beyond the scope of this article.  
Despite U.S. missile barrage, Syria continues airstrikes against rebels, by Louisa Loveluck and Zakaria Zakaria April 8, 2017, The Washington Post.
"BEIRUT — Residents of the Syrian town devastated by a chemical weapons attack earlier this week said warplanes had returned to bomb them Saturday, despite a U.S. missile barrage and warnings of possible further response.
At least 86 people in the northwestern town of Khan Sheikhoun were killed Tuesday in a chemical attack that left hundreds choking, fitting or foaming at the mouth. Eyewitnesses and a monitoring group, the Syrian Observatory for Human Rights, said Saturday that fresh attacks on the area — now a virtual ghost town — had killed one woman and wounded several others."
Second, North Korean Nuclear Threat  
North Korea's ongoing saber rattling speaks to its communist state leadership's economic, social and political challenges. The countries nuclear threat and building delivery capabilities pose a threat for both friend and foe.
White House: U.S., China will seek to 'peacefully resolve' North Korean nuclear threat
By Cristiano Lima, April 7, 2017, Politico  
"President Donald Trump and Chinese President Xi Jinping agreed to work with the international community to achieve a peaceful solution to the North Korea nuclear threat during their diplomatic meetings at Mar-a-Lago, according to statement released Friday by the White House press office.
Following a second day of bilateral talks, press secretary Sean Spicer said both China and the U.S. agreed to increase cooperation between the two superpowers to "convince North Korea to peacefully resolve the issue and dismantle its illegal nuclear and missile programs" and to prevent the spread of nuclear weapons in the Korean peninsula."
Third, French Populist Movement Raises Concerns about the Future of the European Union (EU) 
The European Union and its member countries are likely at the beginning of an EU un-wind due to European Union bureaucratic dominance and mismanagement, individual countries and the Union are being economically strangled by their social debt burden, and an array of other issues.
The United Kingdom has now started the process of leaving the European Union. The process of withdrawing from the EU started on March 29 and if all goes well the potential is there to exit by April 2019.
The French Presidential elections on May 7, 2017 will likely determine how fast or slow the European Union unwind. A win by Marine Le Pen, of the French National Front party would set in motion the likely accelerated unwind of the European Union. This would be bullish the U.S. dollar and bearish the Euro and the European economic problems would escalate.     
Insightful article: BBC News: French election 2017: Who are the candidates?
Fourth, the U.S. and China Summit
China needs the United States, the United States needs China, and the world desperately needs these countries. When it comes to fiscal, monetary, trade and regulatory policy it is extremely important for the United States and China to have amenable relations.
Today an economic, market, political, or military misstep by China or the U.S. could easily decelerate the global reflation efforts.  
Remember China has their own global and military ambitions. The South China Sea is one of the most obvious examples.    
Conflict in the South China Sea, Contingency Planning Memorandum Update
Author: Bonnie S. Glaser, Senior Advisor for Asia, Center for Strategic and International Studies
Publisher: Council on Foreign Relations Press
Trump-Xi Summit Accomplishment: Getting to Know One Another by Toluse Olorunnipa  and Jennifer Jacobs, April 7, 2017, Bloomberg
"U.S. officials said President Donald Trump's first meeting with Chinese President Xi Jinping this week was an opportunity for the leaders of the world's two largest economies to get to know each other and set up future meetings.
That was the biggest accomplishment after about 18 hours together at Trump's Mar-a-Lago resort -- a visit punctuated by a U.S. missile strike on Syria Thursday night. There were no trade or investment deals announced, no agreement to contain North Korea's nuclear ambitions, no plan stitched together to reduce tensions in the South China Sea.
A statement from White House Press Secretary Sean Spicer late Friday cited an array of topics the pair and their contingents discussed, from North Korea to cybersecurity to protecting human rights, and said Trump and Xi "established a new and cabinet-level framework" for future talks."
The Potential for Progress at the US-China Meeting
Author: Richard N. Haass, President, Council on Foreign Relations
April 5, 2017  
The Boston Globe
"This week's meeting in Mar-a-Lago between Chinese President Xi Jin-ping and President Donald Trump is arguably the most important foreign policy gathering of the still-young Trump administration. The trajectory of the next four years will hinge in no small part on whether the two countries can avoid a trade or any other kind of war; in the longer run, it will be one sort of 21st century if the United States and China collaborate on regional and global challenges — and a very different one if the two cannot work together or, worse, come to blows."
Near Term Market Summary Considerations Week Beginning April 10, 2017
Download Slide Show for charts and expanded details at the download link: http://www.deltafarmpress.com/marketing/market-price-considerations-week-beginning-april-10.
10-Year US Treasury Yield:

Slightly bullish with a potentially lower yield

Yield presently remains in a sideways range between 2.3 – 2.6

Geopolitical uncertainties could cause the yield to drop below the 2.3 support area

US Dollar Index:

More strength than weakness given global market uncertainties

Trading range developing between 95 -104

CRB Index:

Cautiously bullish as Syrian and Middle East events unfold

Between Fed off-again and on-again accommodation and building uncertainties surrounding fiscal, trade and regulatory policy simulative activities, this key economic indicator has struggled

Bigger Picture: Global macro forces in general remain supportive, but are being tested

$WTIC Light Crude Oil:

Light Crude Oil prices likely supported by Syrian and Middle East uncertainties and building potential Russian and U.S. military friction, and Chinese positioning

Bigger Picture: Global economic, social, political, and military uncertainties remain supportive of prices

Soybeans:

Either a price floor is in place or corrective price action follows before prices head lower

Fundamentals, Syrian and Middle East collateral damage and fiscal, monetary, trade and regulatory policy are presently all problematic near term for soybean prices until a price floor is in place

Corn:

A tough week being dominated by Russian and Chinese response uncertainties surrounding Syrian and Middle East events

This week likely defines if price action is corrective or lower lows lie ahead

Rice:

Price firmness on the back of the March 31, 2017 USDA Prospective Planting Report

Expanding rice acres beyond current planting expectations likely would put downside pressure on prices

Cotton:

Caution advised until a better understanding of how Syrian and Middle East events affect the global marketplace

That said, complex price action underway with a bullish price objective into the 84-cent area still remains in play

Wheat:

Caution is advised for all markets as geopolitical risks continue to grow

Corrective price action completing, bullish price potential to $4.95 remains a possibility

SPY SPDR S&P 500 ETF:

Consolidation underway, allow price action to unfold

EFA iShares ETF - Global Equities Excluding U.S. and Canada:

Global events need to be digested

Entering a cautionary period

Consolidating gains likely

EEM iShares ETF, Emerging Market Equities:

Global events need to be digested

Entering a cautionary period

Consolidating gains likely
Bobby Coats is a professor in the Department of Agricultural Economics and Agribusiness, Division of Agriculture, University of Arkansas System. E-mail: [email protected]
 DISCLAIMER-FOR-EDUCATIONAL-PURPOSES
Subscribe to receive top agriculture news
Be informed daily with these free e-newsletters
You May Also Like
---