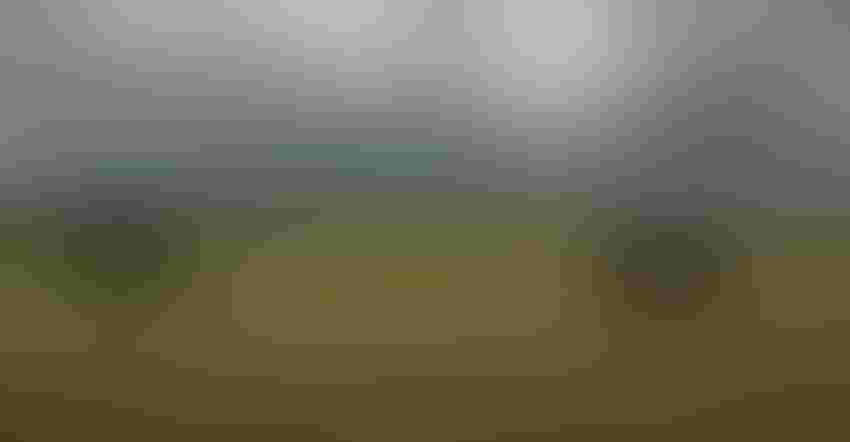 DROUGHT AHEAD: Weather forecasts calling for drier-than-average conditions this spring are not good news for pasture, grass, forages and crops that rely heavily on spring rainfall.
George RoseGetty Images
Drought is on the minds of most ranchers in the western United States, and that is not good news for pasture and croplands. Due to an abnormally warmer and drier winter, 87% of South Dakota is under moderate drought, according to the U.S. Drought Monitor map.
"For March through May, there is more confidence that most of South Dakota will be warmer than average, except for the far northern tier along the North Dakota border," says Laura Edwards, South Dakota State University Extension state climatologist.
"Drier-than-average conditions seem more likely in the southern half of the state in mid- to late spring. This is not good for pasture, grass, forages and crops that rely heavily on spring rainfall," she says. "April and May are two of the wettest months for much of South Dakota and are critical for a good start to summer grazing and total productivity of the land."
With temperatures predicted to be warmer than average during the month of April, the USDA Natural Resources Conservation Service is urging farmers and ranchers to prepare to mitigate drought effects on both croplands and grasslands.
Laura Broyles, acting state conservationist, says, "In a dry year a consideration might be to convert marginal croplands to grasslands, especially in field areas where yields won't cover costs. Our livestock producers understand the value of implementing drought management plans for grazing lands."
NRCS offers tools to help walk ranchers through those drought contingency plans, says Emily Helms, state rangeland management specialist.
"Our NRCS SD Drought Tool is really useful to show how much your rangeland precipitation is above or below normal," Helms says. "This Excel spreadsheet helps figure out if stocking plans or rotations need to change, and our SD Grazing Tool gives you stocking rates based on the land you want to graze and production values."
Drought plan needed
Highmore, S.D., rancher Jim Faulstich has mentored ranchers based on his experience of rotating and resting pastures to build healthier, resilient soils that withstand drought. "I recommend to my fellow producers to have a drought management plan, know their resource inventory and to understand the importance of pasture rest," he says.
Faulstich, who serves as the vice chair for the South Dakota Grassland Coalition, says he initially thought only of the expenses when shifting to rotational grazing plans to manage drought. "While some pastures did require expense like adding water, the real surprise was how much more profitable it made our operation. With more resilient grass came greater sustainability and profitability," he says.
When he thinks back to his early years, pasture management was all about what grew above ground. "Thank goodness the emphasis on soil health came along to emphasize what we should have known from native range ground — the need to put emphasis back onto it," Faulstich says.
In addition to offering tools for drought planning, NRCS conservationists work directly with producers across South Dakota who face a variety of rangeland soils, grass species and climates to graze cattle.
The R's: Rotate, rest, recover
NRCS says the long-term key to less severe drought impacts on grasslands is developing resilient soils. The pathway to that resilience, NRCS says, is to remember the R's: rotate, rest and recover.
That's what Dan Anderson, a rancher near Faith, S.D., has found. "We just noticed the more rest you give a plant, the more root system that develops, the more growth it gives you on top, the greater resilience it has when it's either eaten or drought comes in — it'll snap back."
Source: The South Dakota NRCS is solely responsible for the information provided and is wholly owned by the source. Informa Business Media and all its subsidiaries are not responsible for any of the content contained in this information asset.
Subscribe to receive top agriculture news
Be informed daily with these free e-newsletters
You May Also Like
---