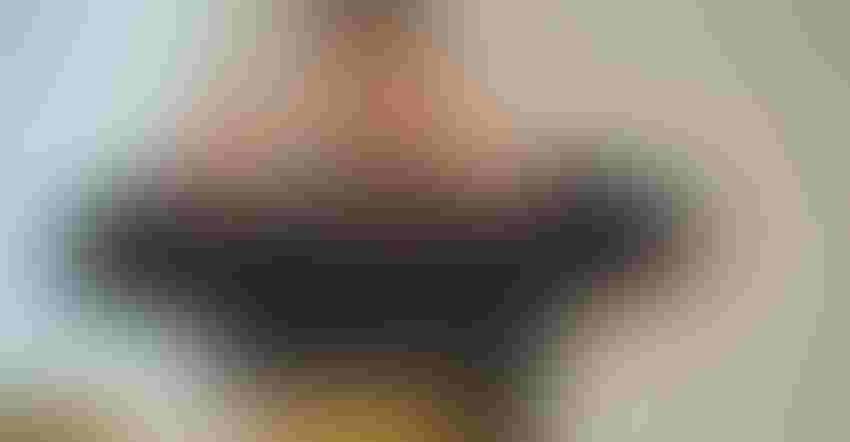 WINNING THE GAME: Ed Usset, speaking at Delmarva Ag Week, said higher grain prices are always possible if you have a plan to tackle your pre- and postharvest pricing options.
Chris Torres
So, how can you get $4 corn, or higher, in 2020 or 2021? Nothing is guaranteed, but if you follow a few marketing steps from grain marketing guru Ed Usset, it could be possible.
Speaking at Delmarva Ag Week, Usset, a grain marketing specialist and research fellow at the University of Minnesota, had a group of local farmers try their hand at "Winning the Game: How to get $4 corn."
It's a program that he developed a little more than two years ago after attending a crop insurance conference in southern Minnesota. At that conference, an attendee told him that local farmers were struggling to make it with cash corn prices, which at that time were $2.90 to $3 a bushel. But getting a higher price for corn or soybeans takes a long view of grain marketing.
"You have to think long term. Plan ahead, but $4 corn is available," he said.
Total marketing plan
In the past, Usset has talked about developing separate pre- and postharvest marketing plans for grain. Preharvest planning is strategic and involves looking ahead six months to a year or more. Postharvest marketing is more deliberate and tactical, and it is based more on getting a positive carry.
The only thing the two have in common is that springtime tends to be a good time to get things done. Usset's purpose now is to teach producers how to combine both strategies and make them work together.
"Or, as I like to say, marketing from start to finish," he said.
Follow three steps
The first step is pricing corn before harvest. This can be done through a hedge-to-arrive contract, direct sale of futures or even a put option — the right to sell futures.
The second step is pricing corn at harvest and storing it on the farm, if you can, and rolling the hedge forward to the next spring.
The third step is waiting for a better spring basis and delivering grain at that time.
Here is one scenario: You start with a December corn price — in this case, $4.10 a bushel. Take that $4.10 corn, then add or subtract the basis from the harvest price. You then add a 25-cent carry — or roll the hedge from December to July of the following year. You buy back the December futures contract and sell the July contract. Then, add the local basis, which usually improves in spring.
"You do those three things" and you have a higher price, Usset said.
"We've had a wonderful run in spring prices every year the past five years," he said.
Last year, the difference in price between December 2018 and July was 24 cents higher. In 2018, the carry got up to 30 cents.
Just about every spring sees an improvement in basis, he said, usually by 15 cents — though it got up to 30 cents in 2018.  
Pricing options
The "game" covers roughly an 18-month period from preharvesting marketing to at least five-and-a-half months postharvesting.  
In the middle are various pricing options to consider.
When it comes to preharvest contracts, Usset looks at two things: the December futures on May 1 (planting) and the Oct. 1 price (harvest). In the past 15 years, the market has declined in October 75% of the time. In only five of the past 20 years has the contract improved in October.
"There is a very strong tendency for the new-crop December contract to go lower from spring to fall. The average decline has been 33 cents a bushel," he said. "This is not a new phenomenon, this is a very strong seasonal tendency. It's the strongest seasonal tendency in any ag-related commodity." 
When it comes to pricing tools, forward contracting, Usset said, is the simplest to understand and do.
"You know your final price when you forward contract. That's a nice thing," he said.
You can contract for any bushel amount, with no fees or margin accounts. But there is also institutional risk. What if the person or company you're contracting with goes broke before the contract gets paid? While this isn't a common story, it can happen. In his home state of Minnesota, for instance, it happens every other year, Usset said.
Futures contracts offer the best flexibility. Just make sure you have a tight relationship with your banker and show them you're a legitimate hedger, he said.
The advantages are that you're not tied to selling to any particular buyer. You can also roll the hedge forward.
But you must market your corn, or soybeans, in 5,000-bushel increments. And you must have a margin account along with a nice, tight relationship with your banker if things go awry.
When it comes to hedge-to-arrive, the futures price is your base price with the elevator. You can contract for any bushel amount, there are no margin accounts or margin calls, and you can lock the basis later or roll the hedge.
But there is institutional risk with hedge-to-arrive contracts, and elevators may charge additional fees. You're also locked into local elevator delivery, and you must market in 5,000-bushel increments.
"You're in a low-option business, and those damn options cost a lot of money," Usset said. "So, you gotta be careful about that."
Subscribe to receive top agriculture news
Be informed daily with these free e-newsletters
You May Also Like
---