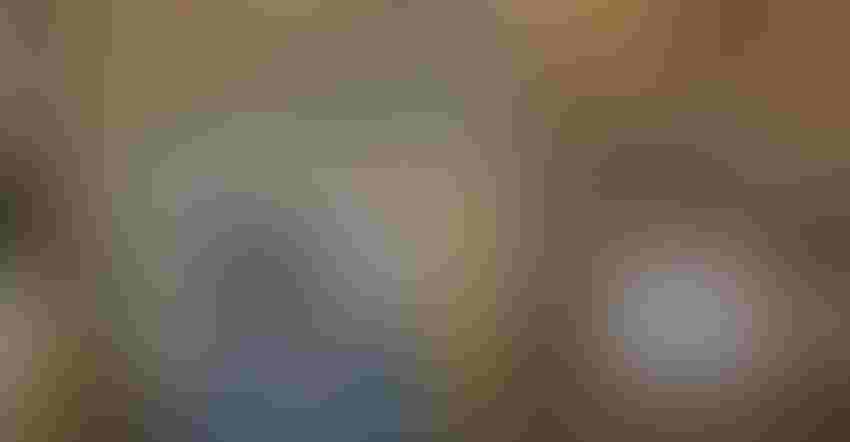 REGIONAL LEADERSHIP: Milo Ravndalen (left) and Brent Benike, board chairman and general manager, respectively, for Northern Excellence Seed LLC, Williams, Minn., stand in front of a robotic palletizer at the seed conditioning plant.
Paula Mohr
Since its inception in 2002, Northern Excellence Seed LLC, located in Lake of the Woods County, Minn., continues to expand and provide seed conditioning and marketing for local member-growers.
The company came about after the Marvin family in Warroad decided to get out of the farm business and closed its elevator, which also had a seed conditioning plant attached. Knowing that area growers needed a place to take their seed, Marvin told a small group of growers that if they built a seed cleaning plant, Marvin would donate its equipment, valued around $150,000 at the time. With cash short at the time, the Northern Farmers Cooperative Exchange of Williams stepped up and became a 50% owner.
"That's the reason we are here," says Milo Ravndalen, one of the original founders and current Northern Excellence board chairman. "After long meetings and discussions, we built the plant."
Locating the plant in Williams also allows the company to share management, labor, equipment, trucks and loaders with the co-op, says Brent Benike, who serves as general manager for both Northern Excellence and Northern Farmers.
"It's been a good synergy," Ravndalen adds.
The 85,000-square-foot plant and warehouses, approved for seed conditioning by the Minnesota Crop Improvement Association, currently has three conditioning lines. The newest line was added in 2016 to handle non-GMO food-grade soybeans and small grains. Grass seed, such as timothy, reed canary grass and perennial rye grass, makes up the bulk of product handled, with 90% being the latter. The plant also conditions and packages cover crop seed and other seed products.
STEADY GROWTH: The 85,000-square-foot Northern Excellence plant and warehouses, approved for seed conditioning by the Minnesota Crop Improvement Association, runs three conditioning lines, the latest added in 2016 for food grade soybeans and small grains.
Currently, there are 54 Northern Excellence partner-owners located in five counties — Lake of the Woods, Roseau, Koochiching, Marshall and Beltrami. Co-op ownership is now at 19%.
Grass seed production has always been prevalent in northern Minnesota thanks to a cooler, wetter microclimate. The region was once a major producer of Kentucky bluegrass — up to 50,000 acres at one point — but demand declined, and acreage has shifted to perennial ryegrass, Benike says.
"Perennial ryegrass acreage has increased in Minnesota for several reasons," he explains. First, northern Minnesota grows a higher quality ryegrass. Over the past 15 years, University of Minnesota research has helped provide more consistent production practices. Growers are getting better net returns on perennial grass seed, compared to other current commodities. Also, Oregon, the traditional top producer of perennial ryegrass, is seeing less acreage in ryegrass and more acreage planted with higher value alternative crops, such as hemp and hazel nuts. Oregon's perennial ryegrass acreage was at 135,000 acres in 2015 and has been declining since, down to a projected 55,000 acres in 2020. Hazelnuts are up to 95,000 acres and hemp is up 50,000 to 60,000 acres for 2020 in Oregon.
"If the 2020 acres hold true for Oregon on perennial ryegrass, this will be first time that Minnesota acres will exceed Oregon in the production of perennial ryegrass," Benike says. "Oregon is still a large producer of other grass seed species, such as annual ryegrass and tall fescue, but the shift has been primarily perennial ryegrass."
Northern Excellence markets grass seed products primarily in the U.S. plus Canada, China and the European Union, and food-grade soybeans to Japan and South Korea. Growers store their seed products on their farms until they are called for conditioning and sale. With being "lake-locked" to the north and "forest-locked" to the south, Northern Excellence relies on trucking all product in appropriate containers for U.S. and overseas markets.
Benike credits steady growth over the years to member-growers who invested in the business, a dedicated board and a crew that is committed to quality.
Looking ahead to 2020, he sees logistical challenges with staying on top of the shift of perennial ryegrass production from Oregon to Minnesota.
"The Willamette Valley of Oregon has the infrastructure for blending and packaging," Benike says. "With the shift in production acres to Minnesota, we have to continually strive for increased efficiencies in order to hit the marketing and sales time frames the industry requires."
Subscribe to receive top agriculture news
Be informed daily with these free e-newsletters
You May Also Like
---