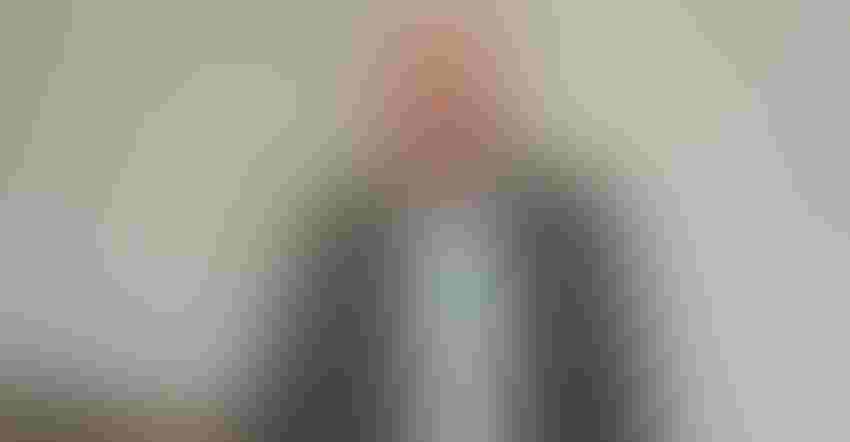 Steve North, sales consultant and farmer, spoke at the 2020 National Conservation Systems Cotton and Rice Conference in Memphis, Tenn. His talk was titled "How I use my cost of production and break-even point to determine when to market my crop."
Alaina Dismukes
The worst time to sell a crop is harvest-time. Steve North, sales consultant with Nutrien Ag Solutions, Bells, Tenn., and farmer in Dyersburg, Tenn., says the basis in the market is usually higher and the prices lower.
"How you market your crops affects your bottom line," said North at the 2020 National Conservation Systems Cotton and Rice Conference in Memphis, Tenn.
Why marketing is important
At one time, farming was 80% mechanical and agronomy.
"My dad could set the planter, fix the planter, and keep the tractor running. That was 80% of it back then. Today, it's changed," he said. "A third of it is the mechanical and the agronomy side, another other third is the business aspect of it, such as buying or renting land and knowing how much you can afford to pay on rented land."
The other aspect of farming is marketing.
"Believe it or not, marketing is a third of farming too, and if you don't pay attention to your marketing, it's almost impossible to make money off these low margins today," North said.
"Farming is a gamble. I have a friend who asked me about marketing corn one year, and he wanted to know where I thought corn was going to be in January. I told him I thought it was going to get to $4.25, but he said no way that was going to happen. It got to $4.25."
Related:Parade of Winter Conferences
North booked some of his crop at $4.04, $4.08, and $4.17. Later, he booked the rest of his crop at $4.84. His friend didn't book any of his crop at $4.25 because he was waiting for it to get to $5.00. Waiting to book his corn prevented him from getting as much as he could have if he had spread sales over time.
"The goal is to keep moving forward," North said. "Have a target and keep moving it little by little toward your goal. My motto has always been I'd rather reach in one pocket and pull out money than to pull dust out of both."
Bookkeeping
North uses QuickBooks. "I know exactly where every penny goes from what I spend to farm," he said. "It goes into fuel, tires, batteries, repairs, and maintenance. It goes into the employee costs, such as Social Security and payroll. I know every penny I spend because I keep it in QuickBooks. At the end of the year, I take every one of those categories and divide it out by the 3,000 acres I farm. I've got an exact cost per acre of every category, and I add them up. The next thing I do is come up with my seed, chemical, and fertilizer costs."
He uses QuickBooks to figure out what he spent on every crop per acre.
"I know exactly what my seed, chemical, and fertilizer cost was last year," North said. "I also know my indirect costs, such as labor and repairs. I set myself a goal using my five-year yield average, and I determine what is a reasonable profit.
Related:Tennessee farmer benefits from cover crops, variable rate, and no-till
"I set a pretty high goal every year, but rarely do I ever fall below it because I plan, and I have a strategy for getting it accomplished."
With QuickBooks, the user can make categories to determine what every category costs, such as fuel, equipment maintenance, insurance and interest, custom application, equipment, land, etc.
"It's great for keeping up with employee payroll, too," he said.
North sets different goals when marketing for each of his crops: cotton, corn, and soybeans.
"There is a lot more work in cotton than corn and soybeans, so I expect to get more from cotton," North said. "My first goal, and this is when I will book 50% of my crop, is $125 an acre.
"I'll take my equity price, 17 cents, which does not include a gin rebate, but when it hits 17 cents, I'll book 50% of my cotton. If it's not 17 cents by the time I get ready to plant, I might not have any cotton. I'm going to look to see what the prices of corn and soybean are, and whichever one I can make money on, I'll plant that instead. Then I'll set a second goal, which will be 25% of my booking, and I want $150 an acre profit on it."
Yield potential and booking
North said he can usually tell what his yield potential is by early August.
"In August, I may market the other 25% of my crop because, if it is raining in July or the first week of August, my cotton crop is going to be around 1,300 pounds if it has rained," he said. "It is a safe move to market then."
He also likes to prepay for seed, chemical, and fertilizer because he can save 10% by paying in advance.
"I save 10% if I borrow the money at Farm Credit to prepay it," North said. "My cost of interest at Farm Credit right now is 4.25% interest. If I save 10% by prepaying it early, I have picked up another 5.75%.
"My dad always told me, 'Son, it takes money to make money, and if you don't have money, you better know where you can get it.' Always know your production cost and have a plan for how you are going to market your crop. Also, remember you can never go broke from making a profit."
About the Author(s)
Subscribe to receive top agriculture news
Be informed daily with these free e-newsletters
You May Also Like
---