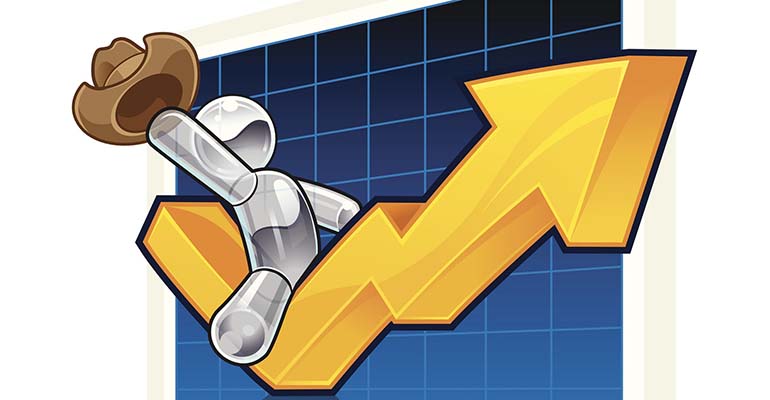 Watch each Friday for Doug Ferguson's Market Intel blog on Beef Producer and BEEF magazine.
vectorbomb-ThinkstockPhotos
If you are a young person getting started in the cattle business I have a great read for you. It is a blog titled Ranching from Scratch.
This was authored by Dallas Mount, the owner of Ranching for Profit schools. He makes the point that conventional thinking doesn't really pan out.
His comments were a bit sentimental to me, since I started on the ground floor. It reminded me of a project we had to do for one class I took while in college. We were given a scenario where we were given a ton of money and had to start a cattle enterprise. We could pick stockers, feedlot or cow-calf operations, and whether we were going to rent pasture, buy land or use dry-lot production. We could also buy whatever we wanted for machinery.
We had to gather information on what things cost at the time, come up with a marketing plan and then prove how we were going to be profitable. Our final grade was based on this project. Needless to say, it was all blue sky and clean air. Everyone's plan showed they were going to be millionaires in five to 10 years, living on easy street.
I was around 18 at the time and didn't know much. I had never heard of sell-buy marketing, so everything us kids were using was based on conventional wisdom. I sat in that room for two hours on the day we took our final exam. I wrote my name on it and that was all. At the end of two hours the instructor came over to pick mine up, I was the only one left in the room. He noticed I didn't touch it and asked me about that. I told him it was all B.S. because I already knew none of this was going to work in the real world, and if we tried the marketing plans we built we'd for sure all go broke.
Conventional marketing
On the same topic of conventional thought processes, I know a rancher who is really upset that her cows didn't sell for a high price. I asked what type and age the cows that she sold, and when she told me I responded that she probably got "X" amount of dollars for them. She was surprised I knew that, and asked how I knew. I told her that's all that type of cow has been bringing for months.
She is using the conventional method of holding cows and running them till they are old thinking they have their whole life to pay for themselves. If she understood the idea of market relationships she would have known to sell her younger cows since they were overvalued and replaced with an undervalued female. She could have deflected the depreciation expense and created a positive cash flow.
Let's look at this another way. If you were going to trade off your pickup and buy a new one, you would probably get on the Kelly Blue Book website and look up the value of your truck, then compare to the price of a new one. We do this because we all know the dealer is going to try to rip us off, so we must be prepared to counter. It's amazing how people don't do that when selling cattle. Then when their cattle don't bring what they want them to bring they get upset and think they got ripped off at the auction, when in fact they got exactly what those cattle were worth at the time. I have repeatedly told people over the years that some of the most important work they can do during the week is to watch their local cattle auction to see what cattle are currently bringing in their area. Even if it's just an hour or so at lunch time. It's like looking up your truck's value on Kelley Blue Book.
The markets this week
This week I caught a couple female sales in different parts of the country. I pay attention to condition, age, type and stage of pregnancy to make accurate comparisons. We all notice that fat is a pretty color on cows, and I've mentioned before how they tend to bring more. This week I broke the sales down even more and noticed something.
When I compare fat number ones by breaking them down by age and stage of pregnancy the fat ones held the line of $100 depreciation per year of age. When I compared the thinner cows to each other (the ones in their working clothes) they depreciated $50 per year of age. Because fancy cattle bring more money, they have more value to lose, and lose it they will. Since the working girls don't catch that premium they hold up to their original value better since they don't have the big depreciation cost.
The same depreciation trend, based on condition, held true on pairs this week as well. The big standout was that pairs brought $150 to $400 per head less than breds. If we factor in the cost to keep the bred cow until she calves, those pairs were really undervalued.
Looking at feeder auctions, early in the week it looked for sure like we were solidly back into being a weight-gain business. Value of gain (VOG) was fairly strong throughout the weight spectrum, up to around 800 to 900 pounds. This created the opportunity to make some sweet feeder-to-feeder trades. But then by midweek the VOG was experiencing the yo-yo effect again.
Sticking with feeder-to-feeder trades, there was a big difference in price by region. Some geographical spreads were as high as $20 per hundred, leaving plenty of cash to pay a truck to haul the load home.
This week unweaned cattle were $3-8 back, feeder bulls were $8-11 back, replacement quality heifers caught a $8-10 premium, and southern markets were undervalued.
I don't even want to discuss fats. They were looking promising for a while and that has been quickly taken away from us, making them undervalued.
The opinions of the author are not necessarily those of Beef Producer or Farm Progress.
About the Author(s)
Subscribe to receive top agriculture news
Be informed daily with these free e-newsletters
You May Also Like
---