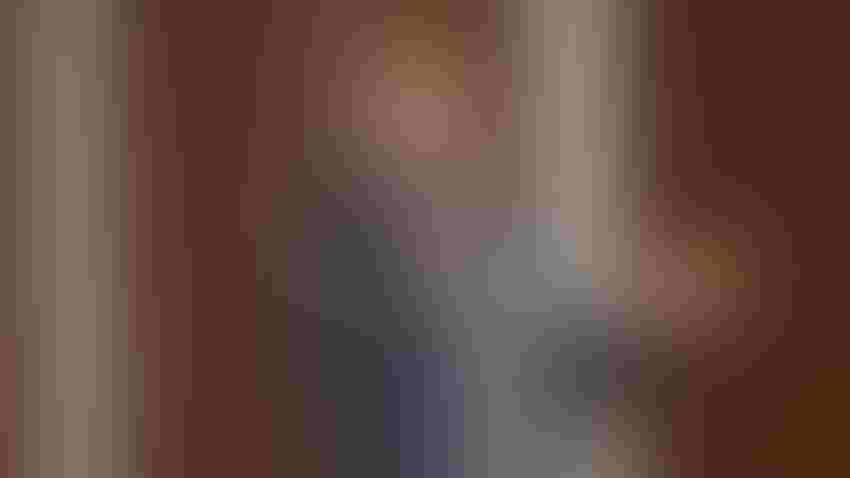 HELPING FARMERS THRIVE: Michael Kilpatrick runs The Farm on Central in Dayton, Ohio, but he has also made a name for himself as a farm educator and podcast host.
Chris Torres
If you ask Michael Kilpatrick to describe what he does, he'll likely give you two answers: He's a farmer and an educator.
But his classroom isn't in a school.
"My mission is to help farmers thrive, and a lot of that came from running my first farm in New York," Kilpatrick told a group of growers at the recent Mid-Atlantic Fruit and Vegetable Convention.
These days, he runs The Farm on Central in Dayton, Ohio, a 45-minute drive from Indianapolis.
Kilpatrick helps farmers through on-farm consulting, a weekly Thriving Farmer Podcast that reaches many listeners, a nonprofit — Growing Farmers — that specializes in farmer education, and by talking about his experiences on the farm.
He is no stranger to change. When Kilpatrick ran his farm in upstate New York — from 2003 to 2015 — he grew 15 acres of crops and generated $500,000 of income a year mostly through farmers market sales.
But when he and his family decided to relocate to Ohio, he wanted to change things up. Instead of going to customers, he wanted the customers to come to him and for the farm to become a destination.
Kilpatrick said it took three years to find a farm centrally located in a population hub where customers could easily find him. His goal was for the farm to generate most of its income from selling products on-farm instead of going to farmers markets.
Last year, the farm just missed $400,000 in income with 56% of sales generated through an on-farm market. Along the way, Kilpatrick said he has faced many challenges. One of these was having to set his farm store in a converted city bus because of challenges from local government officials over a permanent store on the farm.
It's this challenge, but also his successes, that has helped him connect with farmers. His Thriving Farmer Podcast has more than 1 million downloads, and he's featured more than 200 guests.
So, what does he see as the biggest challenges, and opportunities, for farmers in 2023? Here's a taste of what Kilpatrick shared with visitors at the convention:
Labor. There is no magic bullet to solving this issue, but one thing growers have control of, Kilpatrick said, is hiring the best people possible.
"You need to treat the team like family. Hire thoroughbreds, not donkeys. Don't let bad apples spoil the bin, and give them a vision," he said. "I see a lot of farmers hesitate to hire good help because, frequently, good help costs good money. But what I will tell you is in our business and businesses I've seen, someone who is making 20% more typically puts in 100% to 150% more effort."
He said farm owners should not rush to hire. Take your time and onboard new hires, Kilpatrick said, and provide training and baselines that can be easily measured.
"It feels like a lot of work, but once you've done it one time, it's very easy to set up the next member," he said. "And here's the thing: It gives you a very clear vision, both you and the team member, of where they're headed and what you expect of them."
Controlling inflation. Part of the solution, Kilpatrick said, is to track costs to find out what's working and what's not, and to also justify why you need to raise prices to customers.
He said he does this by keeping track of the top 10-12 items used on the farm — such as fuel, electric and fertilizer — and then explaining to customers why increased costs require higher prices. He also keeps track of his overhead by tracking fixed and variable costs, boiling it all the way down to how much he would have to produce of a certain crop to meet his costs and generate a profit.
One example he highlighted was when he had to use a surplus of cucumbers to make pickles. He wanted to know if the venture was profitable for future years, so he calculated the cost of his raw ingredients, packaging, labor and overhead, and calculated how much he would need to charge to make a profit.
"That is definitely something to look at to see where you're making money and where you're not making money," Kilpatrick said.
More government regs. How burdensome a regulation can be depends on the government agency that's enforcing it.
In his experience, Kilpatrick said that building relationships and communicating is always the best thing to do. And having people in the community on your side can make a big difference.
"Build your email list, engage, be on social. Invite elected officials to the farm, and maybe even run for office," he said. "Know the code better than the official."
Building a marketing system. Kilpatrick said this is the No. 1 thing that has driven his farm forward, by knowing the customers and building a value ladder for them to keep coming back.
"What you have to do is get crystal clear on who your customer is and what the customer journey is," he said. "Knowing who they are and where they are."
This can be done through surveys or just talking to customers about why they come to the farm and what will keep them coming back.
"Always have the next step for the customer to take," Kilpatrick said. "Maybe they come to buy a pint of cider, and then maybe they'll bring a friend later, or join your CSA. You should always have a next step for the customer to take. If you sell apples, maybe next time they bring friends or grandkids, or perhaps they'll take a wagon ride and spend more money."
A $3,000 gamble? What's the best $3,000 a farmer can spend? Putting in a simple commercial kitchen that can turn raw products into foods.
"Provide access to a bathroom; stainless-steel counters; three-bay sink for rinse, sanitize and wash; and a mop sink and handwashing sink. So, check in your state for what they require," Kilpatrick said. "And the beautiful thing is it allows you to take any of your raw products and turn it into something else."
Agritourism. This may not be for everybody, but creating an experience for people and making your farm stand out is an opportunity that still can reap many benefits, Kilpatrick said.
"Why on-farm experiences? Because you're a leader in the community. Farmers are the ones in the community that are pillars, the person that people are really interested in learning from," he said. "People are thinking about back to the land, so make sure to capitalize on this for your business. The more connection points for the customer the better. They will have a deep connection to the farm and will tell others about the operation."
Subscribe to receive top agriculture news
Be informed daily with these free e-newsletters
You May Also Like
---