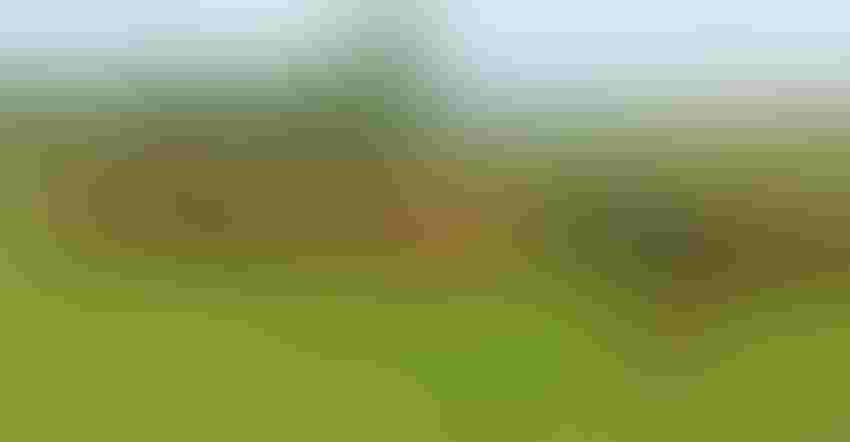 GRASS TO CATTLE: For Wendy and Bart Morris, managing grass is as important as managing cattle. They're working toward a more intensive rotational grazing strategy to feed grass year-round.
Photo: Tyler Ramaker
It takes careful planning to launch a niche business. After extensive research into the grass-finished beef market, Bart and Wendy Morris established Oxbow Cattle Co. along the Bitterroot River near Missoula, Mont., in 2014. The Morrises are not new to ranching: Bart worked on Wyoming ranches for several years and Wendy grew up on a Colorado ranch.
"A lot of people want to get into this business as a new startup," Bart says, "and it's really challenging. We have been really careful about our finances. I worked for 16 years for a state agency, and my wife has a good income as an anesthesiologist. That's what it takes to pull off our dream of making a living riding horses and chasing cows."
The Morrises are working to minimize price fluctuations in the market through their business plan. They raise grass-finished beef, and they market direct to consumers. "It is both a business decision and a personal belief," Bart says. "We believe in the way we treat the cattle, the way we treat the land and what kind of a product we give the consumer. You can have all the best ideas and love what you're doing. But if there's no margin, there's no mission."
The marketing rancher
Oxbow beef is sold directly to consumers: 97% to local restaurants, grocery stores and individuals, with the remainder sold online. The Morrises have found that the best marketing is word of mouth and personal visits.
"We approached all the restaurants in [Missoula] and grocery stores," Bart says of their start. "Told them we were raising grass-finished beef and brought beef samples. It took a while to get in the doors at the places we wanted as customers. We had to prove ourselves through our beef and service. Now we're three years into it, and it keeps growing. Normally at this time of year, I'm hauling two cows every other week to slaughter, but today I hauled four."
Location and personal touches are important to marketing. Missoula and its suburbs are home to 150,000 people, providing a population of consumers with a sense of community. "We go to the summer farmers market for our customers to put our faces to the Oxbow name," Bart says, "and to tell people we live and raise our cattle right here. We invite people out on tours, and the Range and Environmental Studies classes from the University of Montana come out. We're ingrained in the community, and that's based on our location. Business is business — doesn't matter if you're selling Q-tips or beef."
A drawback to direct sales is the amount of marketing and selling of beef that's necessary. "The good part is, customers talk to me directly," Bart says. "I can tell them exactly which cow and the day she was born that they now have in beef. I'm horrible at doing two things at once, but I end up doing it a lot. When I'm hauling cows or riding my horse, I'm on the phone. You've got to enjoy the marketing and talking to people."

WORKING ALL THE TIME: For the Morrises, delivering cattle to customers means meeting needs in any weather. Wendy Morris is sorting cattle for future delivery.

Making the grass work
Oxbow cattle graze on private and state leases radiating out from Missoula's city limits to former river bottoms and the hills breaking above. The Morrises prioritize managing grass to avoid overgrazing and purchase locally grown grass hay for the coldest months. "We're in the process of, hopefully, kicking the habit [of feeding hay]," Bart says. "Ideally, we'd like to graze year-round."
To do so, the Morrises are building fences for rotational grazing. "One of our leases is an old ranch bordering Missoula, with a Rocky Mountain Elk Foundation conservation easement for open space," Bart explains. "The first thing done under the easement was to have volunteers roll up all the fences. It makes it tough to rotate cows with no fences. So we trained our cows to poly wire, and we're getting our fences done, little by little. We will be doing high-intensity, short-duration grazing to make our grass work for us, instead of against us."
The Morrises like how moderately framed Angus cattle finish on grass. Their target carcass weight is 700 pounds, with high yields, good fat coverage and marbling for tender beef. Every two weeks, several restaurants and grocery stores split a beef carcass to keep their product fresh. To meet demand, the Morrises finish calves purchased from local ranchers. "Our first big batch of home-raised calves will be beef this year," Bart says proudly. "They are the genetics we've been chasing, and have not been fed grain nor had growth hormones and antibiotics."
Grass for community
Bart's advice for getting into grass-finished beef is to make sure there is a market for it, and to know your customers and where to reach them. Foremost, though, is a good business plan. "We looked at city and county data of income and population, and other local grass-finished producers, to estimate demand," Bart explains. "To set our pricing point, I walked around Walmart, the Good Foods Store, Orange Street Food Farm and Safeway to take photos of meat prices and log [them] in our spreadsheet. Once you get the business end of it, make sure you have the grass and genetics to finish the animals for good beef."
For the Morrises, the grass-finished business is for ranching and community. "We eat at the places that sell our beef," Bart says. "This morning, I gathered horses, hauled a horse over and gathered cows, and sorted four cows off for the locker. As I went through town I stopped at Romaines [restaurant] and ordered Oxbow Cattle Co. stew with a biscuit for lunch."
Hemken writes from Lander, Wyo.
Subscribe to receive top agriculture news
Be informed daily with these free e-newsletters
You May Also Like
---