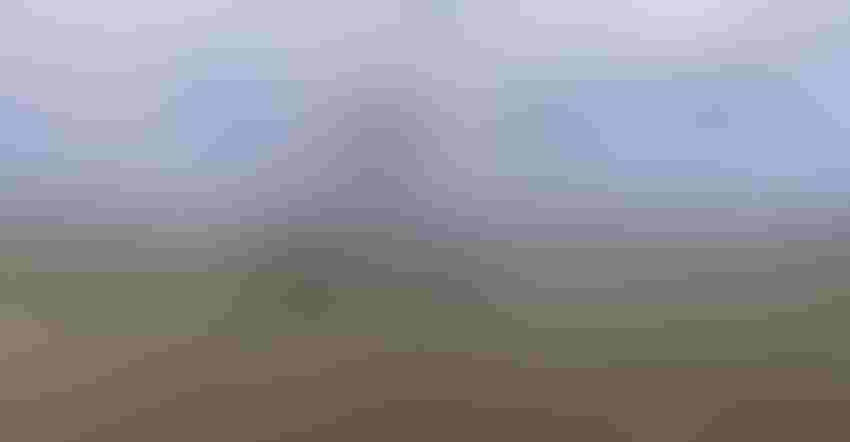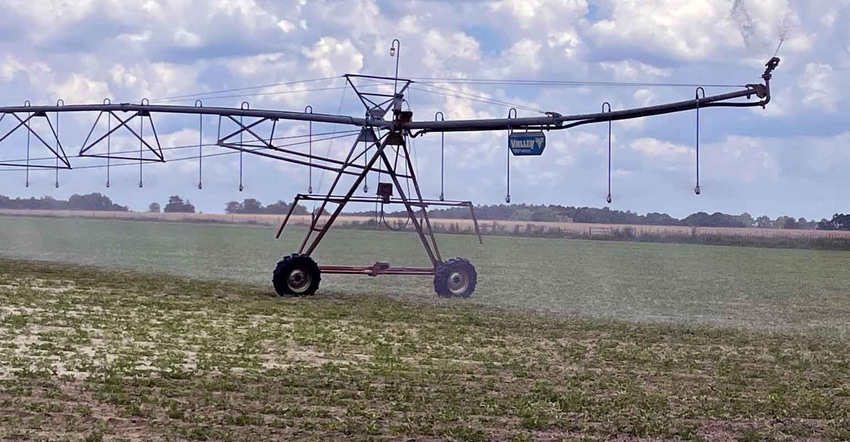 Irrigating peanuts June 2, 2022 in Sycamore, Ga.
Brad Haire
The black cloud built over the farm. Moments later, heavy rain fell. A gray, watery curtain cut the field in half. I sat there and watched for 15 or 20 minutes, struck by the natural phenomenon. The cloud dissipated. The sun came out. The pop-up storm watered half the cotton field. The other half remained bone-dry.
That scene from many years ago has stuck in my memory. It was before mobile phones and their handy on-board cameras became our memory holders. But I bet most farmers have seen similar weather patterns. Summer thunderstorms stop and start where they stop and start. We can't pick where and how.
May not be the case of the haves and the have-nots, but in May it was a growing issue of the gots and the not-so-gots-alots. Rain has fallen timely on many Deep South farms this spring, but some spots were creeping well into drought conditions.
According to the U.S. Drought Monitor released June 6 by the USDA National Agricultural statistics Service, Alabama and Florida row-crop regions remained free of drought and of abnormally dry conditions, and that's a good thing.
In Georgia, the south-central part of the state remained abnormally dry, but a 120-mile sausage-shaped stretch was classified as moderate drought and ran from Camilla in southwest Georgia east to Hazlehurst.
Ross Kendrick grows a few thousand acres of peanut, cotton and corn near Sycamore, Ga., located in the middle of that dry stretch of the state. Prior to the first week of June, it had been close to six weeks since his farm received a good rain. In the sandy soils of south Georgia, dry fields are rarely more than five days away from drought stress without rain or irrigation.
May is typically the driest month for much of the lower Southeast, and this past May was no different in that regard. Still, some locations in the lower-southern tiers of Georgia and Alabama and northern Florida received severe storms, including hail and flooding, with some farmers saying they received amounts of 4 inches to 6 inches in the span of a day or two, causing fields to have to be replanted.
Of course, things are relevant, including weather patterns. The Southwest and Western United States are in crippling, historic drought. I don't talk about our dry conditions with my Western friends, other than to say their need for much-needed rain remains in our prayers. Shelley Huguley is the editor of Southwest Farm Press and the wife of a northwest Texas farmer. On May 24, she sent an early morning picture of a rain gauge on their farm.
"Look what we got!!! 1 1/2 inches!! I couldn't even wait for daylight to take a pic of the gauge!" she said of the picture.
"When was the last time you had any real rain?" I asked, knowing it had been a long while.
"A year ago... nearly to the day my farmer says," she said.
Hope good rain falls where and before when you need it.
About the Author(s)
Subscribe to receive top agriculture news
Be informed daily with these free e-newsletters
You May Also Like
---