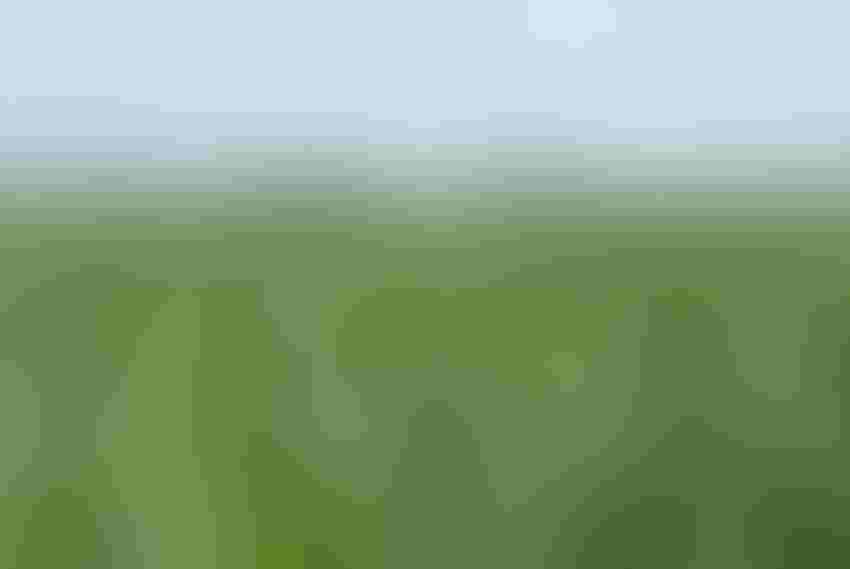 CRITICAL TIME: Hot, dry weather affected Iowa's corn last week, as 7% reached silking stage. As Iowa's corn crop begins pollination, it needs rain in the next couple of weeks.
Iowa needs rain, especially southeast Iowa, according to USDA's latest statewide crop and weather report. The survey for the week ending July 9 shows over half of southeast Iowa's topsoil — and about a third of its subsoil l— rated very short of moisture.
Parts of south-central, southeast and northwest Iowa are considered to be in a moderate drought, according to the U.S. Drought Monitor released July 6. About half of the state is considered abnormally dry, it shows. Rain fell the evening of July 9 into the morning of July 10 east of a line from Mason City to Burlington, providing 1 to 2 inches of moisture. That rain, however, came too late to be included in this latest report. Even with that rain, soil moisture supplies are still significantly below normal in some areas.
Survey shows 7% of Iowa corn silking
"We've seen continued dry weather throughout much of the state, and many producers, especially those in southeast Iowa, need moisture," notes Iowa Agriculture Secretary Bill Northey. "Now during county fair season and corn pollination time, we hope for cooler weather and more agreeable conditions for livestock and crops."
Iowa corn is running behind normal in development. Last week only 7% of the state's corn crop was silking versus 20% for the five-year average. Illinois was 33% silking versus a 45% average, and Nebraska was at 14% versus a 23% average.
The complete weekly crop and weather report is available on the Iowa Department of Agriculture and Land Stewardship's website at IowaAgriculture.gov or on USDA's site at nass.usda.gov/ia. The report summary follows.
Summary of Iowa crop conditions
Hot, dry weather prevailed across Iowa during the week ending July 9, according to USDA's National Ag Statistics Service. Statewide there were 6.3 days suitable for fieldwork. Activities for the week included hauling grain, applying herbicides, cultivating and haying.
Over half of southeast Iowa short on moisture
Topsoil moisture levels for Iowa rated 12% very short, 28% short, 58% adequate and 2% surplus last week. Subsoil moisture levels rated 7% very short, 22% short, 69% adequate and 2% surplus. Over one-half of southeast Iowa's topsoil has fallen to the very short moisture level category, with almost one-third of the subsoil also in the very short moisture level category.
As of July 9, the survey shows 7% of Iowa's corn crop has reached silking stage, six days behind the five-year average. As corn in Iowa begins pollination, many crop reporters mentioned the need for rain in the next few weeks. Now, 77% of the corn crop is rated in good-to-excellent condition. One-third of the soybean crop is blooming, and 5% of soybeans are setting pods, 3 days ahead of average. Soybean condition is rated 67% good-to-excellent.
2nd-cutting alfalfa half harvested
Nearly all the oat crop has headed with half turning color or beyond, one week behind last year and three days behind average. Oat condition is rated 76% good-to-excellent. Scattered reports of oats harvested for grain were received.
The second cutting of alfalfa hay reached 53% complete as of July 9, about four days behind last year but five days ahead of average. Hay condition rates 67% good-to-excellent. Pasture condition continues to decline with 55% good-to-excellent. Feedlots are reported to be in good condition as a result of the dry weather, but livestock were stressed from the heat last week.
Weather summary for Iowa
Harry Hillaker, state climatologist at the Iowa Department of Agriculture, provides the following weather summary for the crop reporting week ending July 9.
Temperatures on the first day and last day of the week were slightly below normal with hotter-than-normal weather in between. Daytime highs were mostly in the 80s on July 2, July 7 and July 8. Temperatures in the nineties prevailed over most of Iowa on July 6 with a mix of 80s and 90s for the rest of the week. Temperature extremes varied from a July 8 morning low of 52 degrees at Cresco to July 6 afternoon highs of 97 at Sioux City and Little Sioux. Temperatures for the week as a whole averaged within a degree of normal over the east to 1 to 3 degrees above normal over the west, with a statewide average of 1.3 degrees above normal.
Statewide average rainfall way below normal
Isolated thunderstorms were scattered across the state each afternoon and evening from July 2 through July 5, and again over southeast Iowa on the morning of July 7. Dry weather prevailed July 6, July 8 and through the daylight hours on July 9. About one-third of the state, concentrated over the north, received no rain at all during the week, while a few scattered small areas picked up over an inch of rain.
The week's highest rain total of 1.7 inches was reported just south of Arthur in Ida County in northwest Iowa and mainly fell on the evening of July 4. Statewide average precipitation was 0.22 inch, while normal for the week is 1.07 inches. A widespread area of rain fell late July 9 into the morning of July 10 (1 to 2 inches was common) along and east of a Mason City to Burlington line. However, this rain came too late to be reflected in this week's weather and crop statistics.
Subscribe to receive top agriculture news
Be informed daily with these free e-newsletters
You May Also Like
---