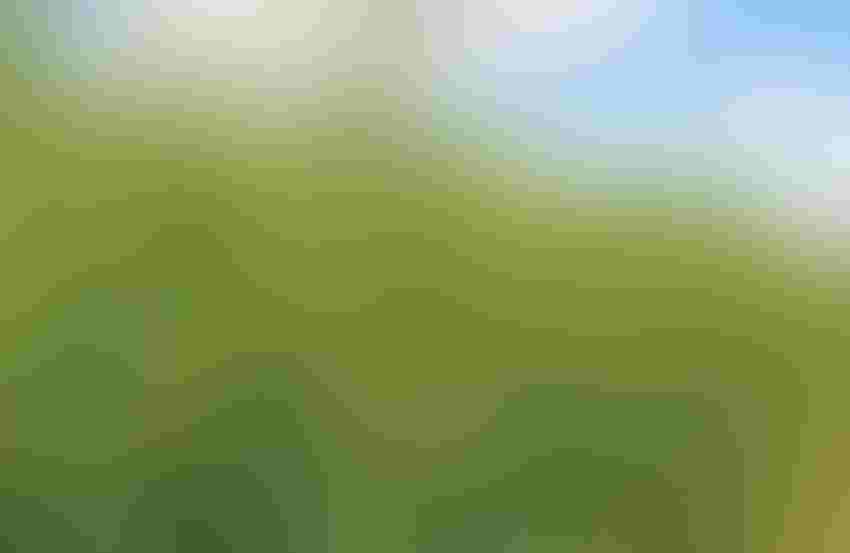 As "bumps in the road" occur in the farm economy, "farmland prices will reflect that," Abbot Myers, chairman of the board of the Mississippi Land Bank, said at the organization's annual meeting.
But, he says, while some analysts are warning of a sharp retreat in land prices, "I don't foresee another farmland bubble like the one that occurred in the 1980s, when there was a total collapse in values.
"Some people feel prices are too high right now; others say prices will keep steadily going up, but at a slower rate than the past few years. Everybody's got a prediction. My answer: They'll go up and they'll go down — land prices will correct themselves."
Grain prices and livestock production and the profits they produce are key factors that affect farmland demand and prices, Myers says.
"We saw what happened in the Midwest last year when they didn't make a normal corn and soybean crop. Prices shot up. Now those prices are going down — one analyst has said he can make a very good case for $4 corn this fall — and beef and dairy prices are coming up.
"It's going to be a wild year, and a lot will depend on the weather, which we of course can't control."
Land rents and production both affect farmland prices, Myers says. "When the production of the land and the renting of the land get out of kilter, something's going to happen, and price can go down."
Many land purchases in the last year or two have been by non-agricultural buyers, he says, and "by farmers who've either paid cash or paid down a significant amount of cash — they're not borrowing a lot of money for these purchases. I think this is going to help keep prices from falling the way they did in the 1980s. There may be a correction in farmland prices, but I don't think it will be a bursting bubble."
Action, or inaction, of the government also is an influence on farmland prices, Myers says.
"We still don't have a new farm bill; there has been a lot of playing politics and not much accomplished. We in agriculture don't have the votes and influence in Washington that we once had, and the basic support we've had for farm bills in the past may no longer be there.
"All bankers like to have support and stability in agriculture, but I don't see that happening in the future. I think we will be more and more dependent on crop insurance. As soon as they make the big payout in the Midwest for last year's corn crop, politicians are going to say, 'This shows how effective crop insurance is,' and that's the way things will go."
Unsustainable
The government "has been printing money like crazy," Myers says. "The U.S. has $6 trillion debt. Expenditures this year are projected at $3.6 trillion, while income from taxes will be $2.5 trillion. It doesn't take rocket science to see that kind of math doesn't work. If we keep this up, it's going to adversely affect the entire country.
"It looks like we're also going to be spending a lot of money on the health care system. This is going to be a major drag on the economy if we don't get it straightened out."
Despite areas of pessimism, Myers says, there are reasons for optimism. "The Fed has promised to keep interest rates low through 2015. They're going to keep them low is because they hold $3.5 trillion in debt. If interest rates go up, it will blow the budget completely out of the water,  interest rates will be low for the foreseeable future."
And he notes, the Dow-Jones Index has been setting new records recently.
"All this tells me there is money in this country, and around the world, that's looking for investment opportunities. With interest rates near zero, they can't get a return on CDs or other monetary investments, so they turn to stocks and/or land, and that's another reason land prices are going up.
"A group from Argentina bought farm land in my area within the last year. They'd never seen buckshot soils before, but they're trying to farm it, and they see it as a better investment than they can get elsewhere.
"But, the pendulum will swing back — it always does. My advice, though: You'd better hang on to your working capital, because you're going to need it."
Myers says he remains "very optimistic about our future in agriculture. Eighty percent of the people alive today are in developing countries. These countries are growing at a tremendous rate, their middle class is increasing at an unprecedented rate, and they want better food and clothes. They are buyers and consumers of what we produce. are increasingly the engine for our success.
These people are going to be buyers and consumers of what we produce. U.S. farmers are the most efficient, the most productive, and the most driven to be successful than any industry in the world. Each farmer once fed 20 people — today it's 165. We feed and clothe the world, and that's reason to be optimistic about the future of agriculture."
Bank records in 2012
In his report on operations for the Mississippi Land Bank, President Gary Gaines said the organization has several record-setting accomplishments in 2012.
"We had a record year for new loans, closing 612 new loans valued at $127 million, which brought outstanding volume to just over $500 million and a growth rate of 8.8 percent. We're extremely proud of this. This has been our goal for a long time, and we're very proud to have returned this amount to our stockholders. We're confident this will continue to grow."
Member equity grew also, Gaines says. "At the end of the year, we had $85.2 million equity outstanding for our member owners. We had a 15.25 percent permanent capitalization ratio — a very strong financial condition that should enable us to weather any storms that may come along.
"Credit quality continues to be outstanding, particularly in these difficult times, at 98 percent. Two of our branches, Starkville and Senatobia, had over $100 million in loan value outstanding, and Clarksdale was almost at $100 million. All of our branches are growing.
The organization has continued its scholarship program for college students, Gaines says. "Our board is very supportive of higher education, providing scholarships to students in community colleges and universities in our 32-county area. All these students are outstanding, and we're pleased to be a part of helping them toward a future of accomplishment and service."
More from Western Farm Press
Dairy farmer blends vodka from cow's milk
Lettuce industry abuzz over automated thinner
Dirty Dozen pesticide list losing ground to science
PETA drones a trophy prize for US hunters
5 things moms get wrong at the grocery store
Water issues drive precision agriculture solutions in specialty crops
Subscribe to receive top agriculture news
Be informed daily with these free e-newsletters
You May Also Like
---