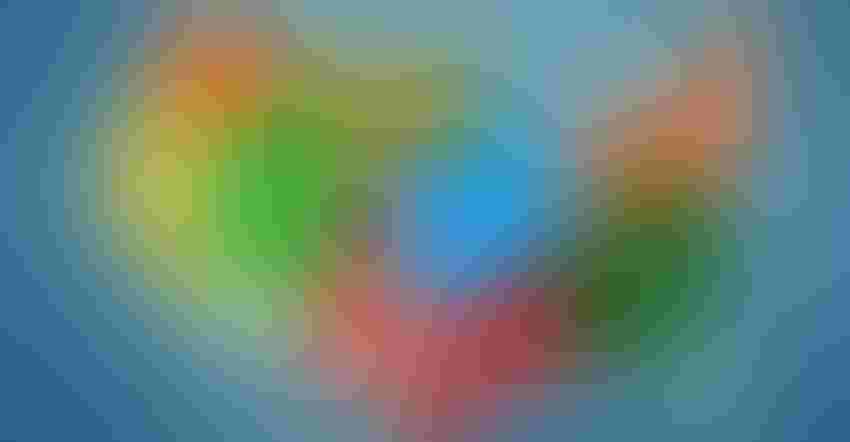 MIXED FALL WEATHER BAG: Weather for the Northeast's fall leans to the warm side, but may be more turbulent elsewhere.
Farmers hoping to catch up on growing degree heat units for late-planted crops may be able to breathe a little easier. Summer warmth will linger into fall across the Northeast, Mid-Atlantic and parts of the Midwest. That's AccuWeather's latest call.
"That doesn't mean it's going to be exceptionally warm," says Paul Pastelok, AccuWeather long-range forecaster. "But we feel [temperatures are] going to run above normal."
Early Midwest snow?
Fall will be more like — well — fall in the Midwest and Northern Plains, he adds. Temperatures are predicted to fluctuate throughout the season — "mild for a period, then the next week you could be cooled down for a week."
Those chill-downs have AccuWeather predicting a bit of early-season snow, arriving as soon as October.
"It's always a tough call when you're going to see that first snowfall in places like Chicago, Des Moines and St. Louis," admits Pastelok.
"This fall may not be off that far from normal," he hedges. "Just keep in mind it's been very difficult to get cold weather in these places over the last several fall seasons." But bouts of winter weather are far more probable during November.
South ripe for severe weather
Areas farther south will remain alert for tropical hits long after summer has faded. While the Southeast had an easy start to the hurricane season, a few tropical hits may threaten to spoil the first half of fall. Areas more vulnerable this year are still the Gulf Coast and the Carolina coast.
Tropical threats, frequent showers and thunderstorms could lead to still more flooding, including in areas that suffered drought last year, such as northern Alabama, Georgia and Tennessee. Humidity will remain high across the region with few cool-downs predicted until late fall.
Severe weather will continue threatening the southern Plains and lower Mississippi Valley as temperatures run above normal in the Gulf. "If you get any of these mid- to late-season storms coming down in the northern Plains like we're expecting, you're going to get a clash of air masses in the southern Plains," elaborates Pastelok. That clash could cause severe weather to erupt, with the threat of tornado outbreaks from Texas to Tennessee.
Storms to stream down West Coast
Rampant wildfires in the West will calm quickest in regions farther north, as storms stream in from the Pacific. "Last year, they got slammed in late fall and winter in the Northwest as far as heavy rain and heavy snow go," notes Pastelok
A similar weather pattern is likely this fall. The region will once again receive abundant precipitation, though not as much as during last fall, he adds. Reason: Water temperatures off the West Coast aren't as high as last year and won't foster very strong storms.
Rain and snow will at least total normal levels, with potential to climb slightly above normal, he predicts.
But drier conditions and lingering warmth from southwestern Montana down toward California means it may take most of fall for wildfires to calm down.
Source: AccuWeather
Subscribe to receive top agriculture news
Be informed daily with these free e-newsletters
You May Also Like
---