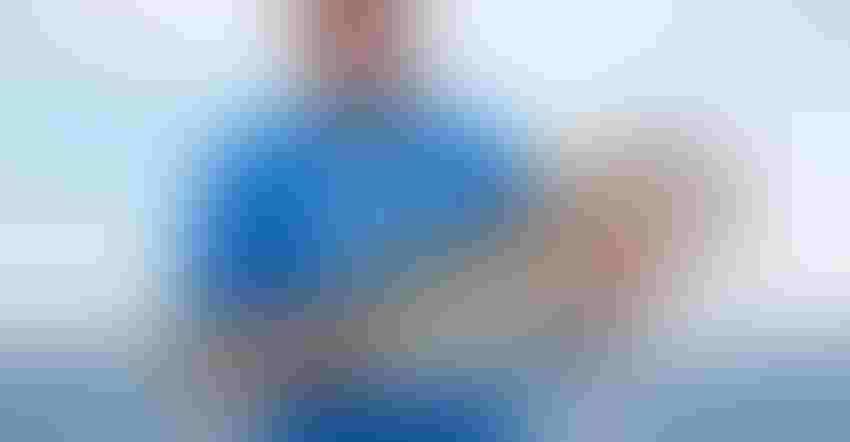 GETS NO FRESHER: Captain Peter Haskell hooked this fresh-caught tilefish off the coast of Long Island.
Haskell's Seafood
Fresh, indigenous, sustainable, healthy. That's what F.I.S.H., a project of Cornell Cooperative Extension of Suffolk County's aquaculture initiative, stands for. CCE created F.I.S.H. as a platform for raising awareness of New York state's marine district fish farmers. It perfectly fit Captain Peter Haskell's mission.
Terrestrial farmers harvest food crops to supply community supported agriculture subscribers. Haskell's Seafood business of Long Island, N.Y., is in the same boat — well, sort of. Combining the best of land and sea, Haskell became well-known for going door-to-door as a boy with his red wagon cooler filled with his day's catch-of-the-day fish plus vegetables from his garden.
"Adding value to my catch rather than just selling to a distributor has been my objective since I started clamming as a boy," he says. "F.I.S.H. created a showcase that has people talking about the local seafood available here."
Today, this certified fishing captain harvests his catch-of-the-day from the sea to feed 100 community supported fishery subscribers. CSF subscribers pick up weekly shares from June to September via three farm stands.
Like other value-added direct marketers and CSA operators, Haskell dons a culinary chef's hat to create and package his seafood, using Long Island-grown produce whenever possible. Identifying public demand for prepared fresh artisanal seafood cuisine widened his customer base through the CSF plus online sales from haskellsseafood.com. Packaged products include his porgy and potato fish sticks, butter-poached sea scallops and stuffed flounder.
At tasting events, he introduces local school children to Haskell's Sustainable Seafood School Lunch program. "The kids go nuts for the texture and flavor of our handcrafted fish sticks made with fresh porgy and locally grown potatoes," he says. "This kind of educational opportunity helps develop a palette that is open to seafood into the future."
FISH SCHOOL: Haskell (second from left) and staff prep porgy-potato fish sticks for a Southampton High School tasting session.
Catching the sustainable link
Customers learn about Haskell's lower-impact harvesting methods, such as hook and line catching tuna and handpicking bay scallops. Haskell targets underutilized indigenous species, such as sea robin, skate, porgy, and smooth dogfish shark, to create marketing interest.
"One of my restaurant clients promotes a sustainable fish and chips basket with our breaded dogfish shark filet," says the SUNY Potsdam business graduate. He takes fish sellers, legislators and others fishing to educate them about different types of fish and what to do with them.
Linking safety and sustainability
Haskell's processing enterprise began in a state-inspected incubator kitchen on Long Island's North Fork. He has since built his own cold processing room there and opened a small commercial kitchen on the South Fork.
Most evenings, he and five staff process the catch-of-the-day from his boat and a network of local fishermen. Another four staff members operate the sales end of the business.
PORGY HARVEST: Peconic Bay Keeper Sean O'Neil (right) worked with Haskell to harvest porgy for the Sustainable School Lunch Program.
Haskell completed Hazard Analysis Critical Control Point training to qualify to write his own food safety plan. All employees complete food manager certification.
Online orders are shipped in biodegradable fiber packaging. Clam and oyster shells are recycled to create artificial reefs for Shinnecock Bay restoration.
"We grind our waste into chum to help boats attract fish, preventing the loss of fresh fish caught just to become chum," he explains. He's also developing liquid fish fertilizer as a non-food product.
Tying education with economics
F.I.S.H. provides a platform for people to learn about wild-caught seafood and to trust their fisherman, Haskell says: "It's an invaluable support system, getting people to taste unfamiliar seafood, and encouraging open-mindedness about local seafood," he says.
"90% of all fish consumed in the United States is imported, and from areas where food safety is less regulated," points out John Scotti, F.I.S.H. project leader with CCE Suffolk County. "If we can capture even 5% of the landed value of the Long Island-harvested seafood, that equates to approximately $2.3 million."
NYFVI Executive Director David Grusenmeyer says: "Educating consumers about local resources benefits producers and the local economy, and reduces travel time and fuel cost from field, or in this case, from sea, to consumer." 
NYFVI is a farmer-led nonprofit that invests in innovative projects to increase the success of ag production enterprises, protect farm-based natural resources and produce measurable farm-level results. Visit nyfvi.org for more information.
Telling F.I.S.H. stories and 4 landlubber lessons
With a 2016 New York Farm Viability Institute grant to start F.I.S.H., Suffolk County Extension specialists began helping commercial fisheries develop business plans, build local markets and increase retail sales. Land-based farmers also can learn four lessons from Haskell's experience:
• Look for multi-product packaging opportunities.
• Harvest more value-added demand by developing, packaging and retailing your own combination products.
• Work with local resources such as incubator kitchens on product development.
• Tell your story: Educate people about your products and practices.
FINNY TRUCK: Haskell's food truck helps tell his "fresh and local" story.
The locator tab of the F.I.S.H. project at localfish.org directs visitors to 17 local fish markets, two producers providing local seafood home delivery and 12 farmers markets carrying local seafood products.
The species section highlights 36 species of local and North Atlantic fish, seven shellfish types, three crab varieties and American lobster caught by fishermen based in Long Island. Recipes are also there for preparing everything from bluefish to bay scallops and skate.
To learn more, contact Kristin Gerbino at 631-727-7850 ext. 315, or email [email protected].
Dunn writes from her farm at Mannsville, N.Y.
Subscribe to receive top agriculture news
Be informed daily with these free e-newsletters
You May Also Like
---