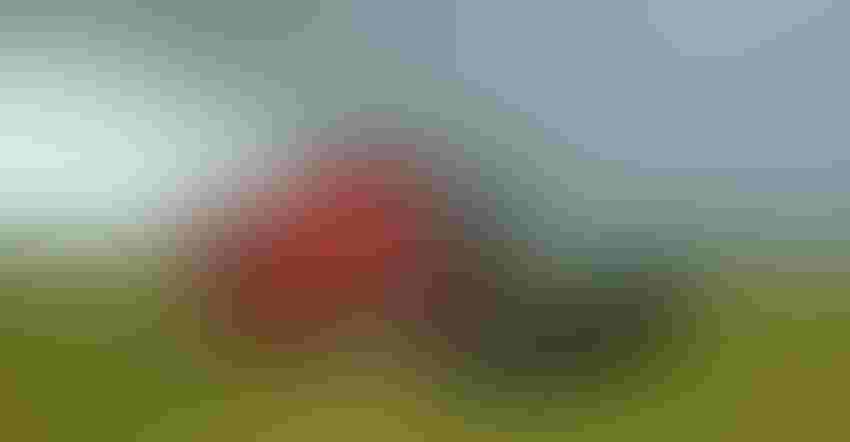 South Louisiana and Delta farmers prepare as the storm approaches.
Bruce Schultz/LSU AgCenter
Hurricane Laura, a Category 3 storm strengthening into a Category 4 storm according to a recent forecast, is expected to hit the Louisiana-Texas border on Aug. 26 and make its way up toward Arkansas. Storm surges, extreme winds, and flash flooding are expected.
As the storm has grown, producers have been busy trying to harvest what they can before the storm moves in. Many say this could not be worse timing with harvest under way.
Louisiana harvest at risk
"Hurricane Laura is planned to hit somewhere between Houston, Texas, and Lafayette, Louisiana, along the Gulf Coast," said LSU AgCenter rice specialist Dustin Harrell. "The main crop we have in this region is rice. We farm about 375,000 acres of rice in that portion of the state, and we're currently about 85% to 90% done with harvest."
Most growers were working together to harvest the remaining rice fields before the storm hit.
"The producers' first concern right now is making sure that they get all the rice crop they can harvest out of the field," he said Tuesday, Aug. 25. "One concern with the hurricane is the high winds. These high winds, for the mature rice, can lodge the rice. In other words, it can blow it over and lay it flat down on the ground."
Also, with excessive rainfall, there is the potential for flooding the blown-down rice, causing the grain to sprout from the seed heads.
"This could reduce the milling quality of that rice as well as the overall grain quality," Harrell said. "If it submerges from flooding, we might lose the whole crop."
 Although rice is grown in water submerging it, flooding will kill rice. The winds from the hurricane could also shatter mature grains.
"And in Louisiana, we grow what we call ratoon rice crop where we grow a second rice crop right after harvesting the main crop," he said.
The ratoon rice crop is very important economically to the rice growers in southwest Louisiana and eastern Texas along the Gulf Coast because it's a low input crop where the only required cost is usually nitrogen fertilizer, irrigation, and harvesting.
"It's a little better return than the main crop," Harrell said. "A lot of the farmers in this area will tell us that they'll break even on the main crop, and then make a profit on the recurrent crop. The hurricane could flood fields and kill the potential of that ratoon crop, which typically yields about one-third of what the main crop does.
"Although the main crop harvest is almost completed in southwest Louisiana, we do produce about 25% of our rice in northeast Louisiana, which is about 70,000 to 75,000 acres of rice in that region. This northern area as well as Arkansas and Mississippi are just beginning harvest, and tropical storm winds will still be a problem by the time the hurricane gets in that area."
George LaCour, south Louisiana farmer along the Mississippi River, hopes for some rain but no strong winds.
"My soybeans aren't ready yet to harvest, but I could use some rain on my sugar cane," LaCour said. "We're about 20 days away from harvesting some sugar cane and about three weeks from picking cotton.
"I've been through some terrible hurricanes, and you never know how it's going to turn out. We've tried to harvest what we could as quickly as possible, and now, we're hoping for the best. It's a game of waiting to see what happens."
Terrible timing
"I would estimate we are a little over halfway done with the corn harvest," said Bobby Skeen, executive vice president of Louisiana Cotton and Grain Association. "Some soybean harvesting has started, but we are probably another week to 10 days away from getting into the majority of the soybean harvest. We have about two to three weeks before we get into the cotton harvest.
"The majority of the crop is still in the field, and with a potential hurricane coming that's going to be a category four storm by the time it hits land, obviously, we're pretty concerned."
Some say this year is the best corn crop they've ever had.
"The economy is not good right now," he said. "The commodity markets are depressed, and the only thing worse than low prices are going to be low yields. We're potentially looking at high yields, but with the hurricane, we don't know how that is going to affect yields. It could be another nail in the coffin for a lot of farmers. It could not be worse timing."
Arkansas in Laura's path
Jason Kelley, Extension wheat and feed grains agronomist for the University of Arkansas System Division of Agriculture, echoes Skeen's sentiment.
"It is terrible timing for us in Arkansas," Kelley said. "We have harvested an estimate of only 5% of the corn crop so far (as of Friday, Aug. 21, according to NASS). Of course, the big concern is high winds plus heavy rain would cause corn lodging. Many Arkansas corn farmers would be starting corn harvest this coming week. However, grain moisture has been too high for most to start the harvest."
The current rainfall forecast predicts a swath of 4 to 6 inches across central Arkansas, plus wind.
"The two crops we are most concerned about right now are corn and rice," said Jeremy Ross, Extension soybean agronomist for the University of Arkansas Division of Agriculture. "We're pretty much done except for harvesting the crop. For corn, if we don't get too severe wind, everything should be ok. Rice is in the same situation. If we get a lot of rain, a large percentage of the crop can drain, but there is the potential for loss due to lodging."
The storm not only has the potential to damage the crop but will slow down harvest completely.
"Poor efficiency is not good," Ross said. "We could have some quality issues, especially if we get a lot of rain and the lodged grass lays on the ground too long. This could cause some sprouting."
With soybeans, the state is mostly in mid to late season of production.
"Our main concern is having heavy rain and winds that could potentially lodge the soybean crop like the rice and corn crop, especially some of the varieties that are a little bit taller," he said. "The soybean crop leaning over some from wind doesn't concern me too much, but it's when they go completely flat on the ground that's a concern."
A little bit of rain could help a percentage of the crop as it gets ready to harvest.
"We don't need an excessive amount of rain, though," Ross said. "Depending on how much rain we get from the hurricane, we could have some flooding issues, especially in low lying areas in fields. We could have some quality issues on those lower ends if we get flooding conditions.
"I don't think this is going to be as devastating as the storm in the Midwest was about two weeks ago that laid millions of acres of crops flat on the ground, but it could cause some problems. 2020 has thrown a bunch of curveballs, and this is just another curveball we're going to have to deal with."
Subscribe to receive top agriculture news
Be informed daily with these free e-newsletters
You May Also Like
---