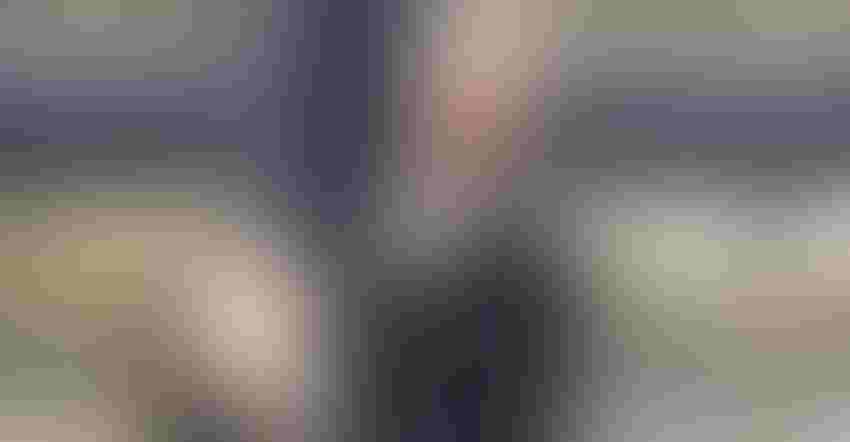 SAY CHEESE: Before coming to WMMB, Chad Vincent worked seven years as the chief marketing officer and head of strategy for Sartori Cheese at Plymouth.
His background is in finance and business administration, but new Wisconsin Milk Marketing Board CEO Chad Vincent is no stranger to the dairy industry. He spent seven years as the chief marketing officer and head of strategy for Sartori Cheese at Plymouth.
That experience, he says, gave him "a view into the activities of the WMMB," so when the opportunity arose to join the state's chief dairy promotion organization, "I was excited and honored. Helping grow demand for the $43 billion state agricultural industry is not a job to be taken lightly."
On board
Vincent says that he's "thrilled" to be at the helm of an organization that is "instrumental in helping our hard-working Wisconsin dairy farm families, building awareness and demand for Wisconsin dairy products."
The 25-member Wisconsin Milk Marketing Board asked Vincent to review the organization's workings with a fresh set of eyes, and then engage with them to jointly develop a clear-cut, strategic road map going forward. He started work Dec. 1, and he's taking time to focus "on listening, learning and evaluating."
"I am in the process of reviewing all the programs and communications — including our advertising and social media plans, the incredible work that the Wisconsin Center for Dairy Research handles, our education and in-school milk work, and close alliances with the Wisconsin dairy manufacturers and nationwide retail and restaurant partners," Vincent says.
"Thus far," he continues, "it is clear that the 55-member team here is very passionate about the mission. The majority of our folks have close ties to farms and a passion for stewardship of the checkoff dollars, ensuring the funds are invested wisely and with great impact."
Vincent says he is impressed with the WMMB team and its efforts in "helping dairy farmers, and telling the incredible stories of the farms, the dairy and explosion of the Wisconsin artisan cheese category."
Working for a checkoff program is new to him, as is reporting to a 25-person board of directors, but he says, "I look forward to engaging the board in robust discussions, especially over the first 100 days, so that we can jointly craft a working strategy to provide the organization with tight direction, enabling us to execute with speed and clarity."
Vincent lays out these focuses going forward:
• Build stronger and tighter working relationships with the state's cheese manufacturers. Ninety percent of the milk in Wisconsin goes toward the production of cheese. With stronger partnerships, WMMB can help the manufacturers gain distribution, and use its public relations and social capabilities to drive awareness of the quality and the global success and demand for Wisconsin cheese.
• Tell the dairy farmer's stories. Marketing is all about storytelling, and there are so many positive and on-trend topics that consumers want to know about. And along with the farm stories, WMMB will continue communications about the power and dietary impact of dairy.
• Continue the strong partnership with the Center for Dairy Research. This organization at the University of Wisconsin is an incredible asset to dairy farmers and dairy manufacturers.
• WMMB has strong relationships with major grocery and retail chains, as well as restaurant and pizza chains across the country. The organization will continue to grow its partnerships to sell more Wisconsin cheese and dairy products, and build the Wisconsin dairy brand.
• Build broader relationships with affiliated groups in the state and across the country. There are numerous groups that have similar missions to WMMB's, and Vincent says he hopes to work closely with them to share ideas, research and programs to improve the health of the Wisconsin dairy industry, which at $43 billion is nearly half of the entire state's ag output.

WMMB CEO: Chad Vincent received his
undergraduate degree in finance and
an MBA at Michigan State University
before coming to Wisconsin to work as
an executive for Fiskars.
Vincent, a Michigan native and resident of Waunakee for the past 12 years, comes to the WMMB with 30 years in the private sector, including H.J. Heinz, Fiskars and Gerber Outdoor, Miller Brewing Co., and most recently, Sartori Cheese. 
"At Sartori, we built a leading artisan cheese retail business, and we worked closely with the WMMB," Vincent notes. "Having that experience … provided insight into the workings and culture of the WMMB … helping accelerate my onboarding.
"We're more behind the scenes," he says of WMMB promotions. At this point there are "no big TV thoughts ... We have a group of highly skilled people, [including regional market managers] who work with major markets across the country.
"If it has to do with dairy in the state or the nation, we're probably involved in it," he says of the commodity agency that's totally funded by the state's dairy farmers.
And because state milk production continues to inch up, the WMMB budget level "has been stable, even grown in recent years," Vincent says. That gives the agency the funding it needs to meet increasing costs of dairy promotion in stores, classrooms and the media.
All about cheese
Because 90% of the state's milk production goes into cheese, "we're heavily slanted toward Wisconsin cheese," Vincent acknowledges, "then secondarily milk and then butter."
His own favorite cheese is "any Wisconsin cheese. I have a lot of fun sampling the award-winning cheese in the state." But then he centers on Sartori's SarVecchio Parmesan as a personal favorite.
Vincent received his undergraduate degree in finance and an MBA at Michigan State University before coming to Wisconsin to work as an executive for Fiskars. His personal website carries information on his background involving what he sees as "big growth." "I have been extremely fortunate to have played a role in several "big growth" stories," he writes, citing his record of accomplishments at those companies.
Married and the father of four, Vincent's resume shows he's energetic and a strong leader. He'll work well with his staff as he continues to praise their promotion efforts on behalf of Wisconsin's dairy farmers.
Buchholz writes from Fond du Lac.
Subscribe to receive top agriculture news
Be informed daily with these free e-newsletters
You May Also Like
---