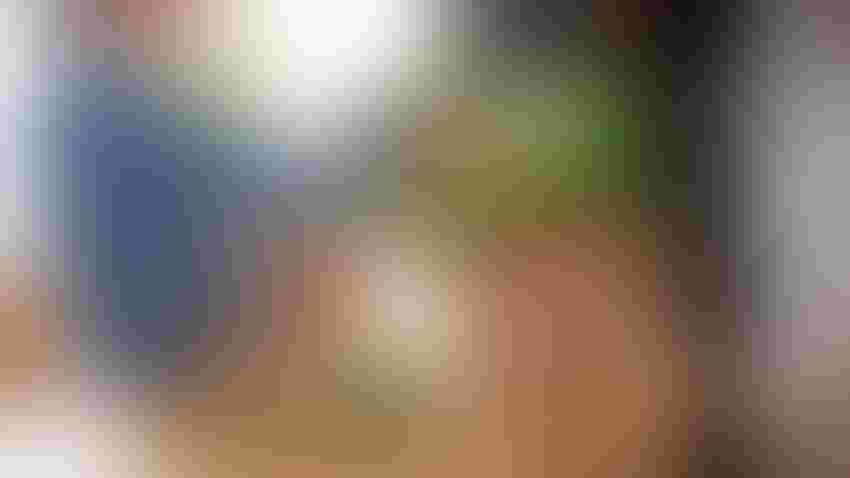 A customer empties a box of vegetables delivered by Imperfect Produce, which specializes in selling flawed fruit and vegetables that would otherwise go to waste.
Imperfect Produce
Call them 'cosmetically-challenged carrots', 'watermelons with warts', 'broccoli with bruises', or 'two-headed taters' --- these are the ugly stepsisters who never get invited to the ball --- good food that goes bad in farm fields because it's not pretty enough to be displayed on supermarket shelves.
"A large portion of fruits and vegetables grown in America never make it off the farm because they aren't perfect enough for grocery store standards --- approximately 20 billion pounds of wasted produce every year", according to the folks at Imperfect Produce.  "Roughly one in five fruits and vegetables grown in the U.S., doesn't meet strict cosmetic standards and is either ploughed under or winds up in landfills."
The California-based firm, now entering markets in the Northwest, Midwest, Texas and Arizona, works directly with farmers, buying imperfect product that won't meet store standards and delivering it to subscribers on a weekly basis.  "We're currently working with over 50 farms in California and more than 75 farms across our markets, not including shippers or distributors," says Derek Gordon, Chief Operating Officer.
And there's plenty to pick from on the supply side --- in the central California aggie arena alone, an estimated 5 million tons of 'ugly' produce that represents nearly 20% of that state's annual waste stream.  Since their 2015 inception, the Imperfect community has recovered 35 million pounds of produce that would have otherwise gone unharvested or unconsumed.
"We want to develop a broader marketplace for growers to sell the food they produce," says co-founder Ron Clark.  "Our mission is to make a lasting change in the food distribution system where we value all the produce that's grown, not just the perfect items."
Company expanding
Initially launched in the Bay Area three years ago and now in an expansion mode [latest destination is Tucson with Phoenix arrival planned for first or second quarter 2019], Imperfect Produce forages farm fields for unwanted, wonky-looking produce after food banks have taken what they can use, offering farmers a fair market price for what would otherwise get turned under by the plow.
"Historically, farmers with 'ugly' produce either left it in the field to go to waste or broke even or lost money selling it to a processor.  We offer a better alternative a fair price for what they grow and satisfaction of seeing it end up on people's tables instead of in landfills," according to Gordon. 
"Overall, nationwide, we get about 65% of our produce from California farmers who are vetted to ensure quality --- organic growers are certified and others subscribe to USDA GAP (Good Ag Practices).
"If farms have already harvested, we send a truck to pick up product that is brought to one of our warehouses in the Bay area or LA where it is sorted out for local markets in Los Angeles or San Diego Counties and parceled out for other markets in the Pacific Northwest or Midwest, currently places like Portland and Seattle or Chicago, Milwaukee, Indianapolis or on to San Antonio, Texas (with 2019 expansion planned into Houston, Dallas, and Fort Worth).  We're sourcing now from coast to coast and can truly say we now have a national footprint."
Typically, mid- to large-size farms are their partners --- "simply because that's where the scale of food waste typically occurs," says Gordon.  "There's a greater chance in larger scale operations there will be stuff they're unable to harvest or sell because it doesn't meet #1 standards.
Negotiating with growers
"We have a team of buyers who work with farmers to understand what they haven't been able to sell at their typical going rate.  Then it's just a matter of negotiation for us to get the best possible price so we can pass savings along to our customers.  In that process, we also want to ensure we're paying a fair price to farmers so they're seeing some margin on a product they might not have sold at all.  Better to have a percentage of the dollars rather than leaving crops in the field or rotting in a warehouse.  At the end of the day, farmers get closer to 100% of their crops monetized and that which they can't sell, they'll donate as a tax deductible item.  I believe if you talk to any of the farmers we work with, they'll say we're fair and equitable in the way we negotiate.  We are truly committed to ensuring farmers get more revenue than they might otherwise have gotten."
And food banks and other non-profit organizations aren't cut out of the loop in the process.  "The scale of the waste problem is so large, there's a slice of that pie available to everyone.  What we do doesn't divert anything that would go to food banks or CSAs.  In fact, we, too, donate to local food banks when we're not able to sell one hundred percent of what we've procured.  We are a major net contributor of produce for those in need.  And our Reduced-Cost Program gives access to fresh produce for SNAP eligible customers at 50% the cost of the grocery store prices.  Overall, it's a win-win-win situation."
It's a win for farmers and consumers as well as investors who gambled with the venture-backed start-up.  How big a win? "Growth has been pretty meteoric, but because we're still a private entity, we don't discuss our operating metrix," says Gordon, although with the rapid expansions in progress, it's a safe bet that ledger books are on the positive side.
"Our growth over the past three years is the result of two things," says Gordon.  "Our entire team has put in an enormous amount of just flat-out plain hard work to get us where we are today.  And, secondly, there's been a real resonance in our mission to help minimize food waste and allow farmers to get closer to full value for their crops as well as do something, in some small way, to help the planet and its people.  This is literally a way that people can put their money where their mouths are, a small choice to make each week that ultimately could have a larger impact on the environment by keeping good, but ugly, food out of the waste system."
Subscribe to receive top agriculture news
Be informed daily with these free e-newsletters
You May Also Like
---