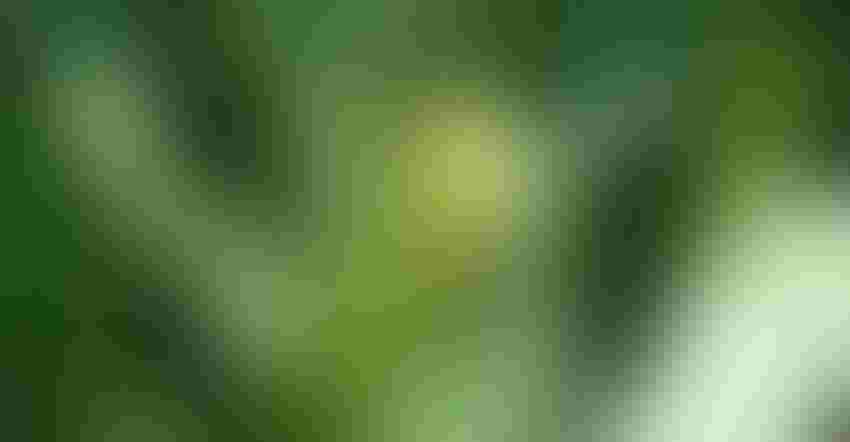 LOOKING GOOD: If favorable weather continues, many farmers in Iowa and nearby states will have better-than-average corn yields in 2020.
Rod Swoboda
Earlier this spring $3.50- to $3.70-per-bushel new-crop December corn futures seemed to be a reachable target. But with record 2020 crop production developing and demand weakened by COVID-19 complications, futures price prospects diminished below $3.30 per bushel by late June. 
"I'm concerned farmers have set their price targets too high. What if we don't get there?" asks Steve Johnson, Iowa State University Extension farm management specialist. "The 2020 crop looks to be one of the best corn crops I've seen for Iowa in June. We need to get some new-crop bushels priced because most farmers don't have enough on-farm storage for the big crop likely coming this fall. Also, many don't have cash flow problem contingency plans. However, they are getting government payments, which help cover some of the cost of production and lower the price needed to break even." 
These 2020 crop breakevens are going down because you may have an extra 15 or 30 bushels per acre for corn yield that you weren't thinking you were going to harvest. Running through the numbers, breakevens may be much lower for some farmers than they realize.
Higher yields help lower cost 
ISU estimates show an average cost of production of $642 per acre for a corn-soybean rotation. Johnson says that includes both the land and non-land costs. "If I have a yield of around 198 bushels per acre, my breakeven is $3.24 per bushel," he says.  
"However, if I produce an extra 15 bushels per acre at the same cost, my breakeven is $3.01 per bushel," he explains. "If I produce another 15 bushels, my breakeven drops to $2.81. That's the key. I think we can 'bushel our way' out of 2020 by driving our breakeven cost down. The government already sent us $30 per acre on average for corn — the CFAP [Coronavirus Food Assistance Program]payments to farmers in June. And we're going to get a PLC [Price Loss Coverage] payment."
Johnson estimates the corn PLC payment for the 2020 crop to be about $65 per corn base acre. That will be paid to farmers by the USDA Farm Service Agency in October 2021 after the national average cash price is known. 
That's why Johnson is encouraging farmers to use a revenue-based marketing plan instead of trying to pick a futures market price as a target. "I'm not saying drop your marketing plan — just adjust it," he adds. "What I'm saying is if you are holding your breath waiting for a $3.50 to $3.70 December corn futures price and it doesn't happen, what are you going to do?" 
As of late June, it looks like a large corn crop is coming, especially in Iowa, Minnesota, Nebraska and South Dakota.
"We are the garden spot, and it will affect the basis," says Johnson. "I would want to tie up my basis for both old- and new-crop corn by mid-July, especially if I'll be delivering corn at harvest. Maybe I can deliver some new-crop corn the last half of September and, hopefully, pick up a little better basis." 
Think ahead for forward pricing 
Farmers set a target or goal for their selling price, and it's usually based on a futures market price. "Then we adjust our target when different factors come along like the 2019 Market Facilitation Program [MFP] payment," Johnson says. "Farmers received $67 per planted acre to offset losses caused by the U.S.-China trade war. You should have added that amount to your 2019 crop revenue and understand the impact on your breakeven price. The same now applies for CFAP and PLC payments for your 2020 crop." 
A big key to helping farmers be profitable is more bushels. A higher yield decreases your cost per bushel and lowers the breakeven price needed to cover crop production expenses. If you are a good record-keeper, you have a pretty good idea of your costs.
"You need to figure total 2020 crop cost estimates, including land costs, divided by what you think your yield will be," Johnson says. "When you start getting over 200-plus bushels per acre, you begin to see that perhaps these breakevens aren't quite what you thought they were — they are going down.
"If you are going to need cash at harvest and don't have enough on-farm storage space, be thinking about this now. Don't wait until September to move old crop bushels or do some forward-pricing of new crop," he adds.
The pandemic that put downward pressure on corn prices has also lowered fuel, propane and fertilizer costs. Johnson encourages farmers to lock -in some of these lower input prices this summer. 
About the Author(s)
Subscribe to receive top agriculture news
Be informed daily with these free e-newsletters
You May Also Like
---