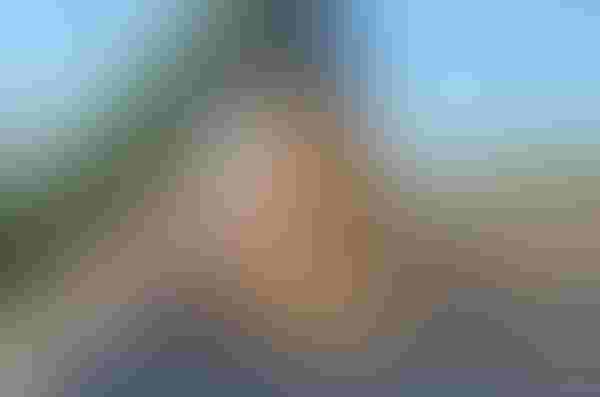 USDA has lowered theprojected high-end season-average farm price for corn down to $6.75-7.45/bu. It's a 20¢/bu. drop from last month – a trend farmers hope doesn't continue as planting time nears. The projection came in Friday's World Agricultural Supply and Demand Estimates (WASDE) report, which also showed tight ending stocks unchanged at 632 million bushels.
USDA lowered corn export estimates by 75 million bushels, based on the slow pace of sales and shipments to date and stronger expected competition from South American corn and competitively priced feed quality wheat. "If achieved, this is the lowest level of corn exports since 782 million bushels in 1971-7972," says Mark Welch, Texas A&M AgriLife Extension economist.
However, USDA raised feed and residualdisappearance for corn by 100 million bushels with continued expansion in poultry production.  "We're seeing a shift in corn demand. We've lowered exports, but raised feed demand," says Chad Hart, Iowa State University Extension grain marketing specialist.
"What's crucial is that the poultry industry is expected to see a pretty good rebound as it goes forward into the 2013 marketing year. The sizable uptake in broiler production will burn through some corn," he says.
Two Corn Belts
While the eastern Corn Belt has seen adequate moisture, the western Corn Belt remains in a drought situation. Prices are on the fence. "It's a tale of two Corn Belts," Hart says. "The eastern belt is looking at trend-line yields. But the western Corn Belt is still looking at below trend-line yields."
Like what you're reading? Subscribe to CSD Extra and get the latest news right to your inbox!
With the opposite weather patterns, "Chicago is caught in between," he says, referring to Chicago Board of Trade's wide range of old-crop and new-crop prices. December 2013 corn futures have traded virtually sideways since mid-February, mostly in the $5.60-5.40 range. The contract closed at about $5.47 on Friday. 
At the same time, May old-crop corn closed at $7.01. "I look at mid-point (of USDA's price projections) at $7.20-7.10," Hart says. "It reflects what has been seen in futures the last few weeks."
As the deadline nears for signup for federal crop insurance, Hart says the $5.65 revenue protection price sets a good floor for 2013 production. "That's a pretty good margin that's going to be protected," he says, noting that production costs are likely in the $4.50 range.
"Beyond that, a grower should look at what market is offered vs. his expected cost of production. New-crop corn is $5-5.20 in Iowa. That's a $2 discount to cash corn today. But $5-5.20 still looks profitable (with the $4.50 COP)."
You might also like:
Farming is a Way of Life, Not a System
2013 iFarm Crop Insurance Tools Available
Subscribe to receive top agriculture news
Be informed daily with these free e-newsletters
You May Also Like
---