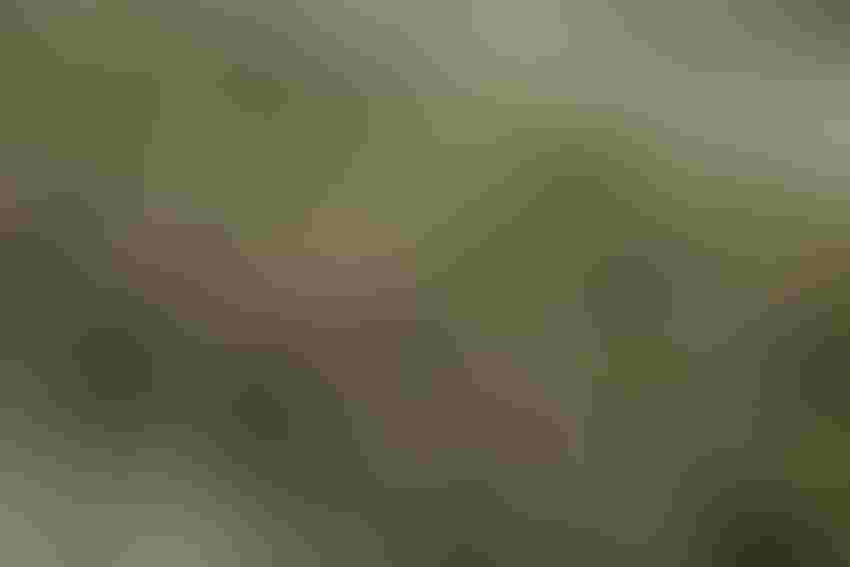 North Carolina saw one of its best peanut crops ever in 2021 with an average statewide yield of 4,300 pounds per acre with many farmers doing much better than that.
John Hart
North Carolina saw one of its best peanut crops ever in 2021 with an average statewide yield of 4,300 pounds per acre with many farmers doing much better than that. With such a good peanut crop last year, many farmers who believed they did everything right yet didn't make the stellar yields of their neighbors are wondering what gives.
At this year's winter peanut production meetings across the state, North Carolina State University Extension Peanut Specialist David Jordan provided answers and offered pointers on what farmers can do to bump their yields by 300 to 500 pounds or more.
Jordan stressed that comparing what you do with your  neighbors is tricky business, and weather from year to year can vary considerably.
In short, variety selection and rainfall patterns play a big role in yield differences from one farm to another. The use of inoculants, tillage practices, weed management and fertility practices also play key roles. And pests such as thrips and nematodes can also lower yields from field to field or farm to farm.
At a peanut meeting at West Farms in Fremont, N.C., Jordan emphasized the importance of timely rains in making higher yields. He said there were areas in North Carolina where one rainfall in August or September made all the difference in the world. In fact, just a few miles can make a difference in rainfall patterns that can mean one farm will produce lower yields than another.
And when it comes to variety selection, Jordan said the Bailey II variety has shown to outyield the Sullivan variety. A farmer who planted more Sullivan than Bailey II will likely see lower yields than a farmer who planted more Bailley II than Sullivan.
Sullivan lower yielding
"Sullivans are going to be a little bit lower yielding than Bailey IIs, no matter what you do. The genetic ability of Bailey II is often a bit higher, 200 to 300 pounds per acre on average," Jordan said.
Jordan is also a big believer in inoculants to increase yields through greater nitrogen fixation. He stressed inoculants are needed in both new ground and in old ground. He said farmers can see a 5% improvement in yields in fields with a recent history of peanut production when inoculant is applied and an even greater response on new ground, close to 35%.
 "If you haven't been inoculating, I think you're leaving a couple hundred pounds (per acre) on the table when you're growing those peanuts, even when you can't see a difference above ground" he said.
Jordan noted that 30% of North Carolina's peanut acres are in conservation-tillage, with mostly strip-till and just some no-till. Under conservation-tillage, some peanuts will be left in the field compared to conventional-tillage when digging conditions are less than ideal. Still, Jordan is not advising farmers to abandon conservation-tillage if it works for them.
He explains that in dry years, because farmers will need to run their diggers a little bit deeper in conservation-tillage or conventional-tillage — when peanuts are planted on flat ground — compared with conventional-till with raised beds. More peanuts can be lost in the field because they are taking up more soil when they dig which tends to strip some pods off the plant when it is dry. 
"If soil conditions are really good in both strip-till and flat planting, you're not going to lose many peanuts in the digging process. But if it gets a little dry, there could be pockets in the field, especially where it's a little finer textured, where you could leave some peanuts" Jordan said.
pH
Managing magnesium, calcium and gypsum is critical. Jordan said soil samples are a must and applying nutrients based on a soil test is a great practice. Peanuts need a pH of 5.8 to 6.2 to yield well.
He pointed out that when soil pH is low (5.6, for example) farmers can get a negative response to gypsum, while in most cases they get a positive response when pH is in the optimum range. Jordan suggested that farmers lime to a pH of 6.2 for the entire field to make sure the entire field is above 5.8 (unless they are grid sampling.)
"Similarly, if zinc is an issue in fields, keep in mind that if the NCDA&CS zinc index is 250 or greater, we are at risk for toxicity. And don't forget that just focusing on the average can get us in trouble sometimes. If the average for the field is 200 and you think you're safe, remember there are likely hot spots that exceed 250, Jordan said.
And should you apply potassium fertilizer to peanuts?
"I'd say absolutely if the soil test calls for it. There are a lot of people, who are top growers, that are putting out maybe 250 pounds of potash in just general fertilization every year to make sure they're not having any problems," Jordan said.
Moreover, Jordan said the use of post-emergent herbicides is critical, even though they can burn peanuts a little bit. Applications of Cobra or Ultra Blazer applied during flowering may show a 200-pound yield hit, but Jordan said it is important to remember that you are protecting 1,000 pounds of peanuts per acre by controlling weeds.
"Under good conditions, when the peanuts are growing really quickly, a lot of times with those materials you might see some burn, but the plant recovers in a hurry, and you don't have any issues. On the other hand, you may have a dry pocket somewhere, and you're using those to control weeds, there can be a little bit of a hit," he said.
"Equally important is the negative consequences of applying paraquat on peanuts with a lot of injury from thrips. Some of our insecticides are performing less consistently on thrips and we might be hurting ourselves with paraquat applications on these peanuts. You need to take care of the thrips first and then come back with paraquat once they are growing well," he said.
Finally, timing the digging of your peanuts is critical. Jordan acknowledges that logistics makes finding the right time to dig a challenge, but if you are digging a week earlier, before the peanuts are fully mature, research shows you are reducing your yield potential by 5%.
Subscribe to receive top agriculture news
Be informed daily with these free e-newsletters
You May Also Like
---