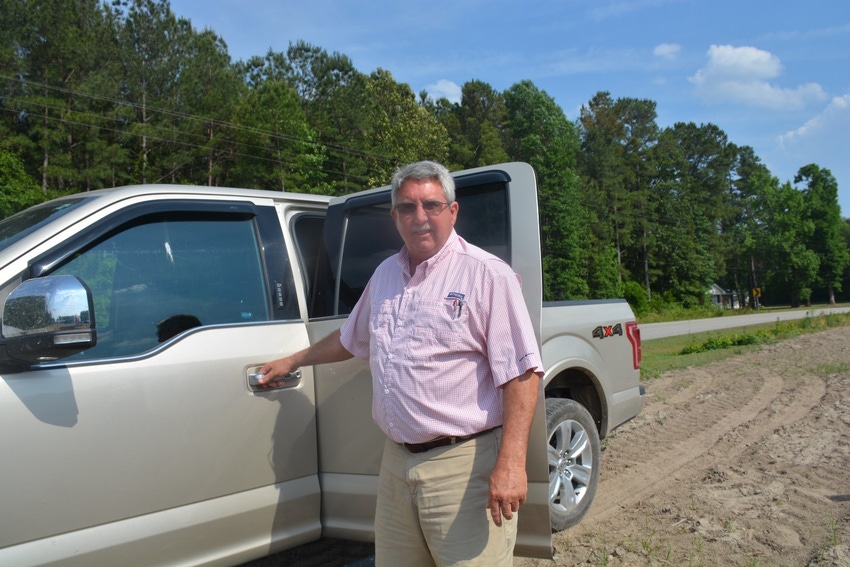 Dan Ward of Clarkton, N.C. is the 2021 Peanut Efficiency Award winner for the Upper Southeast.
John Hart
A commitment to efficiency is baked into the operation of this year's Peanut Efficiency Award winners for the Upper Southeast.
Wilbur Ward has used this approach since his first peanut crop in 1968, and it is an approach that son Dan Ward continues today. With ongoing price fluctuations, never ending weather challenges and disease pressure year in and year out, both father and son agree that efficiency is the only way to stay in business with peanut farming.
The Wards have farmed in Bladen County near Clarkton, N.C., for seven generations. Today, they farm 2,050 acres of corn, soybeans, and peanuts. This year, the family is growing 340 acres of Virginia-type peanuts as seed peanuts for Birdsong Peanut Company and North Carolina Foundation Seed Producers.
At age 82, Wilbur Ward is still involved full time in the farming operation with son Dan Ward. Dan's son-in-law, Sean Morris, has been a partner in the operation since 2016. Sean is married to Dan and Julie Ward's oldest daughter, Emily.
The Ward family has had a long history of stellar peanut yields. Back in the 1970s, Wilbur Ward was able to achieve remarkable yields of 5,500 pounds per acre when most North Carolina peanut farmers were making just over 2,000 pounds per acre. Wilbur credits the use of Furadan to control nematodes as the reason for the remarkable yields, but his commitment to efficiency certainly paid a role.
Yield increases begin in 1972
"We saw yield increases beginning in 1972," the elder Ward said.  "We won the state yield contest three years in a row. We saw an unexplained difference with Furadan. We were making yields of 3,500 to 4,000 pounds per acre. When it jumped to 5,000, it really got our attention."
In the 1980s and 1990s, the Wards, like other peanut farmers across the Southeast, saw drops in yields due to the emergence of tomato spotted wilt virus, a major challenge many feared would wipe out the region's peanut industry. New varieties and improved cultural practices helped farmers get a handle on the disease.
It wasn't until 2011 that Dan Ward was able to see peanut yields above the 5,500-pound range that his father saw in the 1970s. Ward credits new varieties developed and released by North Carolina State University that were more resistant to disease and offered better yields.
Throughout the years, the Wards beat the state average yield due to their commitment to efficiency. Dan Ward notes that their 10-year average is 5,300 pounds per acre. Both Wilbur and Dan Ward emphasize that job one for achieving good yields is disease management.
"Sclerotinia is one of our most damaging diseases we have today and the most expensive to treat" Wilbur said.
The Wards monitor for Sclerotinia every year.
"We know what to look for when we do the spraying so when you get into late August and you get a little cool snap by Labor Day, you need to start scouting for Sclerotinia," Dan said. "If you see some funny spots, you get off the tractor and investigate further."
Fungicide management key
One key is that Wilbur, Dan, and Sean do all the spraying. All three emphasize that effectively managing fungicide applications is key to their efficiency as is their overall spray program.
"We spray every two weeks. You have to be in a constant state of looking at your peanuts, scouting them and managing them. In our area, we use fungicides because we are pretty hot and humid most of the time. We have pretty rank growth; we have to use growth regulators because of the rank growth. We spray for insects when the damage meets the threshold. The crop has calcium requirements, manganese requirements and boron requirements," Dan said.
For fungicides, the family likes to use different chemistries to reduce resistance issues. They will make an application of Bravo 45 to 60 days after planting. "Bravo is good for 10 to 14 days, so you will need another fungicide application for white mold protection," Dan says.
Their fungicide program typically includes applications of Bravo, tebuconazole, Alto, Priaxor and Omega. For nematodes, the family uses Vellum Total. They also use Apogee as a growth regulator and Lorsban to control other pests.
"We begin the season working on thrips. Tomato spotted wilt virus is a real threat. Thrips will sit there and suck the plant dry. We use generic Admire Pro and then go in with Thimet in the boot. Later, we scout them after the peanuts are up and growing good," Dan says. An application of acephate is required.
Grid soil sampling
Grid soil sampling is also a key part of the family's efficiency plan. They use 2.5-acre grids which allows for the precise amount of lime and nutrients for the crop. The cost savings of not over-applying fertilizer or missing spots goes a long way in improving the bottom line, Dan said.
For rotations, the family typically plants three years of corn then one year of peanuts.
Like all the winners of the Peanut Efficiency Award over the years, the Wards emphasize timeliness as the key to their success. Timeliness of harvest is particularly critical, and both Wilbur and Dan emphasize that it can be tricky to determine.
To determine digging time, the family uses the hull-scrape method. The family likes to allow the peanuts to mature as long as possible to ensure quality and maximize weight, but Dan admits that timing it just right is always a challenge.
"We will tug on the peanuts to find out if our plant health is good enough to be maintained for two more weeks to mature. You stand a chance of bad weather or hurricanes coming in, so it is tricky," Dan said.
Through it all, from planting to harvest, Dan said it is important to take every step to keep plants healthy. This is vital for both efficiency and profitability. He emphasizes that it is a multi-year approach with each season building on the next.
"We want to keep our nutrient levels in good shape and work the land the right way," Dan said.
Beds prove critical
The use of beds is critical. Dan says the beds help preserve moisture when it is dry but also allow for excess moisture to be removed.
The Wards have been seed peanut producers for Birdsong since 2007. This year, they are growing both Bailey II and Sullivan, both high-oleic varieties. All the peanuts they grow are sold as seed to Birdsong Peanuts and sometimes North Carolina Foundation Seed Producers.
Dan has worked full-time on the farm with his dad since graduating in 1986 with a degree in agricultural engineering. His wife Julie is also active in the operation, managing the books. In addition, Julie is now serving as an alternate on the National Peanut Board. Dan served as the board's chairman in 2019.
In addition to oldest daughter Emily, who is married to Sean Morris, the Wards have a daughter, Abby, who is graduating this summer with a double major in psychology and business at the University of North Carolina in Wilmington.
Sean and Emily are expecting their first child in July. This will be Dan and Julie's first grandchild and Wilbur and Joyce's first great grandchild.
Dan is a past chairman of the Peanut Foundation and was an industry representative on the Peanut Genome Initiative. He is a past president of the North Carolina Peanut Growers Association and served on the American Farm Bureau's Peanut Advisory Committee.
With the high cost of growing peanuts, both Wilbur and Dan say a commitment to efficiency is the only way to stay in business. They also stress that you will be hard pressed to make it without high yields.
"It costs at least $1,000 an acre to grow peanuts. You really need at least 5,000 pounds per acre to cash flow," Dan says.
That's a different world than the salad days of the 1970s when Wilbur was making 5,000 pounds per acre and the per acre cost of growing peanuts was just $500 to $600. "At that time, we were getting the support price of $610 per ton. At 5,000 pounds per acre, you grossed $1,500 per acre. The net profit was much different than it is today," Wilbur says.
Back then as is the case now, watching every cost is a key driver in efficiency. "Efficiency speaks to your cost of production. You want to make sure you get a return for what you are spending on the crop. You have to look at your crop's needs. Shop your prices; maintain close control of your dosage," Wilbur says.
Both Wilbur and Dan say they enjoy growing peanuts because of the challenges the crop offers each year. "It's a great industry to be a part of because of the great people. Peanut people are the best," Dan says.
Subscribe to receive top agriculture news
Be informed daily with these free e-newsletters
You May Also Like
---